GMO
Obama's FDA is regulating genetically engineered salmon, a genetically modified organism (GMO) that is the first of its kind, not as an animal, but as an animal drug. Normally, a veterinary drug would be used for health purposes, but there's no therapeutic benefit associated with jacking up an Atlantic salmon with the genes of a Chinook salmon and the eel-like ocean pout to make it grow twice as fast.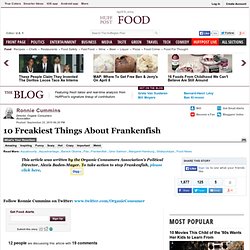 Ronnie Cummins: 10 Freakiest Things About Frankenfish
GM Soy: Sustainable? Responsible? Reports
GM Soy: Sustainable? Responsible? A group of international scientists has released a report detailing health and environmental hazards from the cultivation of genetically modified (GM) Roundup Ready soy and the use of glyphosate (Roundup®) herbicide.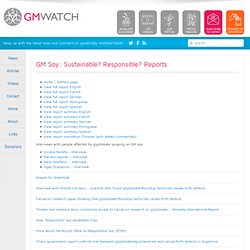 Darío Gianfelici - Interview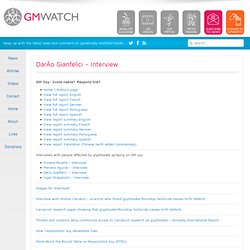 Darí­o Gianfelici Cerrito, Entre Rí­os, Argentina. 57 years old. Rural doctor. Language: Spanish.
Find More Stories Spliced bread Claire Parfitt Food security relies on fair access to land, water, and seeds.
ABC The Drum Unleashed - Spliced bread
top-100-rbgh-free-dairies
Truthiness and Fairness on GMO Labels at FDA | Generation Green
Today the FDA is meeting to discuss labeling of genetically engineered (GMO) salmon. Assuming that the agency makes the experimental fish the first GMO animal approved for human consumption, FDA's proposal suggests that no labels will be required to let consumers know when they are buying the GMO fish. What's worse, some suspect that the agency will disallow "no GMO" labeling of salmon from fisherman or fish farms that reject the GMO variety.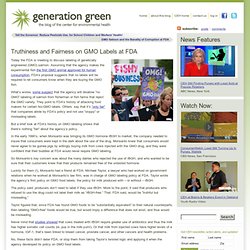 Misguided FDA Opposition to Labeling Could Leave Public Permanently in the Dark About GE Animals
Alice-in-FDA-Land: More Hypocrisy on GMO Labels | Generation Green
This week, in explaining its position that labels will not be required on genetically engineered (GMO) salmon, FDA says that they legally cannot require such labeling. The agency claims that they are bound by labeling laws, which call for a "material" change in the salmon before labels can be required. A material change, FDA says, has to be a change that impacts taste, texture, nutritional value, or other factors.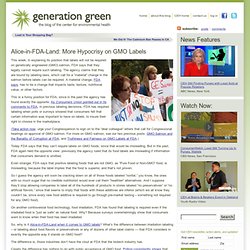 RESOURCESThe new paper by Carrasco et al showing Roundup linked to birth defectshttp://bit.ly/cLQtnz (PDF)New report coauthored by Carrasco and 8 other international scientists - summary of key pointshttp://bit.ly/coXbdH (PDF)New report coauthored by Carrasco - full texthttp://bit.ly/bQXybT (PDF)More resources related to the reporthttp://bit.ly/ctqzvq------Groundbreaking study shows Roundup link to birth defectsInternational scientists confirm dangers of Roundup at GMO-Free Regions Conference in Brussels Brussels 16 September 2010 Glyphosate, the active ingredient in the world's best-selling weedkiller Roundup, causes malformations in frog and chicken embryos at doses far lower than those used in agricultural spraying and well below maximum residue levels in products presently approved in the European Union.
Groundbreaking study shows Roundup link to birth defects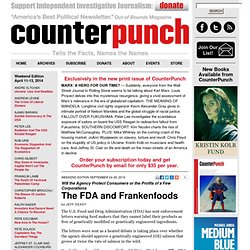 The U.S. Food and Drug Administration (FDA) has sent enforcement letters warning food makers that they cannot label their products as free of genetically modified or genetically engineered ingredients. The letters were sent as a heated debate is taking place over whether the agency should approve a genetically engineered (GE) salmon that grows at twice the rate of salmon in the wild.
Jeff Deasy: The FDA and Frankenfoods
The #GMO Daily on Twitter
Jeffrey Smith on GMO Salmon
Buried in a prospectus inviting investors to buy shares in a fledgling biotech company is an arresting claim attributed to the UN's Food and Agriculture Organisation. "Commercial aquaculture is the most rapidly growing segment of the agricultural industry, accounting for more than $60bn sales in 2003. While land-based agriculture is increasing between 2% to 3% per year, aquaculture has been growing at an average rate of approximately 9% per year since 1970."
GM food battle moves to fish as super-salmon nears US approval | Environment | The Observer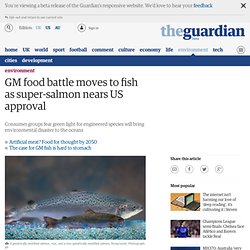 Academies copied to push for Bt brinjal: India : India Today
Dinesh C. Sharma | Mail Today | New Delhi, September 26, 2010 | UPDATED 09:23 IST India's top science academies have done the unthinkable. They have copied and quoted extensively from an industry lobby report to give a clean chit to the controversial genetically modified (GM) brinjal.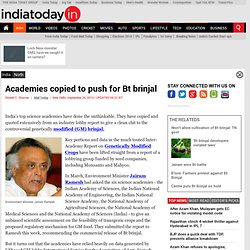 gm-in-infant-formula
The Hindu Business Line : Ramesh trashes academies' report on Bt brinjal
NEWS UPDATE Round the week Markets - LIVE! Follow the markets - Minute by minute Follow The Hindu Business Line in Twitter
Last June the Argentinian newspaper Página 12 carried a report (see article in Spanish, below) regarding a publication prepared by a commission opened by the Chaco State Government (in the north of the country) analyzing health statistics in intensive agrochemical use zones. In one decade, the rates of childhood cancer tripled and babies with birth defects increased fourfold. Download Chaco State Government report on the effects of agrochemical spraying on GM soy and rice on human health in English or Spanish.
Chaco government report confirms link between glyphosate/agrochemicals and cancer/birth defects in Argentina
Broadcast Yourself.
It is Gutter Science. The Inter-Academy Report on GM Crops -- prepared by the Indian Academy of Sciences, Indian National Academy of Engineering, Indian National Science Academy, National Academy of Agricultural Sciences, National Academy of Medical Sciences and the National Academy of Sciences -- and submitted in September 2010 to the Ministry of Environment & Forests, is no better than the introductory write-ups any graduate student of biotechnology would come out with. In fact, I have a collection of a large number of papers/analysis written by graduate and post-graduate students who seek my comments/views that I would rate much higher than the Inter-Academy report. The Inter-Academy Report on GM Crops is in fact a disgrace to Indian science. That Indian science was on a downhill path was never in question, but that it had already slipped into a cesspool is a revelation.
Gutter Science: Inter-Academy Report on GM Crops
bit.ly | Basic | a simple URL shortener
GM FOOD: FACTS NOT CROPS
FDA panel on genetically modified salmon leaves questions unanswered
Today is the first of a two-day meeting of the FDA's Veterinary Medicine Advisory Committee (VMAC) to discuss the approval of the GE salmon. I've compiled quite a bit of information about the salmon here with more information about VMAC itself here. Long story short is that the regular members of VMAC aren't fish experts or GMO experts, so they decided to add four extra "temporary voting members" to the committee - three of whom seem to be very much on board with the whole GMO thing. The fourth is a fix expert specializing in polyploidy (fish with extra sets of chromosomes). I've compiled a bit of information about each of them, which is linked from the VMAC link above, but I haven't had a chance to review many of their publications, public statements, etc, quite yet. Perhaps what worries me most is that three of the temporary voting members (everyone except the fish guy) have worked - at some time in their career - on increasing public acceptance of GMOs.
GE Salmon Approval Meeting Starts Today
EXCLUSIVE: Cops and Former Secret Service Agents Ran Black Ops on Green Groups By James Ridgeway Additional reporting by David Corn, Jennifer Wedekind, Daniel Schulman, and Nick Baumann MotherJones, April 11 2008 http://www.motherjones.com/news/feature/2008/04/firm-spied-on-environmental-groups.html NEWS: Meet the private security firm that spied on Greenpeace and other environmental outfits for corporate clients. A tale of intrigue, infiltration, and dumpster-diving. A private security company organized and managed by former Secret Service officers spied on Greenpeace and other environmental organizations from the late 1990s through at least 2000, pilfering documents from trash bins, attempting to plant undercover operatives within groups, casing offices, collecting phone records of activists, and penetrating confidential meetings.
Black Ops on Green Groups
Seed Savers
Monsanto's Global Pollution Legacy
Conclusive: Global Distribution of Rockefeller-Funded Anti-Fertility Vaccine Coordinated by WHO
Arkansas AG McDaniel launches inquiry over Monsanto soybean trait - WREG
The case against biofuels
Drought tolerance critical, say DuPont and Monsanto. We couldn't agree more.
Whistle Where You Work #28 - Genetically Engineered Food; WikiLeaks
BASF seeking EU green light for new potato: chairman
Monsanto stock drops on lower 2010 view-UPDATE 2 00:57 Hours ago
Monsanto: The evil corporation in your refrigerator
Eric Holt Gimenez: Monsanto in Gates' Clothing? The Emperor's New GMOs
The South Asian: Scientists Opine on Genetic Modification of Foods
GMO and Latin American Soy Producers | Conspiracy Theories, New World Order, Paranormal Research, UFO Sightings, Cryptozoology, NEWS -Citizen Paranoid
Monsanto's Harvest of Fear
Diary: Monsanto's GM Soy Causes Illness and Death
Monsanto: The world's poster child for corporate manipulation and deceit
GM Food | Healing Talks
Monsanto invests in collaboration with Australian wheat breeders
unnamed pearl
AFRICA Outrage Over Claim that Anti-GM Campaign "Causes Hunger"
Wheat genome may help tackle food shortages
GMO Crop Catastrophe in USA a lesson for EU [Voltaire]
Standing up for food sovereignty
Monsanto's Roundup Herbicide May Be Spreading Deadly Fungus
Corporate Watch Monsanto family tree
Company profiles/DuPont
Monsanto's history of lies and toxicity
Scientists use frog cells to give artificial nose super smelling skills
8 Reasons Genetically Modified Organisms are Bad for You | Foodie Buzz
China to develop own GM food varieties - International Business Times
a short, simple explanation why you should know who Monsanto is
The Twitter #GMO Daily
Genetically modified potatoes in Europe (gmo potatoes in EU)
GM in Latin America videos
Global Voices in English » Paraguay: Soaring Soybean Production Prompts Clashes
:: Download The World According to Monsanto for Free. Watch The World According to Monsanto Online with other Documentary Films and Free Movies. ::
Monsanto vs Geerston Seed Farms: Round Up Ready Alfalfa Case |
Blogs and Comments - Comments - Other Comments - The link between BP, geoengineering and GM
Scientist takes on the GMO industry
GMO Safety
GMO COMPASS - Information on genetically modified organisms
Genetically Modified Foods and Organisms --HGP Ethical, Legal, and Social Issues
Genetically Modified Foods: Harmful or Helpful?
Say No To GMOs! - Getting Started
Genetically modified organism
PCC | Choosing the right cooking oil