Detox
毒出し脂肪燃焼スープが効く - gooダイエット
There are at least seven causes of water retention . In most cases these causes are food-related and are reversible. Other causes include heart or kidney problems. These are due to a reduced ability of the heart or kidneys to do their job, and can cause severe swelling of the legs and ankles. If your doctor has diagnosed you with a heart or kidney problem, you can read about this on Medline Plus . Weak circulation in the leg veins is probably one the most common causes of water retention in legs and ankles.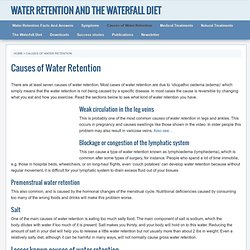 Water Retention: Diet To Banish Water Weight, Swollen Legs, Bloating
brown rice detox recipe
Detox Diet Recipes
Detox Diet Recipes for: Breakfast • Crackers, Snacks and Condiments • Entrées • Grains • Salads and Greens • Soups • Sauces, Dressings and Spreads • Desserts • Beverages • Soaking and Sprouting • Substitutions • YOUR Recipes! These detox diet recipes are especially yummy, full of nutrients, and simple to follow! They will truly nourish your body and leave you feeling satisfied.
Soups
Japan traditionally shuts down for at least 3 days from New Year's Day on. These days that's not exactly true, since many stores and such are open even on the 1st, but most people do take the 3 days off. The classic feast that is served during these 3 days is called osechi, and consists of a variety of dishes that are supposed to bring good luck and fortune in some way or another. One of those dishes is namasu , a simple salad-type dish that is made with finely julienned daikon radish and carrot. The colors are very important, since the combination of white and red is used for festive occasions in Japan. Carrots are usually not exactly red (though there are some exotic varieties that are), but orange is close enough, so namasu signifies the wish for good luck and fortune for the new year.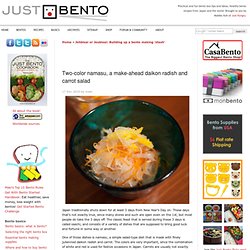 Two-color namasu, a make-ahead daikon radish and carrot salad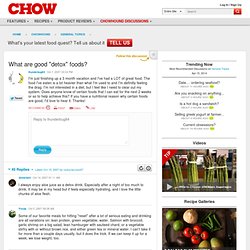 Asparagus, greens, cucumbers are all cleansing... Green Miso Soup Boil miso broth w/ garlic crushed, adding in greens (mustard, kale, bok choy, collards), asparagus, wild mushrooms, and cook til veggies are tender. Beat egg whites with garlic salt or seasoning, then bring soup to a rolling simmer and stream in egg whites. Shirtaki Stir-Fry Grill veggies (eggplant, mushrooms, onions, zucchini, tomatoes) tossed w/ garlic salt, then toss in a pan with shiratakis (drained and rinsed), a little soy sauce or Braggs, balsamic vinegar, lemon juice, mustard. Add egg whites, chicken, tofu, or protein of choice.
What are good "detox" foods? - General Chowhounding Topics
Detox Soup: Cleansing Miso, Beet, Asparagus
Detox Soup: Cleansing Miso, Beet, Asparagus I don't know about you, but I've been indulging a lot lately. More desserts and baked goods and cheeses and even meat than usual.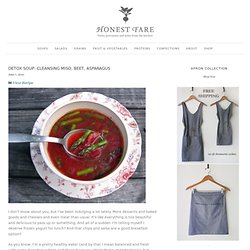 Japanese Miso Soup
Miso soup has been a traditional Japanese food since the 7th century. In Japan, it is eaten with almost every meal, often including breakfast. As a fermented food, it improves digestion. Just like the Koreans who eat kim chee with everything, the Japanese eat miso with everything.
Top 10 Detox Foods for Cancer Survivors | Life Emerging
Newsletter - MAKE - Detox
What is a detox diet ? It is a diet that is made to cleanse the body of the free radicals and toxins that have accumulated in the body over a period of time. Not necessarily that the diet will have to be boring but quite on the contrary, the diet may be comprised of wholesome vegetables and can be delicious as well. That was the taste factor taken care of now the most important thing of detox diet is that it restores the body into its previous healthy state by choosing the right kind of food for you.
Cream Less Spinach Soup