Les stats d'une fanpage
Google Analytics for Facebook Fan Pages. We launched our Facebook fan page earlier this month and as with all Facebook pages only Facebook Insights program is available to page administrators.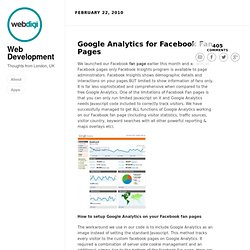 Facebook Insights shows demographic details and interactions on your pages BUT limited to show information of fans only. It is far less sophisticated and comprehensive when compared to the free Google Analytics. A Beginner's Guide to Facebook Insights. Ekaterina Walter is a social media strategist at Intel.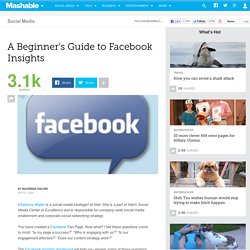 She is a part of Intel's Social Media Center of Excellence and is responsible for company-wide social media enablement and corporate social networking strategy. You have created a Facebook Fan Page. Installer Google Analytics sur sa page fan Facebook | Presse-Cit. Ce guide d'installation est proposé par Emmanuel Alquier [1] Des développeurs anglais du blog Webdigi ont dévoilé la semaine dernière comment installer Google Analytics sur une page fan Facebook.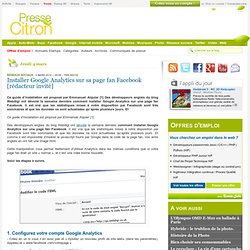 Il est vrai que les statistiques mises à notre disposition par Facebook sont très sommaires et que les données ne sont actualisées qu'après plusieurs jours. Et.
---