Groupe linkedin
How I Use LinkedIn Content for Intelligence. When LinkedIn introduced questions and answers, it gave people the ability to interact more easily with each other without needing to be connected directly.
That expanded the pool of potential networking opportunities exponentially for those who don't upgrade their account. Within the span of a couple of months, the membership grew by more than 300%. 8 Tips for Managing a LinkedIn Group. Jessica Faye Carter is an award-winning author and columnist.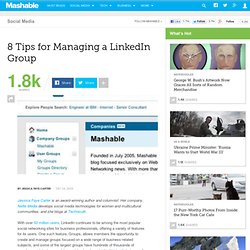 Her company, Nette Media develops social media technologies for women and multicultural communities, and she blogs at Technicultr. With over 50 million users, LinkedIn continues to be among the most popular social networking sites for business professionals, offering a variety of features for its users. How to Create a LinkedIn Group. LinkedIn makes it easy to create a group.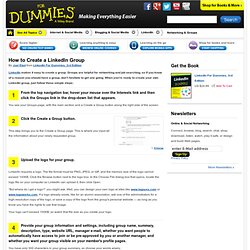 Groups are helpful for networking and job searching, so if you know of a reason you should have a group, don't hesitate to get one going. When you're ready to create your own LinkedIn group, just follow these simple steps: From the top navigation bar, hover your mouse over the Interests link and then click the Groups link in the drop-down list that appears. 5 Tips for Creating, Promoting and Managing a LinkedIn Group. Create an Effective LinkedIn Group For Your Business – WebWorker. LinkedIn Groups are similar to Facebook Pages in that they provide businesses with an avenue for leading discussions on a topic of interest with members of the LinkedIn network.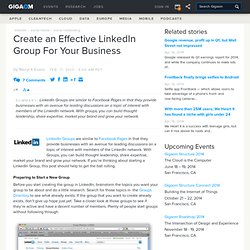 With Groups, you can build thought leadership, share expertise, market your brand and grow your network. If you're thinking about starting a LinkedIn Group, this post should help to get the ball rolling. Preparing to Start a New Group Before you start creating the group in LinkedIn, brainstorm the topics you want your group to be about and do a little research. Search for those topics in the Groups Directory to see what already exists. 5 Tips for Creating, Promoting and Managing a LinkedIn Group - F. Managing Linkedin Groups | Janet Fouts. Linkedin groups can be a powerful way to connect with other business people in a meaningful way.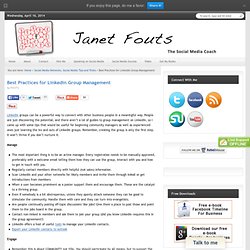 People are just discovering the potential, and there aren't a lot of guides to group management on Linkedin, so I came up with some tips that would be useful for beginning community managers as well as experienced ones just learning the ins and outs of Linkedin groups. Remember, creating the group is only the first step. It won't thrive if you don't nurture it. How to Create a LinkedIn Group. Groups. Group Management. Overview Create and manage your own community on LinkedIn LinkedIn Groups is the ideal place to manage your professional community based on common interest, experience, affiliation, and goals.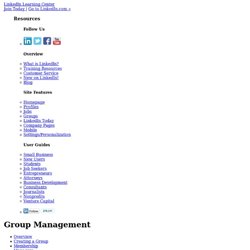 This guide will help you get started creating and managing a User Group on LinkedIn. Creating a Group. Add Group to Directory. Blog Archive What's new in LinkedIn Groups? We are very pleased to announce the upgrade of LinkedIn Groups.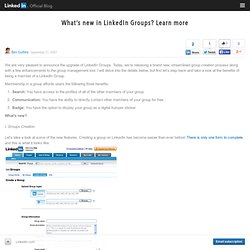 Today, we're releasing a brand new, streamlined group creation process along with a few enhancements to the group management tool. I will delve into the details below, but first let's step back and take a look at the benefits of being a member of a LinkedIn Group. LinkedIn.
Comment on se comporte sur un forum. Sous-groupes linkedin. In other countries.
---