Google wave
Google Wave Bots Wiki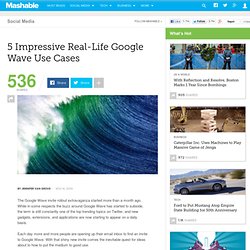 The Google Wave invite rollout extravaganza started more than a month ago. While in some respects the buzz around Google Wave has started to subside, the term is still constantly one of the top trending topics on Twitter, and new gadgets, extensions, and applications are now starting to appear on a daily basis. Each day more and more people are opening up their email inbox to find an invite to Google Wave.
5 Impressive Real-Life Google Wave Use Cases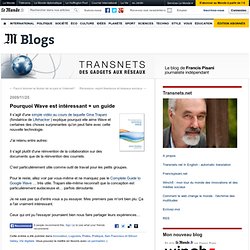 Il s'agit d'une simple vidéo au cours de laquelle Gina Trapani (fondatrice de Lifehacker ) explique pourquoi elle aime Wave et certaines des choses surprenantes qu'on peut faire avec cette nouvelle technologie. J'ai retenu entre autres:
Pourquoi Wave est intéressant + un guide - Transnets - Blog LeM
Guide Google Wave | Presse-Citron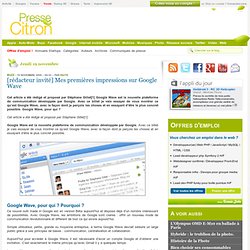 Cet article a été rédigé et proposé par Stéphane Gillet[1] Google Wave est la nouvelle plateforme de communication développée par Google. Avec ce billet je vais essayer de vous montrer ce qu'est Google Wave, avec la façon dont je perçois les choses et en essayant d'être le plus concret possible.
Depuis quelques années maintenant, j'ai quelques doutes sur la pérennité de l'email.
Google Wave: début de la fin de l'email marketing ! « Marketing