Infographics
Ig_Milestones-in-Creative6_web5-copy.png 700×10,224 pixels. Presentations: How to Make Your Message Stick. I'd guess that most of you that are reading this have either given PowerPoint presentations at one time or another or at least viewed one.
Did you know that statistics reveals that listeners only remember 50% of what was presented just 10 minutes after a presentation is given? The following day, it drops to 25%. A week later, it whittles down to just 10%. And this is if your presentation is good. The Digital Marketing Trio Of 2013 [Infographic] Infographics By Matt Baglia, Published June 6, 2013 Digital marketing as a whole has become one of the biggest and most focused on streams of marketing in the last few years.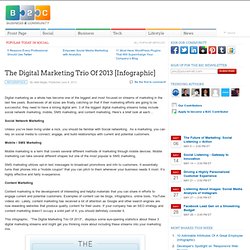 Baseball Stats and Fun Facts You May Not Know [Infographic] | Nationwide Blog. Banking on Education. On July 1st, student loan rates are set to double, which spells dire consequences for our nation's future.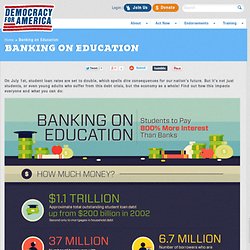 But it's not just students, or even young adults who suffer from this debt crisis, but the economy as a whole! Find out how this impacts everyone and what you can do: Are you as shocked as we were when we first saw this data?
Cycling
The Analytic Big Bang Infographic. Infographic: Top digital marketing trends of 2013. Content marketing is among the top four digital market trends this year, according to a recent infographic from Dot Com Infoway.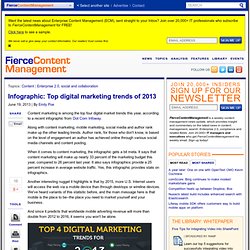 Along with content marketing, mobile marketing, social media and author rank make up the other leading trends. Author rank, for those who don't know, is based on the level of engagement an author has achieved online through various social media channels and content posting. When it comes to content marketing, the infographic gets a bit meta. It says that content marketing will make up nearly 33 percent of the marketing budget this year, compared to 26 percent last year. INFOGRAPHIC: Global refugee situation.
Top Dangers of the Digital Age (Infographic) Do You Reveal Too Much About Yourself On Social Media? [INFOGRAPHIC] How to Make Coffee and Share Fun Coffee Tips Like a Pro. Like a good friend, a good cup of coffee comforts us, makes things feel right and sparks beautiful ideas.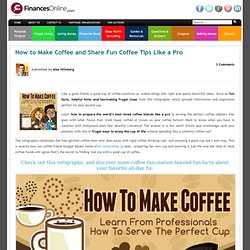 Store on fun facts, helpful hints and fascinating frugal clues from this infographic which spreads information and inspiration perfect for your second cup. Learn how to prepare the world's best loved coffee blends like a pro to serving the perfect coffee nibblers that goes with what flavor. Tips For A Successful Social Media Campaign On Facebook, Twitter and LinkedIn. When a social media campaign is done right, more leads and publicity are generated for a business.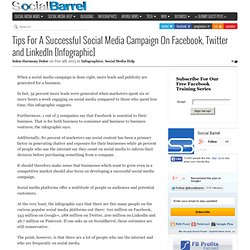 In fact, 52 percent more leads were generated when marketers spent six or more hours a week engaging on social media compared to those who spent less time, this infographic suggests. Furthermore, 1 out of 3 companies say that Facebook is essential to their business. That is for both business to consumer and business to business ventures, the infographic says. Highest paid and fastest growing IT jobs [infographic] Not exactly the "pure" mobile news, but related nonetheless since everything related to mobile is well paid these days.
In a new infographic, Staff.com looks at highest paid and fastest growing IT jobs – here are the highlights: Mobile application development is the hottest area in IT as there are more jobs than there are skilled people to fill them. In 2012, job postings on Dice.com went up by 129% for Android developers and 190% for iPhone developers. Of all IT jobs, mobile application developer is most paid with an average salary of $94k.
Moreover, this is also the fastest growing job position. The Psychology of Conversions [INFOGRAPHIC] The amount of emphasis put on leads these days is staggering.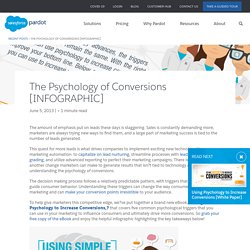 Sales is constantly demanding more, marketers are always trying new ways to find them, and a large part of marketing success is tied to the number of leads generated. This quest for more leads is what drives companies to implement exciting new technology like marketing automation: to capitalize on lead nurturing , streamline processes with lead scoring and grading , and utilize advanced reporting to perfect their marketing campaigns. There is however, another change marketers can make to generate results that isn't tied to technology at all: understanding the psychology of conversions. The decision making process follows a relatively predictable pattern, with triggers that influence and guide consumer behavior.
Original.jpg 2,500×3,500 pixels. How_to_control_your_dreams.jpg 970×8,200 pixels. Say-what-you-mean.jpg 768×5,417 pixels. The Amazing Cloud ATM. Cloud Infographic: The Amazing Cloud ATM One of the more entertaining and colorful infographics brought to out attention by CA Technologies .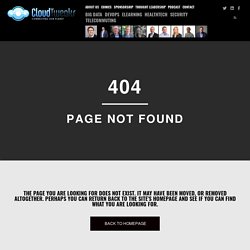 The research has been conducted with 542 IT leaders from around the world. Social Media's Best Bacon Dishes in the USA. Our data set uses social media ratings to find out the most popular bacon plates in ten major US cities: New York, San Francisco, Portland, Chicago, Austin, San Diego, Atlanta, Boston, Philly, and Seattle.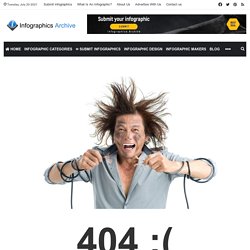 For example, in New York, Crif Dogs' Bacon-wrapped Hot Dogs edged out Dessert Truck's Pudding with Bacon Custard, Clinton St. Baking Co.'s Sugar-Cured Bacon Side, Le Bernardin's Bacon Ice Cream, and Alta's Bacon-wrapped Dates and Olives. Analytics Driving Digital Marketing. It's been said that in the world of mobile marketing, there are three little letters more intimidating than IRS and as frightening as STD. I'm referring, of course, to ROI. For many new entrants into the mobile marketing fray, attempting to understand one's ROI can be a confusing and frustrating exercise. "The most significant issue for ad buyers," reads a new report from MIT Technology Review , "is that they don't know if the ads are working, like they do on desktop computers."
The report cites data from the Interactive Advertising Bureau, which indicates that all media depend critically upon reliable metrics for audience reach. "Especially with limited screen size, and much shorter time for placements, mobile advertisers have to be much more focused, more targeted," advises Peter Wang, senior vice president of engineering at appssavvy . The rise of forensic accounting [infographic. Good news, accounting nerds!
They're finally putting the sexy into the number-crunching biz. With the rise of financial fraud, forensic accounting is a field almost as hot as the money being stolen, and this infographic from New England College Master of Science in Accounting Online provides an overview of this growing industries dirty past. Via New England College Master of Science in Accounting Online . Career infographics . How to Get More Likes on Facebook - Infographic. In this infographic we look into what creates the most engagement on Facebook. Please feel free to leave your thoughts in the comments section at the bottom of the page. Click on the infographic below to view a larger version: View an enlarged version of this infographic » AAFPINS_FamilyDoctor-2.jpg 640×3,454 pixels.
Hair. Infographic: evolution of the airline logo. Truth-hurts-infographic.jpg 950×9,794 pixels. [Infographic] Google's 200 Ranking Factors. Infographic: Content Marketing Sweetens the Mix. Eye-Opening Social Media Marketing Statistics 2013 [Infographic] A guide to marketing genius: Content marketing [infographic. The Advanced No-Gym Bodyweight Workout (INFOGRAPHIC) State Stress Levels: The Most-Stressed U.S. States And Cities (INFOGRAPHIC) How To Avoid A Fight With Penguin. Infographicstestsearchenginejournal_4e60d965cbacf.jpg 1,200×2,320 pixels. PH23567-INFO 473×2,700 pixels.
Infographic: Tennessee wins solar jobs "smackdown" over Alabama. Tips & Resources - Network Security, Web Security | WatchGuard Technologies. How to Survive Hurricane Season - A Preparedness Infographic. The-New-Face-of-SEO-Post-Panda-Penguin2.jpg 540×6,803 pixels. Infographic: "Weddings Around The World. The anatomy of the hourly workforce [infographic. State-of-Single-Parenthood.png 1,754×13,888 pixels. Medicare Insurance Facts (Infographic) | | Medicare Insurance ResourcesMedicare Insurance Resources. Infographic: Takes more than responsive web design to keep visitors engaged. All Aboard the Broadband Wagon | Broadband Coupons. Which Public Cloud Do You Intend To Use For App Hosting? Funny Infographic Shows People How To Choose Their Next Facebook Profile Picture. Infographic: The cost of motoring around the world. Social on smartphones [infographic] _infographic_social_media_shortcuts.jpg 800×3,963 pixels.
Your Complete Guide To White Wine [Infographic] Smartphone figures, behavior and more [infographic] The Role of "Social" in Business [Infographic] U.S. Entrepreneurship Climbs to Highest Level in More Than a Decade (Infographic) How to optimize photos for Facebook's News Feed. Tornadoes. Memorial Day 2013 Infographic! Memorial Day Infographic. Infographic: Four Distracted Driving Myths. Infographic: Texas has had a more dramatic shift to the GOP than any other state over past 20 years | Texas on the Potomac. Raise Your Cloud IQ. INFOGRAPHIC: Which causes do most nonprofits serve? | GuideStar Blog.
What a Real Relationship in Social Media Should Look Like [INFOGRAPHIC] Google-fibre1-2.jpg 970×6,292 pixels. Soccer 101: All the Footy Facts! [Infographic] The facts about mobile phone theft. Infographic: What you need to know about LTE wireless. How to Become a Social Media Marketing Expert – Infographic. Social Media & Travel Brands. How 'Star Trek' Technology Works (Infographic) Schooled by Google: How Google Apps is penetrating education (infographic) Music's Effect on Learning. The Internship: Apprenticeships to Virtual Work [INFOGRAPHIC] Celebrate Stephen Colbert's 49th Birthday With Some Fun Facts [INFOGRAPHIC] Green Transportation: Your Best Choices [Infographic]
Fatigue causes more accidents than alcohol: INFOGRAPHIC. United States Marijuana Arrest Information. Psychology of a Happier Home Infographic. Infographic: Here Comes the Tech-Savvy Bride. Infographic: The Cost of Losing Your Smartphone. 18 Sweet Tips For Facebook Page Posts. Greenest Ways to Get Around [Infographic] Twitter Engagement Cheat Sheet. What You Should Post On Facebook. First Dates Across America (Infographic) Cannabis VS Alcohol. Five tips for creating a great infographic for SEO. How-Graph-Search-Affects-Your-Privacy11.png 700×2,189 pixels. Best Times to Post on Social Media [INFOGRAPHIC]
Summer Travel Infographic: Scenic Highways And Byways. Infographic: Massively Massive Data Centers Being Massive | Cloud content from Windows IT Pro. Your Dream Green Home: 13 Elements [Infographic] San Francisco, Seattle and Portland Top Chart of Leading Cities for Female Entrepreneurs. Fruit-For-Health_Infographic.
---