Vidoes
LIKE MAH STATUS.
Guy On A Buffalo - Episode 1 (Bears, Indians & Such)
Coyote catches Road Runner
Christmas Eve/ Sarajevo [Timeless Version]
Tampopo part 1
Put the Accordion Down, Darth
Most Upvoted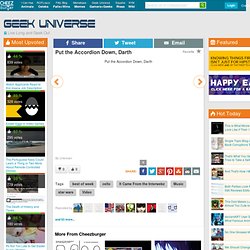 Nicki Minaj Sings 'Super Bass' with Sophia Grace (Full Version)
Nicki Minaj - Super Bass By Sophia Grace Brownlee
The Starbucks Rant Song
The Starbucks Rant Song 2
I'm a Stupid Cat!
Josh Groban Sings Kanye West Tweets
Chubby cuppy cake boy
Shooting Your Sleeping Kid with a Super Soaker While Singing the Doom Theme Song Is a Really Effective Alarm Clock
Go! Bwaaah
Helen Fisher: The science of love, and the future of women
The Dont Blink Cat.
If I were a love poet
George Carlin - Teach your children to question
Amazing Fire Animation! (reupload, read description!)
Six Feet Under - The Final Six Minutes
Away In A Madhouse