How to
How to Write a Novel Using the Snowflake Method. Lifewriting Classes. Steven Barnes' Free Writing Class!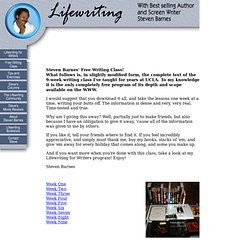 What follows is, in slightly modified form, the complete text of the 9-week writing class I've taught for years at UCLA. To my knowledge it is the only completely free program of its depth and scope available on the WWW. I would suggest that you download it all, and take the lessons one week at a time, writing your butts off. The information is dense and very, very real. 25 Insights on Becoming a Better Writer. When George Plimpton asked Ernest Hemingway what the best training for an aspiring writer would be in a 1954 interview, Hem replied, "Let's say that he should go out and hang himself because he finds that writing well is impossibly difficult.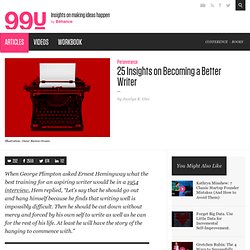 Then he should be cut down without mercy and forced by his own self to write as well as he can for the rest of his life. At least he will have the story of the hanging to commence with." 5 Freewriting Secrets for Being a "Genius" You've heard of freewriting, certainly.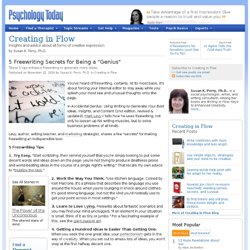 At its most basic, it's about forcing your internal editor to stay away while you splash your most raw and unusual thoughts onto the page. In Accidental Genius: Using Writing to Generate Your Best Ideas, Insights, and Content (2nd edition, revised & updated), Mark Levy tells how he uses freewriting, not only to loosen up his writing muscles, but to solve business problems of all kinds.
A Simple Novel Outline – 9 questions for 25 chapters « H.E. Roulo. Just as every tree is different but still recognizably a tree, every story is different but contains elements that make it a story.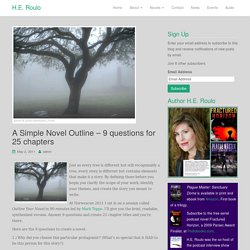 By defining those before you begin you clarify the scope of your work, identify your themes, and create the story you meant to write. At Norwescon 2011 I sat in on a session called Outline Your Novel in 90-minutes led by Mark Teppo. I'll give you the brief, readable, synthesized version. Creative Writing Ideas, Courses Online, Free Classes for Writers. Goins, Writer: On Writing, Ideas, and Making a Difference. 25 Things Every Writer Should Know. An alternate title for this post might be, "Things I Think About Writing," which is to say, these are random snidbits (snippets + tidbits) of beliefs I hold about what it takes to be a writer.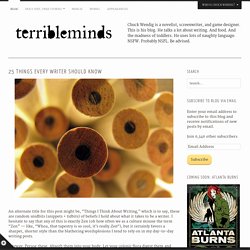 I hesitate to say that any of this is exactly Zen (oh how often we as a culture misuse the term "Zen" — like, "Whoa, that tapestry is so cool, it's really Zen"), but it certainly favors a sharper, shorter style than the blathering wordsplosions I tend to rely on in my day-to-day writing posts. Anyway. Peruse these.
---