Knitters Resources
LaceFontSample.pdf (Objet application/pdf)
Software for Knitters: Part I
Personal computers, dweeby and enormously expensive toys twenty years ago, are now, for better or worse, an intimate part of most of our lives.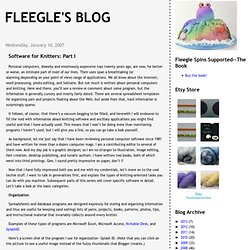 Software for Knitters: Part II--Charting with Excel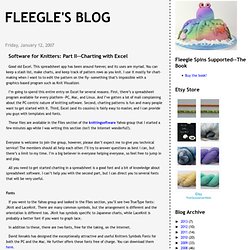 Good old Excel.
Knit Visualizer version 1.2 Platform: Mac and PCRating: 4 out of 5 stars Knit Visualizer is an astounding programming tour de force.
Software for Knitters: Part III--Knit Visualizer Review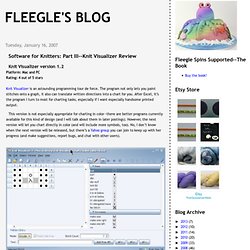 Knit Foundry: Software
Buy Knit Visualizer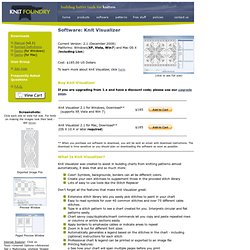 DROPS Design
LINKS TO KNIT PROJECTS I'VE MADE
St-DENIS St-Denis Magazine #2
HEY, SHOW ME YOUR KNITS!
Knit One, Poet Too
unnamed pearl
Dances with Wools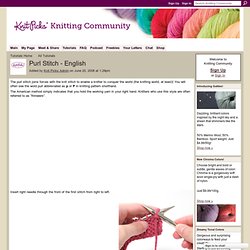 Purl Stitch - English - Knitting Community
The purl stitch joins forces with the knit stitch to enable a knitter to conquer the world (the knitting world, at least)! You will often see the word purl abbreviated as p or P in knitting pattern shorthand. The American method simply indicates that you hold the working yarn in your right hand.
Rundstrickmaschinen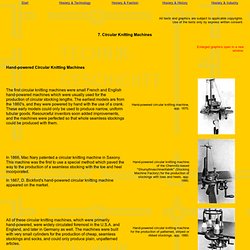 The production of ribbed tubular goods and athletic socks became possible for the first time with the "Simplex" machine, manufactured by the English company Wildt & Co. In 1920, the English company William Spiers in Leicester launched the first double-cylinder knitting machine with several operating systems for patterned purl-knit goods. Double-cylinder knitting machines are a special type of circular knitting machines which work with two needle cylinders.
Norwegian to English Knitting Lessons from Bagatell
Find these instructions useful? Feel free to make a donation for whatever you feel appropriate (even a couple of bucks would be greatly appreciated!)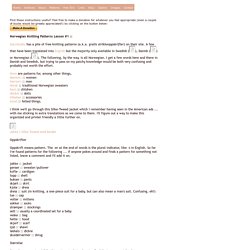 Want to help me with some of the costs of providing free educational resources and newsletters?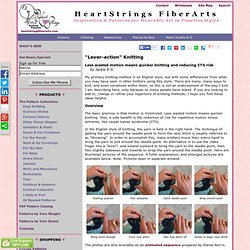 Knitting method - English knitting method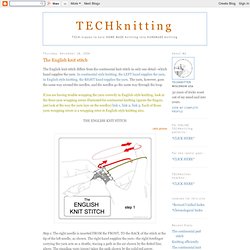 The English knit stitch differs from the continental knit stitch in only one detail--which hand supplies the yarn. In continental style knitting, the LEFT hand supplies the yarn, in English style knitting, the RIGHT hand supplies the yarn. The yarn, however, goes the same way around the needles, and the needles go the same way through the loop.
The English knit stitch
Herbert Niebling
Knitted Lace Designs of Herbert Niebling German lace knitting Books - Needle Arts Book Shop
All about French Knitting
French knitting is great fun. It is how I started knitting as a kid.
Debbie Bliss - designer yarns and patterns
wiseNeedle - An Online Resource for Knitters
ABSs of Knitting
I Love to Create: Knitted & BeJewelled Shamrocks!