Knitters Resources
Old patterns. LaceFontSample.pdf (Objet application/pdf) Software for Knitters: Part I. Personal computers, dweeby and enormously expensive toys twenty years ago, are now, for better or worse, an intimate part of most of our lives.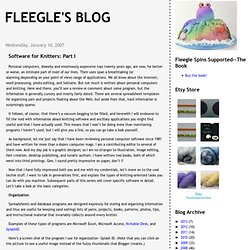 Their uses span a breathtaking (or alarming,depending on your point of view) range of applications. We all know about the Internet; word processing, photo editing, and Solitaire. But not much is written about personal computers and knitting. Here and there, you'll see a review or comment about some program, but the information is generally cursory and mostly fairly dated. Software for Knitters: Part II--Charting with Excel. Good old Excel.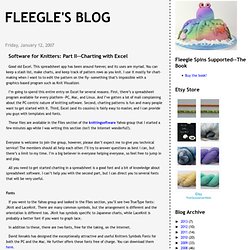 This spreadsheet app has been around forever, and its uses are myriad. You can keep a stash list, make charts, and keep track of pattern rows as you knit. I use it mostly for chart-making when I want to to edit the pattern on the fly—something that's impossible with a graphics-based program such as Knit Visualizer. I'm going to spend this entire entry on Excel for several reasons. Software for Knitters: Part III--Knit Visualizer Review. Knit Visualizer version 1.2 Platform: Mac and PCRating: 4 out of 5 stars Knit Visualizer is an astounding programming tour de force.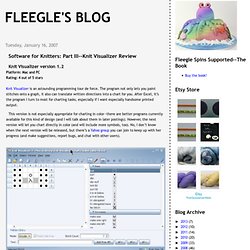 The program not only lets you paint stitches onto a graph, it also can translate written directions into a chart for you. After Excel, it's the program I turn to most for charting tasks, especially if I want especially handsome printed output. This version is not especially appropriate for charting in color—there are better programs currently available for this kind of design (and I will talk about them in later postings). However, the next version will let you chart directly in color (and will include more symbols, too). Knit Foundry: Software. Buy Knit Visualizer If you are upgrading from 1.x and have a discount code; please use our upgrade page. ** When you purchase our software to download, you will be sent an email with download instructions.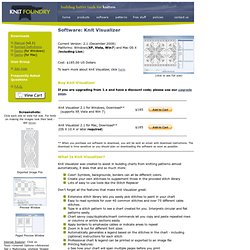 The download is time sensitive so you should plan on downloading the software as soon as possible. What Is Knit Visualizer? DROPS Design.
LINKS TO KNIT PROJECTS I'VE MADE
St-DENIS St-Denis Magazine #2. HEY, SHOW ME YOUR KNITS! Knit One, Poet Too. Untitled. Dances with Wools. Purl Stitch - English - Knitting Community. The purl stitch joins forces with the knit stitch to enable a knitter to conquer the world (the knitting world, at least)!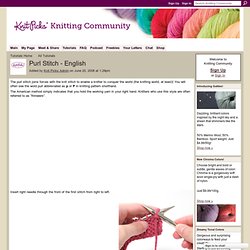 You will often see the word purl abbreviated as p or P in knitting pattern shorthand. The American method simply indicates that you hold the working yarn in your right hand. DROPS Design ~ Free knitting patterns. Rundstrickmaschinen. The production of ribbed tubular goods and athletic socks became possible for the first time with the "Simplex" machine, manufactured by the English company Wildt & Co.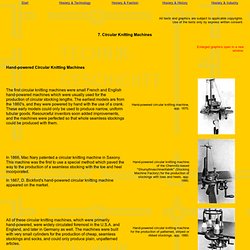 In 1920, the English company William Spiers in Leicester launched the first double-cylinder knitting machine with several operating systems for patterned purl-knit goods. Double-cylinder knitting machines are a special type of circular knitting machines which work with two needle cylinders. Norwegian to English Knitting Lessons from Bagatell. Find these instructions useful?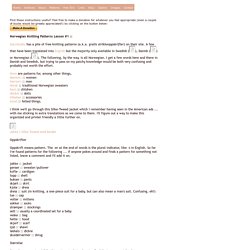 Feel free to make a donation for whatever you feel appropriate (even a couple of bucks would be greatly appreciated!) By clicking on the button below: Norwegian Knitting Patterns Lesson #1 :: Garnstudio has a pile of free knitting patterns (a.k.a. gratis strikkeoppskrifter) on their site. A few that have been translated into English but the majority only available in Swedish ( ), Danish ( Knitting method - English knitting method. Sign up for free Want to help me with some of the costs of providing free educational resources and newsletters?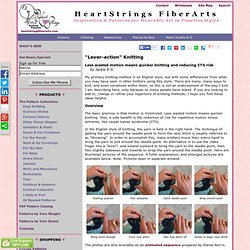 Your thank you donation, small or large, is very much appreciated. "Your patterns are just fabulous ... unique and yet based on tradition. " The English knit stitch. The English knit stitch differs from the continental knit stitch in only one detail--which hand supplies the yarn.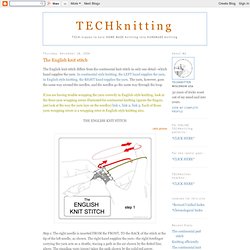 In continental style knitting, the LEFT hand supplies the yarn, in English style knitting, the RIGHT hand supplies the yarn. The yarn, however, goes the same way around the needles, and the needles go the same way through the loop. Herbert Niebling. Knitted Lace Designs of Herbert Niebling German lace knitting Books - Needle Arts Book Shop. All about French Knitting. French knitting is great fun.
It is how I started knitting as a kid. Children like it because they can learn this new skill quickly and will soon be able to produce friendship bracelets for each other. If you know how to french knit, click here to share your tips and patterns with visitors to this page For example, here is a great idea for a French Knitted Alphabet submitted by Ellen. Another great tip about how to make your own french knitting dolly was sent in by Caitlin. Debbie Bliss - designer yarns and patterns. WiseNeedle - An Online Resource for Knitters. ABSs of Knitting. I Love to Create: Knitted & BeJewelled Shamrocks! Small = 2 1/2″ tall How to Knit:MITERED LEAVES (Make 3..or 4, if you're feeling lucky!) CO 18 (20) sts. Larger Size OnlyRow 1: K8, ssk, k2tog, k8. Rows 2,4,6,8: Knit Both Sizes (for smaller size, treat Row 3 as 1)
---