Cars
Shooting-brake
1910 Rolls-Royce Silver Ghost Shooting Brake Shooting-brake , shooting brake or shooting break is a term for a car body style that has evolved through several distinct meanings over its history. Shooting-brake originated as an early 19th century British term [ 1 ] for a vehicle used to carry shooting parties [ 2 ] with their equipment and game . The term brake [ 3 ] was initially a chassis used to break-in horses—and was subsequently used to describe a motorized vehicle. The term was later applied to custom-built wagons by high-end coachbuilders, and properly refers to two door wagon style vehicles.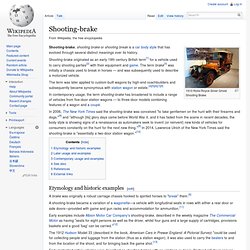 Williams F1 Portal
Williams Hybrid Power - Home
Careers Center - Welcome
General floor view, 2010 Paris Motor Show. The 2010 Paris Motor Show took place from 2 October to 17 October 2010, in Paris Expo , Porte de Versailles . For 2010, the theme of the special exhibition was "The Incredible Collection 2: automobile manufacturers collections and museums." [ edit ] Introductions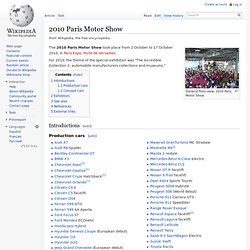 2010 Paris Motor Show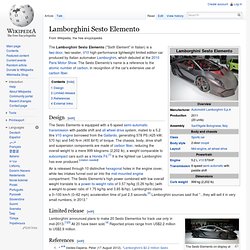 Lamborghini Sesto Elemento
The Lamborghini Sesto Elemento ("Sixth Element" in Italian) is a two-seater , V10 high-performance lightweight limited edition car produced by Italian automaker Lamborghini , which debuted at the 2010 Paris Motor Show . The Sesto Elemento's name is a reference to the atomic number of carbon , in recognition of the car's extensive use of carbon fiber . [ edit ] Design The Sesto Elemento is equipped with a 6-speed paddle-shift, semi-automatic transmission and all-wheel-drive system, mated to a 5.2-liter V10 engine borrowed from the Lamborghini Gallardo , generating 570 horsepower and 540 Nm (398 lb·ft) of torque. The chassis, body, drive shaft and suspension components are made of carbon fiber , reducing the overall weight to a mere 999 kilograms (2,200 lb), a weight comparable to subcompacts such as a Honda Fit . [ 1 ] It is the lightest car Lamborghini has ever produced. [ citation needed ]
Jaguar C-X75
Jaguar C-X75 is a hybrid-electric , two-seat, concept car from Jaguar which debuted at the 2010 Paris Motor Show . The C-X75 concept produces 778 horsepower through four electric motors , each of which drives one of the four wheels. The batteries driving these motors are recharged using two diesel -fed micro gas turbines instead of a conventional four-stroke engine . [ 1 ] It is described as an ideas model that will influence future design and technology. [ 2 ] The C-X75 was named in honour of Jaguar's 75th anniversary, the C stands for concept and the X for experimental. [ 1 ] [ 3 ] In May 2011 Jaguar announced plans to build a limited production of the Jaguar C-X75, with a downsized, boosted petrol engine instead of the micro gas turbines in the concept, from 2013 until 2015. The plug-in hybrid supercar price was estimated between GB£700,000 - GB£900,000 ( US$1.15 - US$1.48 million) depending on local market and taxes.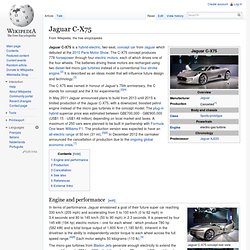 Jaguar-C-X75-Hybrid-Supercar-Rear-Side-Picture-588x392.jpg (588×392)
jaguar-Cx75-photo-02.jpg (468×439)
340x_jaguar_c-x75_turbine.jpg (340×255)
www.skrhak.net/wp-content/plugins/rss-poster/cache/a6a40_Jaguar_C-X75_610x384.jpg
The Lotus Esprit (es-pree) is a sports car that was built by Lotus in the United Kingdom between 1976 and 2004, as well as a future release in 2013. The silver Italdesign concept that eventually became the Esprit was unveiled at the Turin Motor Show in 1972 as a concept car , and was a development of a stretched Lotus Europa chassis. It was among the first of designer Giorgetto Giugiaro 's polygonal "folded paper" designs.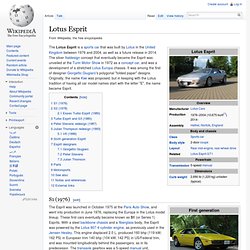 Lotus Esprit
wp-content/uploads/2010/10/espritlivea.jpg
The-New-2013-Lotus-Esprit-2.jpg (1280×850)
McLaren Automotive
Explode - McLaren Automotive.com