Awesome
ImgDaddy | Probably the funniest site on the net...
Many thanks for your photos and comments. Sorry if you've not had a reply. I've been AWOL again briefly, but LAMFRT is now back with a vengeance! Particular apologies to anyone who over the last couple of months has sent in one of those emails along the lines of, "My mate/girlfriend/daughter sent in a picture of me looking like a first-class tosser, and while I can just about see the funny side (no really, ahahahaha) please please please please please take it down". I haven't read your message yet, but I will do very soon. (I'll probably ignore it obviously, but still).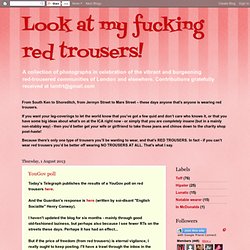 Look at my fucking red trousers!
True American Dog
Stumble Upon
27b/6
Avaliable Now. More articles, more emails, more everything. I'll Go Home Then; It's Warm and Has Chairs contains all new, never before published material by David Thorne, the author of 27bslash6.com and the New York Times best selling book, The Internet is a Playground. Order your copy today...