Ressources photos
Clip art - Hotmail. Tomkuhlmann: Here's the difference between PNG & EMF image files in #PowerPoint. Bitmap Images - Two Types of Graphics - Vector and Bitmap. It's almost impossible to discuss graphics software without first establishing an understanding of the differences between the two major 2D graphic types: bitmap and vector images.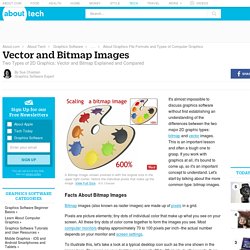 This is an important lesson and often a tough one to grasp. If you work with graphics at all, it's bound to come up, so it's an important concept to understand. Let's start by talking about the more common type: bitmap images. What You Should Know About Multimedia | How to PowerPoint. Check out the post on Understanding Multimedia for Rapid E-Learning.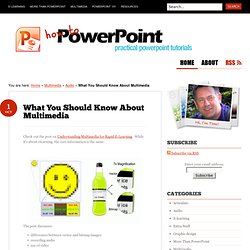 While it's about elearning, the core information is the same. The post discusses: differences between vector and bitmap imagesrecording audiouse of video There are also some good links to some free multimedia software. Understanding Multimedia For Rapid E-Learning. We've looked at understanding the customer's perspective, how to jump start you project, what you should know about designing a course, how to build a project plan, and working with your subject matter experts.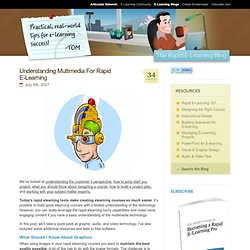 Today's rapid elearning tools make creating elearning courses so much easier. It's possible to build good elearning courses with a limited understanding of the technology. However, you can really leverage the rapid elearning tool's capabilities and make more engaging content if you have a basic understanding of the multimedia technology. In this post, we'll take a quick peek at graphic, audio, and video technology. I've also included some additional resources and links to free software.
Hanoi Daily Photo. The leading free stock photography site.
---