Steve Jobs
MarketWatch named Apple's Steve Jobs "CEO of the Decade," taking into account the revolutionary products Apple has introduced to consumers and the impact Jobs has had on the tech world. Amazon's Jeff Bezos and Google's Eric Schmidt also placed on the list.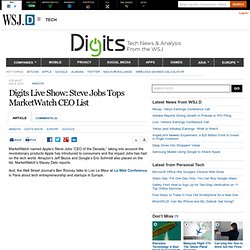 Digits Live Show: Steve Jobs Tops MarketWatch CEO List - Digits
Steve Jobs: The man who polished Apple - Times Online
Steve Jobs: la biographie interdite d'un génie paranoïaque et l'histoire d'Apple - Obiwi - Internet
La culture du secret chez Apple expliquerait même le silence obstiné avant que l'on apprenne la greffe du foie du prophète . Des gens fliqués par des caméras recouvrent de drap noir des prototypes tenus secret, et lorsqu'ils lèvent le voile c'est pour s'éclairer d'une lumière rouge. L'expérience du Guide avec le LSD ajoute à la légende du personnage colérique. Il n'est pas décrit comme un ingénieur, mais comme le client absolu, la synthèse du design et du concept prémonitoire. Le Socrate de l'informatique, qui sait faire accoucher les esprits qui ne savent pas encore qu'ils savaient. L'iphone, l'ipod, le Mac étaient dans l'inconscient collectif.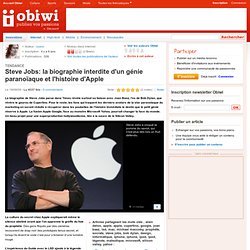 Article : Une bio non autorisée : Good Steve, Bad Steve
Steve Jobs - "Desktop-class Applications on the iPhone" - January 2007
Steve Jobs Macworld 2008 Keynote in 60 Seconds
Steve Jobs is back! - Apple Special Event 2009 San Fransisco
Steve Jobs
Steve Jobs Documentary
Les destinées de Steve Jobs et de Stephen Wozniak ont été intimement liés depuis leur rencontre au Homebrew Computer Club, où ils se retrouvaient régulièrement avec d'autres bidouilleurs, aux premières heures de l'histoire de l'informatique. Stephen Wozniak est né en 1950, dans la Silicon Valley. Son père, ingénieur en électronique, l'intéresse très tôt aux techniques électroniques. Wozniak devient vite très doué : à 13 ans, il gagne le premier prix d'un concours de création de machines à additionner et soustraire. Son professeur d'électronique à l'High Shcool de Homestead découvre son talent et lui offre un job dans une entreprise locale, où il peut utiliser un ordinateur (un DEC PDP-8). Il découvre alors les possibilités de la machine, étudie son fonctionnement, et rêve de pouvoir un jour créer son propre ordinateur.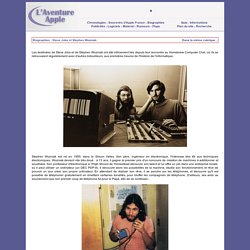 Macworld NY 1999-Noah Wyle imitating Steve Jobs
Apple Music Event 2001-The First Ever iPod Introduction
iphone Keynote - Pt 1 (Intro)
Boom! [all about Steve Jobs.com]
1983 Apple Event Bill Gates and Steve Jobs
1983 Apple Keynote-The "1984" Ad Introduction
All-time favorites [all about Steve Jobs.com]