eCommerce
Financial Services Technology, Mobile Banking, Payments | Fiserv
Krossover | Get Your Game Brain On
FundAnything
Social Media Management (SMMS) | tracx
P. Reyhan, Digital Content at Allstate "I think of Outbrain the same way I think of a bag of my favorite tortilla chips.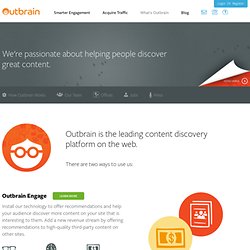 What is Outbrain?
Adaptive learning, collaborative learning, Learning Record Stores (LRS), re-purposable learning, Massive Open Online Courses (MOOCs), Open Education Resource (OER) management which is your hot pic for the eLearning Industry 2013?
10 Things You Should Know About eLearning Industry 2013 - Infographic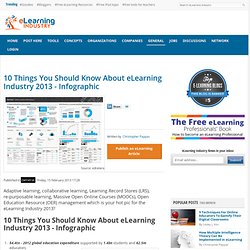 Material Wrld - shop, showcase, and sell fashion from stylish personal closets
VAUNTE
The home of global sports online
Perka | For Your Business
JOOR | Home
I/OBJECT
blissmo marketplace
Styleowner
Of a Kind - Know and Own
Platify - get read anytime, anywhere on any device.
Fast and Secure Payments
costdropper