Dwarf fortress
Bay 12 Games Forum - Index
DF General Discussion
DF Gameplay Questions
DF Adventure Mode Discussion
DF Modding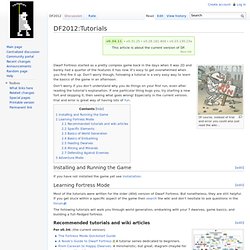 Tutorials
From Dwarf Fortress Wiki
From Dwarf Fortress Wiki This guide is aimed at completeness, overview, evaluation, and comparison. It is aimed at new players. Most of the information available on this page is already stated on more specific pages.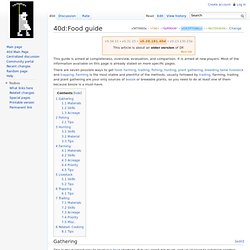 Food guide
Quickstart guide
From Dwarf Fortress Wiki This guide is intended to be used in conjunction with a save file downloadable here (5 meg download). By downloading it and unzipping it to your Dwarf Fortress directory you will be able to jump straight into a game where the first few hurdles have been overcome - a world has been generated, a location for the fort been selected, the starting skills and items have been bought, and the basic components of the fort completed. This guide aims to explain what the graphics represent, how the menu and interface system works, and guide you through ordering your dwarves to perform a few simple tasks. This guide and associated save file was created using version v0.28.181.40d . Thus, it will not work with version v0.31.01 or later.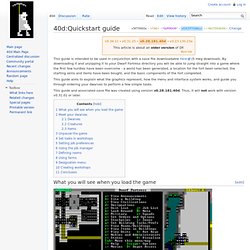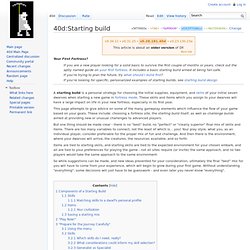 Starting build
From Dwarf Fortress Wiki Your First Fortress? If you are a new player looking for a solid basis to survive the first couple of months or years, check out the aptly named guide on your first fortress . It includes a basic starting build aimed at being fail-safe. If you're trying to plan the future, try what should I build first ?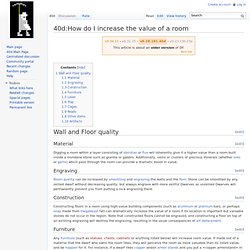 From Dwarf Fortress Wiki [ edit ] Material Digging a room within a layer consisting of obsidian or flux will inherently give it a higher value than a room built inside a mundane stone such as granite or gabbro. Additionally, veins or clusters of precious minerals (whether ores or gems ) which pass through the room can provide a dramatic boost in value.
How do I increase the value of a room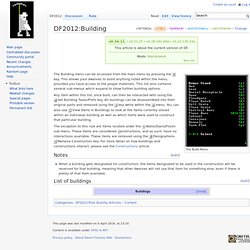 From Dwarf Fortress Wiki The Build Menu The Building menu can be accessed from the main menu by pressing the b key.
DF2010:Building
Building
From Dwarf Fortress Wiki A building is a structure that can be placed from the b uild menu and then interacted with by the Set Building Tasks/Prefs command ( q ), and the View Items in Buildings command ( t ). Included in this are workshops, doors, trade depots, furniture, bridges, traps -- most of the interesting stuff your dwarves will build!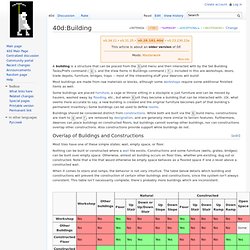 Trap
From Dwarf Fortress Wiki For traps used to catch vermin , see animal trap . Traps are a reliable and cost-effective method for defending any fortress. Unlike soldiers , they're always on duty, and don't need to be carefully managed. On the other hand, they are immobile and can only lie in wait for foes to walk over them. To build a trap, go to the b uild-> T raps/Levers menu.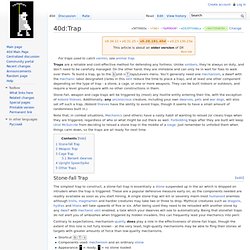 From Dwarf Fortress Wiki For information on other types of traps, or trapping non-vermin land animals see Trap . Animal traps are special traps used to catch live vermin or fish from the river , not (large) land animals . Creating an animal trap requires a dwarf with the trapping labor designated, rather than carpentry or metalcrafting , despite the fact that they are constructed at a carpenter's workshop or a metalsmith's forge .
Animal trap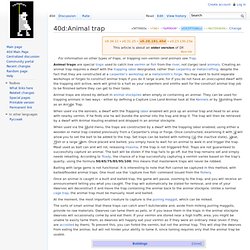 From Dwarf Fortress Wiki If looking for a guide on general fortifications as defense, see the Defense guide and/or Defense design . Fortifications on top of a round tower. Fortifications are arrow slits used in the defense of your fortress , (and which are more technically known as "crenellations") . They are probably most commonly used along the outside walls of your fortress and on the upper levels of constructed watchtowers so that marksdwarves and siege engines can fire at enemies from within your walls. Much like real world embrasures on battlements, their utility is limited if the enemy is close and at the same height; their true power lies in shooting from above and at distance, as it is possible to shoot at targets on other z-levels.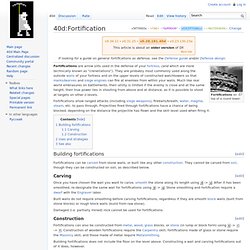 Fortification
From Dwarf Fortress Wiki In Dwarf Fortress, you will often find yourself beset by hostile creatures looking to murder your dwarves or take their treasures. Protecting your fortress from intruders is a challenging task and a broad, complex topic.
Defense guide
From Dwarf Fortress Wiki General farming flowchart. Farming is the act of growing crops for food , alcohol production and cloth manufacturing. While small forts can easily be sustained by plant gathering, hunting and trading, farming is vital to large settlements. Farming is done at a farm plot building ( b - p , resize with u m k h ). Building uses no resources, and can only be done on soil or muddied rock.
DF2010:Farming
Crop
From Dwarf Fortress Wiki Flowchart - click to englarge Crops are plants that may be grown at farm plots .