Ofsted
I've recently been working with the magnificent @HeatherLeatt who has been apportioned with the task of training all of our teaching staff through the new Ofsted framework. Alongside the goalpost changes (this is the only political reference in the article) we have identified our own priorities in the classroom for the school. On the whole, these are consistently the same year-on-year with a few coming and going according to a changing environment. So, no real surprises. However, with the latest framework, probably just like everyone else, we are all now redefining what is 'outstanding' according to the new framework. We have championed strategies that encourage sharing of good practice and are ever-increasingly popular through online forums that I network with.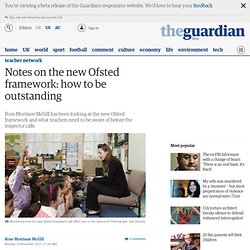 Notes on the new Ofsted framework: how to be outstanding | Teacher Network | Guardian Professional
Firstly, this is not a model, just an experience… Ofsted background: …Throughout my teaching career, I've been part of 5 Ofsted inspections, dating back to 1997 as a class teacher, and most recently in 2011, my second as a senior teacher… When starting my current school, Oftsed had departed the day before! My wife, after 11 years of teaching has only been 'subject to Ofsted' once, but I'm sure some teachers across the country have averaged one every 2 or 3 years! My average is every 4… On each of the occasions I have 'been done to', the framework has changed and so has the experience; alternating from reply-slips and no-comments from the observing inspector, to a broad smile, coupled with detailed feedback and a reciprocated pair of ears.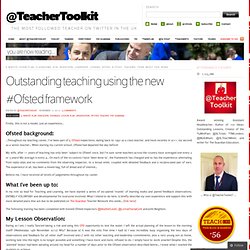 Ofsted « Quality Toolkit
Ofsted
The Education and Training Inspectorate in Northern Ireland, Her Majesty's Inspectorate of Education in Scotland, and Estyn in Wales perform similar functions within their education systems. History[edit] In 1833, the government introduced an annual grant to the National Society and the British and Foreign School Society, which respectively provided Church of England and non-denominational elementary schools for poor children. To monitor the effectiveness of the grant, two inspectors of schools were appointed in 1837, Seymour Tremenheere and the Revd John Allen. Dr J.P. Kay-Shuttleworth, then secretary of the Privy Council education committee, ensured that the inspectors were appointed by Order in Council to guard their independence.[4] The grant and inspection system were extended in 1847 to Roman Catholic elementary schools established by the Catholic Poor School Committee.[5]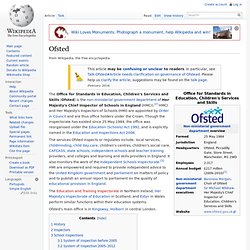 Surveys
Parent View gives you the chance to tell us what you think about your child's school. Parent View asks for your opinion on 12 aspects of your child's school, from the quality of teaching, to dealing with bullying and poor behaviour. If your child is at a boarding or a residential special school, it also asks for your opinion on five aspects of your child's boarding or welfare. We will use the information you provide when making decisions about which schools to inspect, and when. A screencast demonstrating how to register and complete a survey on Parent View is available on the How to use Parent View page. When inspecting education in independent schools, we recommend when inspection should take place but inspect at the request of the DfE.
Welcome to Parent View | Ofsted Parent View
A good education for all - key changes for further education and skills providers
Handbook for the inspection of further education and skills from September 2012
New Ofsted Inspection Framework May 2012
The Common Inspection Framework 2012 « Quality Toolkit
You can complete our Enquiry Formfor more information or to ask any questions In August 2009 the inspection cycle ends for colleges and work-based learning. A new Common Inspection Framework (CIF) and a new inspection methodology are being introduced in September 2009. These will also apply to any new 'Next step' providers but there will be transition arrangements for adult and community learning, Department of Work and Pensions and judicial services providers. The new CIF has a strengthened approach to judging capacity to improve, a greater focus on how colleges and providers meet users' needs, a greater focus on learning through teaching, training and assessment - and the grades awarded for equality and diversity, safeguarding and value for money will contribute to the judgment on leadership and management. There is increased emphasis on 'Every Child Matters' and also on the progress made by different groups of learners.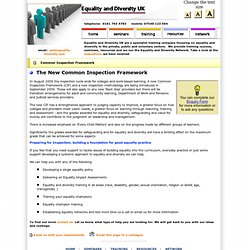 Common Inspection Framework 2009
Preparation for inspection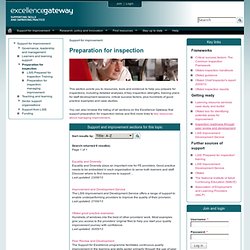 Search returned 6 result(s) Page 1 of 1 Equality and DiversityEquality and Diversity plays an important role for FE providers. Good practice needs to be embedded in each organisation to serve both learners and staff.
www.wiltshire.gov.uk/primary-headteachers-top-tips-for-ofsted.pdf
Outstanding providers
Outstanding providers are those providers who have been judged to have outstanding overall effectiveness in an Ofsted inspection. Some special criteria may apply – for example, if a provider has more than one inspection during the period. When Ofsted inspects a provider, in most cases the inspector will arrive at a judgement on the standard of the provider. The very best providers have been judged to have outstanding overall effectiveness. These are the providers whose work with children, young people and adult learners have been found to be of outstanding quality. These providers can use our outstanding provider logo on stationery and signage, and we also send each outstanding provider a certificate and a letter from Her Majesty's Chief Inspector of Education, Children's Services and Skills.