Ofsted
Wondering how the new Ofsted framework will affect you in the classroom? Photograph: Suki Dhanda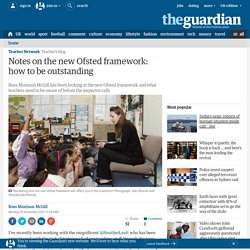 Notes on the new Ofsted framework: how to be outstanding | Teacher Network | Guardian Professional
Ofsted « Quality Toolkit
Ofsted
The Office for Standards in Education, Children's Services and Skills ( Ofsted ) is the non-ministerial government department of Her Majesty's Chief Inspector of Schools In England (HMCI). [ 2 ] HMCI and Her Majesty's Inspectors of Schools (HMI) are appointed by Order in Council and are thus office holders under the Crown. Though the inspectorate has existed since the mid-19th century, the office was reorganised under the Education (Schools) Act 1992 , and is explicitly named in the Education and Inspections Act 2006 .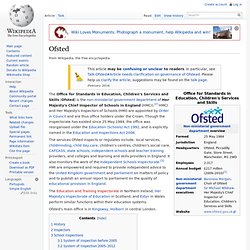 Surveys
Welcome to Parent View | Ofsted Parent View
A good education for all - key changes for further education and skills providers
Handbook for the inspection of further education and skills from September 2012
New Ofsted Inspection Framework May 2012
The Common Inspection Framework 2012 « Quality Toolkit
You can complete our Enquiry Form for more information or to ask any questions In August 2009 the inspection cycle ends for colleges and work-based learning.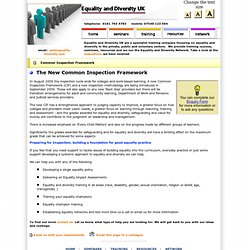 Common Inspection Framework 2009
Preparation for inspection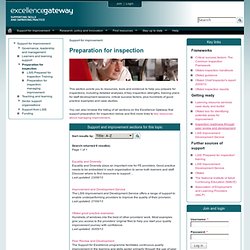 Search returned 6 result(s) Page 1 of 1 Equality and Diversity Equality and Diversity plays an important role for FE providers. Good practice needs to be embedded in each organisation to serve both learners and staff.
www.wiltshire.gov.uk/primary-headteachers-top-tips-for-ofsted.pdf
Outstanding providers
Outstanding providers are those providers who have been judged to have outstanding overall effectiveness in an Ofsted inspection. Some special criteria may apply – for example, if a provider has more than one inspection during the period.