Ofsted
I've recently been working with the magnificent @HeatherLeatt who has been apportioned with the task of training all of our teaching staff through the new Ofsted framework. Alongside the goalpost changes (this is the only political reference in the article) we have identified our own priorities in the classroom for the school. On the whole, these are consistently the same year-on-year with a few coming and going according to a changing environment. So, no real surprises. However, with the latest framework, probably just like everyone else, we are all now redefining what is 'outstanding' according to the new framework. We have championed strategies that encourage sharing of good practice and are ever-increasingly popular through online forums that I network with.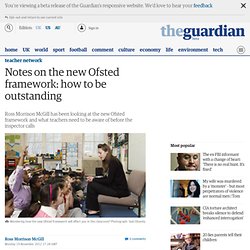 Notes on the new Ofsted framework: how to be outstanding | Teacher Network | Guardian Professional
Firstly, this is not a model, just an experience…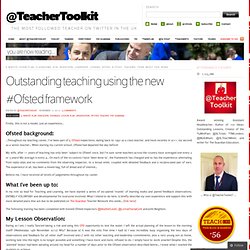 Ofsted « Quality Toolkit
Ofsted
The Education and Training Inspectorate in Northern Ireland, Her Majesty's Inspectorate of Education in Scotland, and Estyn in Wales perform similar functions within their education systems. History[edit]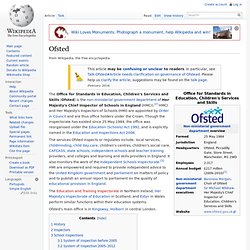 Surveys
Welcome to Parent View | Ofsted Parent View
A good education for all - key changes for further education and skills providers
Handbook for the inspection of further education and skills from September 2012
New Ofsted Inspection Framework May 2012
The Common Inspection Framework 2012 « Quality Toolkit
You can complete our Enquiry Formfor more information or to ask any questions In August 2009 the inspection cycle ends for colleges and work-based learning.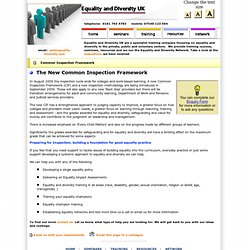 Common Inspection Framework 2009
Preparation for inspection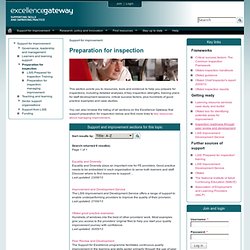 Search returned 6 result(s) Page 1 of 1 Equality and DiversityEquality and Diversity plays an important role for FE providers. Good practice needs to be embedded in each organisation to serve both learners and staff.
www.wiltshire.gov.uk/primary-headteachers-top-tips-for-ofsted.pdf
Outstanding providers
Outstanding providers are those providers who have been judged to have outstanding overall effectiveness in an Ofsted inspection. Some special criteria may apply – for example, if a provider has more than one inspection during the period.