ORGANIZE
My Daily Routine + Free Printables! It's no secret that I absolutely LOVE my weekly planner!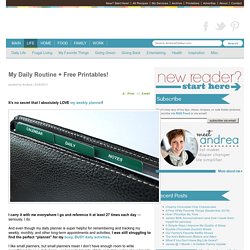 I carry it with me everywhere I go and reference it at least 27 times each day — seriously, I do. And even though my daily planner is super helpful for remembering and tracking my weekly, monthly, and other long-term appointments and activities; I was still struggling to find the perfect "planner" for my busy, BUSY daily activities. I like small planners, but small planners mean I don't have enough room to write everything I do on a daily basis…so I resorted to lots of lists and sticky notes shoved inside my planner. It worked, but I knew I could come up with something better! LifeOrganizers.com How to organize your home and office, organizing tips, articles on organizing. 100 Ways to Simplify Your Life (and Make Yourself Happier) I've been striving to simplify my life for many years now, and have recently (through my writing) been advising others how to do the same.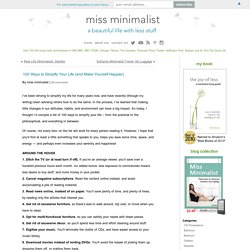 In the process, I've learned that making little changes in our attitudes, habits, and environment can have a big impact. So today, I thought I'd compile a list of 100 ways to simplify your life – from the practical to the philosophical, and everything in between. Paper Pile Makeover Results! A few weeks ago I set out to reform my towering pile of papers.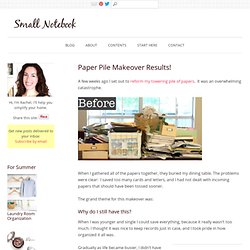 It was an overwhelming catastrophe. When I gathered all of the papers together, they buried my dining table. The problems were clear: I saved too many cards and letters, and I had not dealt with incoming papers that should have been tossed sooner. The grand theme for this makeover was:
---