Food/Drink
How to cook perfect cheese soufflé | Life and style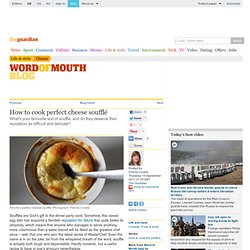 Soufflés are God's gift to the dinner party cook. Somehow, this classic egg dish has acquired a fiendish reputation for failure that quite belies its simplicity, which means that anyone who manages to serve anything more voluminous than a water biscuit will be feted as the greatest chef since – well, that one who won the latest series of MasterChef. Even the name is in on the joke: far from the whispered breath of the word, soufflé is actually both tough and dependable. Hardly romantic, but a useful recipe to have in one's armoury nevertheless. To master the soufflé, you must first understand it.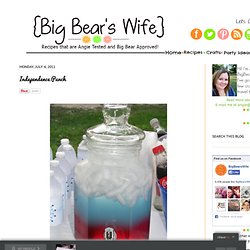 Happy 4th of July!! I know its kinda late in the day over here on the East Coast, as the 4th of July is coming to an end. I will be posting more 4th of July Recipes later to keep a record of for next year, but I really wanted to share this one now. It is pretty much the coolest punch ever haha. (Either in a Glass or a drink dispenser)
Big Bears Wife: Independence Punch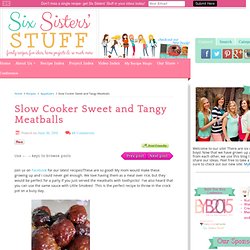 Join us on Facebook for our latest recipes! These are so good! My mom would make these growing up and I could never get enough.
Slow Cooker Sweet and Tangy Meatballs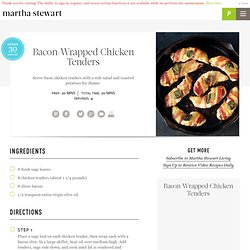 Save to your Collections Sorry for the inconvenience! Saving is temporarily unavailable as we work through a few kinks in our new recipe design (we hope you like it!). Don't worry, your collections are safe and you'll be able to save recipes again very soon.
Wedding Season has Begun!!! | My Sweet and Saucy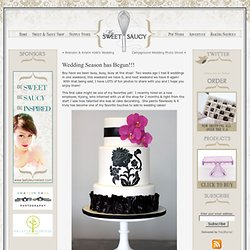 Boy have we been busy, busy, busy at the shop! Two weeks ago I had 8 weddings in one weekend, this weekend we have 6, and next weekend we have 8 again! With that being said, I have LOTS of fun photos to share with you and I hope you enjoy them!
Breakfast Sandwiches Admin Note: Since this post, I've remade these using a better technique. Be sure to check out my Breakfast Sandwiches Revisited . After I made baked chicken nuggets a few weeks ago and explained my deal with Betsy (if she wants something from McD's, I try to make it for her), I got a few emails saying that the only meal some people will eat at McDonald's is breakfast. This struck me as kind of odd because most of the stuff on their breakfast menu is even easier to reproduce at home than the stuff on their other menus. Take their classic Egg McMuffin for example.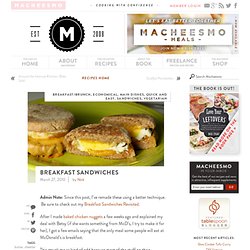 Food / Ham and Cheese Pretzel Bites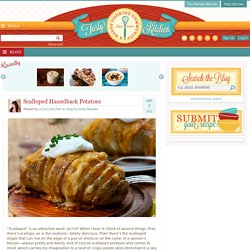 "Scalloped" is an attractive word, isn't it? When I hear it I think of several things: first, there's scallops, as in the seafood—totally delicious. Then there's the scalloped shape that can live on the edge of a pair of shorts or on the collar of a woman's blouse—always pretty and dainty.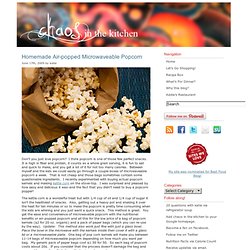 Homemade Air-popped Microwaveable Popcorn
June 17th, 2009 by katie Don't you just love popcorn? I think popcorn is one of those few perfect snacks. It is high in fiber and protein, it counts as a whole grain serving, it is fun to eat and quick to make, and you get a lot of it for not too many calories.
I owe a debt of gratitude to Moroccan cooking expert Kitty Morse . After all, she's the one who taught me just how easy it is to make my own preserved lemons. How easy? So easy that you don't even need a real recipe for it. I took a cooking class at Draeger's years ago that Morse taught.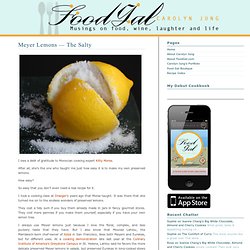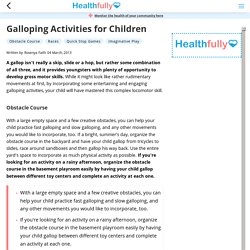 Healthy Halloween Treats & Snacks
Halloween conjures images of chocolate and candy, but these don't have to be your only options on the scariest night of the year. Whether you are hosting a Halloween party, handing out goodies at your front door or providing an at-home alternative to the bags of candy your kids bring home, try some of these healthy Halloween treats and snacks made with fruits, vegetables and other healthy ingredients. Cut the top off a large orange. Scoop out the insides, chop them into bite-sized pieces and set the empty orange rind aside.