Tech news & blogs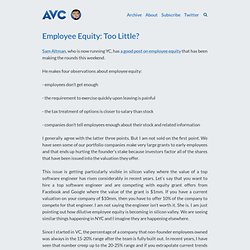 Entrepreneur: I plan to launch a better streaming music service. It leverages the data on what you and your friends currently listen to, combines that with the schedule of new music launches and acts that are touring in your city in the coming months and creates playlists of music that you should be listening to in order to find new acts to listen to and go see live. VC: Well since Spotify, Beats, and Apple have paid all the telcos so that their services are free on the mobile networks, we are concerned that new music services like yours will have a hard time getting new users to use them because the data plan is so expensive. We like you and the idea very much, but we are going to have to pass. Entrepreneur: I plan to launch a service that curates the funniest videos from all across the internet and packages them up in a 30 minute daily video show that people will watch on their phones as they are commuting to work on the subway.
Web 2.0 Expo SF 2010: Danny Sullivan, "The Search Platform: Frie
I've been talking for years about "the internet operating system", but I realized I've never written an extended post to define what I think it is, where it is going, and the choices we face. This is that missing post. Here you will see the underlying beliefs about the future that are guiding my publishing program as well as the rationale behind conferences I organize like the Web 2.0 Summit and Web 2.0 Expo, the Where 2.0 Conference, and even the Gov 2.0 Summit and Gov 2.0 Expo. Ask yourself for a moment, what is the operating system of a Google or Bing search? What is the operating system of a mobile phone call? What is the operating system of maps and directions on your phone?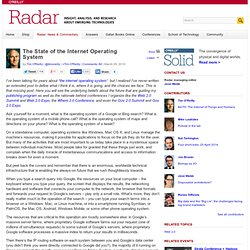 This post is Part Two of my State of the Internet Operating System. If you haven't read Part One, you should do so before reading this piece. As I wrote last month, it is becoming increasingly clear that the internet is becoming not just a platform, but an operating system, an operating system that manages access by devices such as personal computers, phones, and other personal electronics to cloud subsystems ranging from computation, storage, and communications to location, identity, social graph, search, and payment.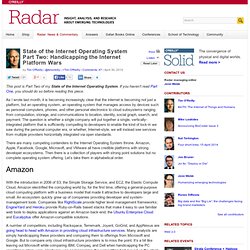 State of the Internet Operating System Part Two: Handicapping th