Full Science Courses
Get flash to fully experience Pearltrees
AP Calculus AB/BC Exam Preparation
This is the coolest biology book I have ever read.
The online textbook provides a background to understand and discuss the natural functioning of the different Earth systems; it introduces humans as part of the overall ecosystem and explores what is needed to sustain human life; and it looks at the effects that human actions have on different natural systems. The online textbook also includes full-color images of related figures, glossary terms, and a bibliography for further reading. Click on the unit titles in the menu to the left to view the Web version of the online textbook, which includes links to related material; or download PDF versions of the chapters below.
Mr.Q's LabNotes is a free monthly newsletter which provides lessons and insights as to new developments in Mr.Q's world. Free is good. Free is our friend! Check out the Blog of Mr.Q for new ways to supplement the Classic Science curriculum at home!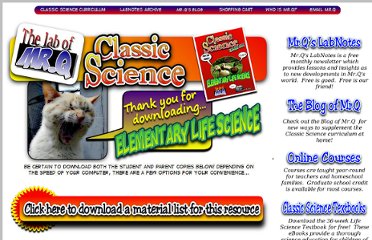 Finally! A homeschool science curriculum where you can combine a multitude of ages, use "living books" and do lots of hands on activities! Welcome to Otter's Homeschool Science!