Skirt
The Maxi. Remember that one time I used to sew clothes?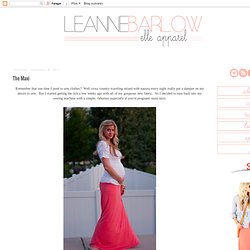 Well cross country traveling mixed with nausea every night really put a damper on my desire to sew. But I started getting the itch a few weeks ago with all of my gorgeous new fabric. So I decided to ease back into my sewing machine with a simple, fabulous especially if you're pregnant, maxi skirt. Handkerchief Skirt w/ Roll Down Waistband from hand-me-down t shirts. Supplies:-scissors-sewing machine-thread-measuring tape-sewing pins -Choosing a Material:So you're going to need material.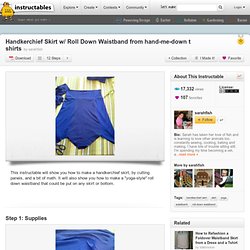 You can buy fabric, I'd suggest a cotton/lycra blend, or something that's a bit stretchy. In this, I use hand-me-down t shirts. -Amount of Material:For a size 6ish women's, I use 3 mens shirts in this, but I would suggest at least one more so that it flows a bit better.More panels = more frills. Wrap Skirt Praise and Yardage Info. First, I have to thank Bethany for the excellent wrap skirt tutorials–pattern drafting and construction.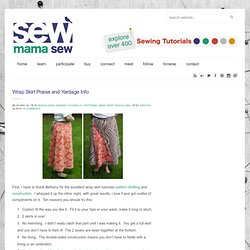 I whipped it up the other night, with great results. I love it and got oodles of compliments on it. Ten reasons you should try this: Custom fit the way you like it. Wrap Skirt Pattern Draft Tutorial. Wrap Patchwork Skirt with Ruffle Handmade by hippiehousedesigns. This is a handmade Hippie Style Multi-Colored Patchwork Wrap Skirt made with Recycled Fabrics – So Earth Friendly.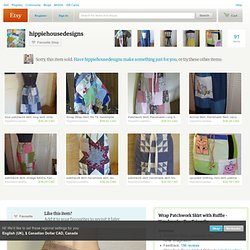 You will find an abundance of patterns on this awesome skirt. At the bottom edge is a wide ruffle. There is a lot to look at and so pretty to wear. Since it is a wrap-style skirt, it is adjustable. Making Things: DIY: Circle Skirts Part 1. Make a Gypsy Skirt. Many costumes call for a gypsy skirt.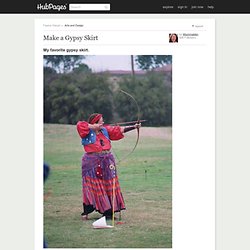 It's great for belly dancing, peasants, gypsy costumes, prairie looks, romantic skirts, folk dancing, pirating, and witchy wear. You can use earth tones, dark blues, and forest greens for Renaissance faires. Gothic belly dancing (raks Gothique) has basic black as a given, but you can also go with deep purple or burgundy (blood red). Here's how to make your own pattern. Get a tape measure. How to Make a Belly Dance Turkish Circle Skirt. Gypsy skirt | Gatherings. Free Skirt Patterns. AutoCAD Circle Skirt. What you need: - 5-6 yards of fabric for the skirt (make the pattern to your dimensions first, then calculate how much fabric you need) - 1/2 yard or so of heavier fabric for the waistband - wide ribbon or trim, two lengths of cord or shoelace - grommets & grommeting tool - pair of pants that fits snugly on your waist and hips - sewing machine, basic sewing supplies & skills - AutoCAD software & large-format printer (not absolutely necessary, you can draw your pattern by hand on large sheets of paper) Obviously, it's not worth going out and buying a copy of AutoCAD to draw up simple sewing patterns.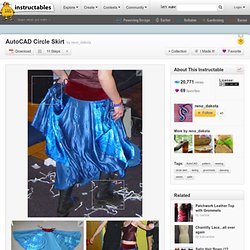 But if you happen to have access to the software and a large-format printer and you know how to use them, well, why not? TUTORIAL EXAMPLES. Free Pattern Drafting Skirt Stage-by-Stage Tutorial Index. Cafe_wrap_skirt.pdf (application/pdf Object) Rainbow Patchwork Skirt. Hello!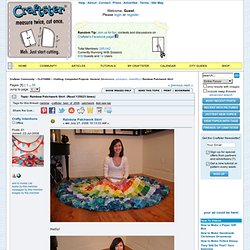 I hope you enjoy photos of my floor-length patchwork skirt. This took me at least 5 months to make. There are 10 tiers of 4x4 inch square patches. Circular skirt directions. Sew a Simple Circle Skirt. Petticoat.pdf (application/pdf Object) How to Make a Belly Dancing Circle Skirt. Patterns That Fit You - Free Skirt Class. Proj76-project-tiered_peasant_skirt.pdf (application/pdf Object) XOX SKIRT.
Featured: Victoria Secret Peasant Skirt You'll ♥ this easy-to-sew skirt…XOX.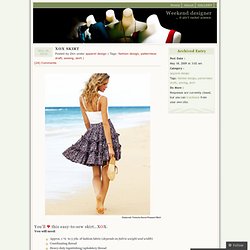 You will need: Approx. 1 ½ to 3 yds. of fashion fabric (depends on fabric weight and width)Coordinating threadHeavy-duty topstitching/upholstery thread Waist – measure around narrowest part of torso (just above navel level) How to Make a Skirt out of a Pile of Scraps: No Pattern Needed! April 18th, 2009 Email 35 users recommend.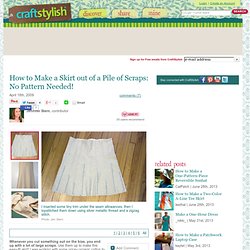 Simple Gored Skirt. A "gore" is simply a triangular panel of fabric.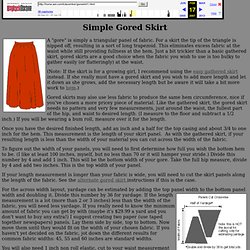 For a skirt the tip of the triangle is nipped off, resulting in a sort of long trapezoid. This eliminates excess fabric at the waist while still providing fullness at the hem. Just a bit trickier than a basic gathered skirt, gored skirts are a good choice when the fabric you wish to use is too bulky to gather easily (or flatteringly) at the waist. (Note: If the skirt is for a growing girl, I recommend using the easy gathered skirt instead. How to Make a Gathered Skirt with Knit Waistband. Knee-length skirt with 4" (10 cm) knit waistband (shown folded over) and gathered cotton voile skirt body.
The circumference of the finished skirt body (ungathered) is twice the hip circumference, and the length of the finished skirt body is 18" (46 cm). Knit fabric with at least 40% stretch for waistband Lightweight woven fabric, like cotton lawn or voile, for skirt body Optional lightweight woven fabric for lining Waistband: Cut 1 rectangle from your knit fabric as shown in Diagram 1.
Note for the Length (L): The waistband length of 9" (23 cm) used in Diagram 1 creates a finished waistband that is 4" (10 cm) thick. For a different waistband thickness, multiply the desired thickness by 2 and add 1" (25 mm) for seam allowances. For example, for a 3" (76 mm) thick finished waistband, cut a length of 7" (18 cm), and, for a 5" (13 cm) thick finished waistband, cut a length of 11" (28 cm).
Tara #8043.
---