Purses/Bags
It's a Cinch Bag : a tutorial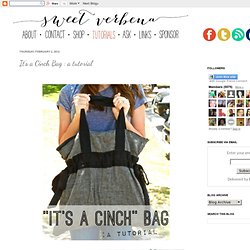 If you've been following since way back in June (pretty much the beginning of my blogging days), you may remember this post . If you read it then you see that this bag was completely inspired by Dana's bag over at MADE . I fell in love with it, and did my best to come up with my own version.
Tote and Tutorial | IS•LY | I Still Love you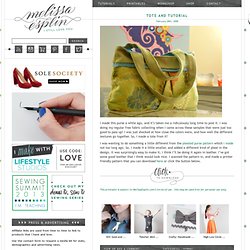 Tote and Tutorial
Petite Purls - Spring 2010
Upcycled Water Bottle Sling By Betz White The Upcycled Water Bottle Sling gives your kids' outgrown cargo pants a fresh new life.
Hobo Bag
I don't want you guys to think I'm not sewing!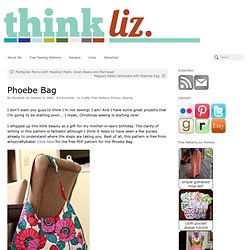 Phoebe Bag – think liz.
craftynest.com/2009/10/tank-top-totes-six-pockets-or-gathered/
sewtakeahike.typepad.com/sewtakeahike/2007/09/green-wool-br-2
kristinlaflamme.com/musings/?p=119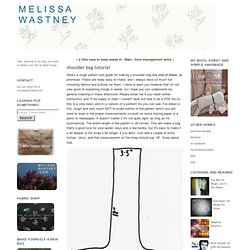 Here's a rough pattern and guide for making a shoulder bag like one of these , as promised.
Diana Hobo – Free Pattern – think liz.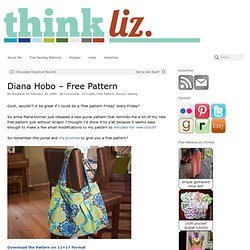 Gosh, wouldn't it be great if I could do a 'free pattern Friday' every Friday?
Follow the directions and print out the free pattern to create a versatile bag the can easily double as a spacious pocketbook.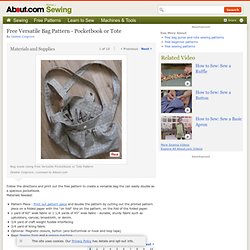 Free Tote Bag or Pocketbook Pattern and Directions to Sew a Bag with a Gathered Pouch on a Flat Top
sewtakeahike.typepad.com/sewtakeahike/2007/10/not-so-blue-caf
lazygirldesigns.com/blog/?p=1920
jemimabean.blogspot.com/2008/11/dresden-petal-handbag-tutorial
madebyrae.blogspot.com/2009/02/free-buttercup-bag-sewing-pattern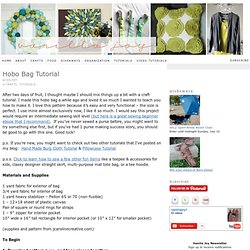 After two days of fruit, I thought maybe I should mix things up a bit with a craft tutorial. I made this hobo bag a while ago and loved it so much I wanted to teach you how to make it. I love this pattern because it's easy and very functional – the size is perfect.
Free Hobo Printable Purse Patterns - Pattern for Purse - Purse Sewing Pattern - How To Make A Hobo Bag | Vanilla Joy
PA00123.pdf (application/pdf Object)
Having a reversible tote bag is like having 2 bags in one, now with the adjustable strap, you can have even more styling with it.
How To Sew A Reversible Tote Bag With Adjustable Strap