Cleaning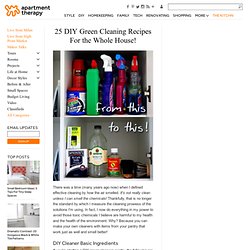 There was a time (many years ago now) when I defined effective cleaning by how the air smelled. It's not really clean unless I can smell the chemicals! Thankfully, that is no longer the standard by which I measure the cleaning prowess of the solutions I'm using. In fact, I now do everything in my power to avoid those toxic chemicals I believe are harmful to my health and the health of the environment. Why? Because you can make your own cleaners with items from your pantry that work just as well and smell better!
Dog Urine: Clean & Remove Dog Urine in Carpet FREE Recipe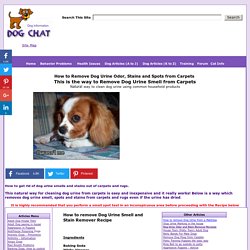 This home remedy for cleaning dog urine from carpets is easy and inexpensive and it really works! Below is a recipe which removes dog urine smell and stains from carpets and rugs even if the urine has dried and is old. For whatever reason your dog has peed on the carpet the outcome is the same. A smelly carpet!
7 things you should make, not buy: Cleaning supplies
7 things you can make, not buy: Cosmetics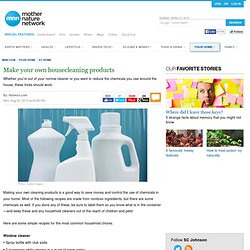 Making your own cleaning products is a good way to save money and control the use of chemicals in your home. Most of the following recipes are made from nontoxic ingredients, but there are some chemicals as well. If you store any of these, be sure to label them so you know what is in the container —and keep these and any household cleaners out of the reach of children and pets! Here are some simple recipes for the most common household chores. Window cleaner • Spray bottle with club soda