Cleaning
25 DIY Green Cleaning Recipes For the Whole House! | Apartment Therapy Re-Nest. Dog Urine: Clean & Remove Dog Urine in Carpet FREE Recipe. Directions for Dog Urine Removal Step 1 If the area is still wet you should first attempt to absorb the dog urine.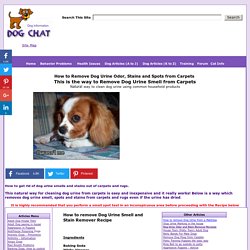 Leaving it there to dry out will only encourage bacterial growth which causes the smell. The best method to to remove the urine is to use a wet/dry vacuum. 7 things you should make, not buy: Cleaning supplies. 7 things you can make, not buy: Cosmetics. Make your own housecleaning products. Making your own cleaning products is a good way to save money and control the use of chemicals in your home.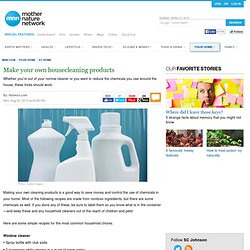 Most of the following recipes are made from nontoxic ingredients, but there are some chemicals as well. If you store any of these, be sure to label them so you know what is in the container —and keep these and any household cleaners out of the reach of children and pets! Here are some simple recipes for the most common household chores. Window cleaner • Spray bottle with club soda.
---