Bath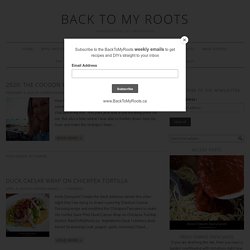 This is just a great tip to save yourself a little money. This is great for when you have a cold but my boyfriend gets allergies in the summer and it works like a harm for them too. 2 cups baking soda 2/3 cup water approximately 15 drops essential oil (rosemary, eucalyptus, lavender) muffin pan muffin liners
Homemade "Vicks" Shower Disks
Help your skin survive unpredictable weather with these two essential steps: exfoliation and moisturization. Skin-cell buildup leads to dryness, poor circulation and blemishes. Exfoliation eliminates these dead cells, revealing fresh skin that is better able to absorb moisture. And guys, take note: While men's skin tends to be oilier than women's, men may be more prone to epidermal dehydration. Food: Avocado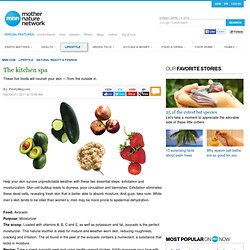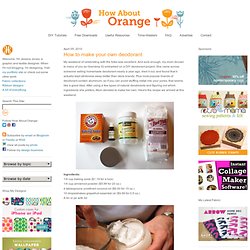 My weekend of celebrating with the folks was excellent. And sure enough, my mom (known to many of you as Grandma G) embarked on a DIY deodorant project. She came across someone selling homemade deodorant nearly a year ago, tried it out, and found that it actually kept stinkiness away better than store brands.
Modern Cottage » By Request: Home-made detergent
Moisturizing Body Oils and Bath Salts - Martha Stewart Holidays
Treat someone you love to these wonderful body oils and bath salts this holiday season. Lavender Body Oil Makes three 4-ounce bottles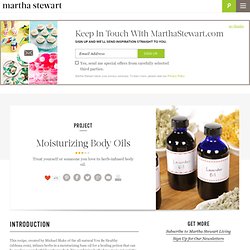 Rice Heat Therapy Bag Tutorial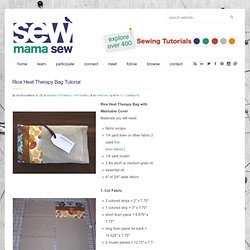 Edited to answer questions…. I think cooked buckwheat is known as kasha, but you want to get the unroasted kind for freezer bags. I bought buckwheat and flax seed (also raw) in bulk at the natural foods grocery. I poked around a little and didn't find any warnings or concerns regarding Velcro in the microwave. (I suppose you could use buttons–that would be very cute.) I didn't find any warnings about essential oil in the microwave either, although I confess that I didn't look hard.
by Michelle Kaufmann Source: http://www.ecologue.com/ShowArticle/recycled-bathroom-mat Give old towels a second life by turning them into a super soft, oh-so-cozy bath rug. All you need besides the towels (old t-shirts will also work but with less luxurious results) is a gridded matting that you can find at any craft store. You can work on this project while you're watching TV or sitting around with your family after dinner – whenever your hands are free. It may take you a while but it will be worth it once you're finished.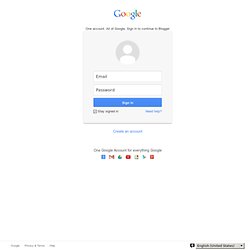 DIY Eco Bath Mat