Travlinlight
Robyn
I'm the owner of a non-profit. I love crafting, designing and working with my hands.
Inspiration and original craft ideas for weddings, parties, children, such as home decoration, gifts, cards, personal accessories and templates. Photoshop tuts. Random Blogs. Shelterpop. Jewerly. Beadage - Make Beaded Jewelry - Free Beading Patterns, Instructions, and Projects. How to Make Fabric Beads. Braided Headband Tutorial. It's chilly outside here today and I'm loving it!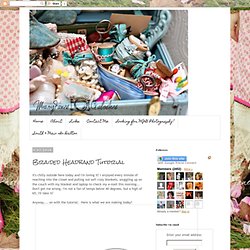 I enjoyed every minute of reaching into the closet and pulling out soft cozy blankets, snuggling up on the couch with my blanket and laptop to check my e-mail this morning... Don't get me wrong, I'm not a fan of temps below 40 degrees, but a high of 65, I'll take it! Anyway.... on with the tutorial. Here is what we are making today!
Music. Design Sites. Knitting. Crafty Stuff. CRAFTVILLE. Ommmm. ETSY. Help. Pearltrees videos. Crafting Blogs. Upside-Down Hanging Self-Watering Earth-Filled Box! I've been using DIY versions of a self-watering container with a name similar to "Dirt Box" (or "dearth box") as well as upside-down tomato planters for the past couple years on my concrete, second-story balcony.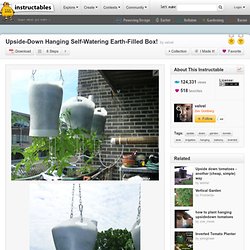 Here's how I took the basic wicking water principles of a popular patented and trademarked earth-filled box, and applied it to my upside-down hanging tomatoes. Upside-down planters are cool. The major weak point has always been keeping the plants hydrated, especially during the peak of summer while producing fruit. In the first year, with no special consideration for watering, my plants suffered due to my unwillingness to schlep water to the porch and lift it all the way to the top of each planter.
---