YELLOWSTONE NATIONAL PARK
Yellowstone National Park Guide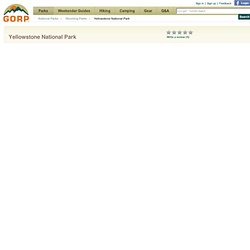 In many ways, Yellowstone is the epicenter of everything that's still wild and untamed in the United States, and everything that's right and wrong about modern-day tourism. Established in 1872, Yellowstone is the oldest park in the U.S. park system and its flagship. It draws an average of three million visitors per year; by some estimates, one-third of the U.S. population will visit this place during their lifetime. They come to experience the park's restless geology; to see grizzlies, gray wolves, and herds of buffalo; and to fish legendary trout streams like the Madison and the Yellowstone River. Most of all, they come to reconnect in some way with a sense of primordial America, the larger-than-life landscape that existed before railroads, highways, telephones, and a host of other technologies that began to cut everything down to size.
Frommer's Yellowstone National Park
Yellowstone National Park - Things To Do (U.S. National Park Service)
Yellowstone National Park Vacations, Tourism and Yellowstone National Park, Wyoming Travel Reviews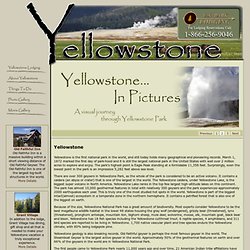 Summer in Yellowstone National Park
Yellowstone Yellowstone is the first national park in the world, and still today holds many geographical and pioneering records. March 1, 1872 marked the first day of park-hood and it is still the largest national park in the United States with well over 2 million acres to explore and enjoy.
ALL Yellowstone National Park Vacations, Lodging, Old Faithful - ALLYellowstonePark.com
Yellowstone Net -- Yellowstone National Park Lodging, Hotel, Wildlife Information and More
Yellowstone National Park
Yellowstone National Park Grand Canyon of Yellowstone Location of Yellowstone in the United States Location Park County , Wyoming Teton County , Wyoming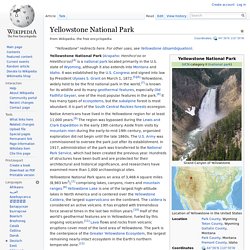 Yellowstone National Park.com - Visit Yellowstone National Park