YELLOWSTONE NATIONAL PARK
Yellowstone National Park Guide
Frommer's Yellowstone National Park
Yellowstone National Park - Things To Do (U.S. National Park Service)
Yellowstone National Park Vacations, Tourism and Yellowstone National Park, Wyoming Travel Reviews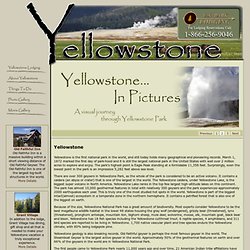 Summer in Yellowstone National Park
Yellowstone Yellowstone is the first national park in the world, and still today holds many geographical and pioneering records. March 1, 1872 marked the first day of park-hood and it is still the largest national park in the United States with well over 2 million acres to explore and enjoy.
ALL Yellowstone National Park Vacations, Lodging, Old Faithful - ALLYellowstonePark.com
Madison River – Yellowstone National Park In. the Northwest corner of Wyoming lies Yellowstone National Park, the oldest, largest and most popular National Park in the continental United States. Few places on earth offer so much scenic and scientific interest in one area. Yellowstone is in the heart of the Rockies, a land of pine-clad mountains and broad, grassy valleys. The countryside is laced with lakes and streams of exquisite beauty.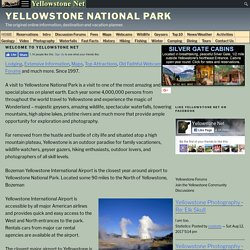 Yellowstone Net -- Yellowstone National Park Lodging, Hotel, Wildlife Information and More
Yellowstone National Park
Yellowstone National Park Grand Canyon of Yellowstone Location of Yellowstone in the United States Location Park County , Wyoming Teton County , Wyoming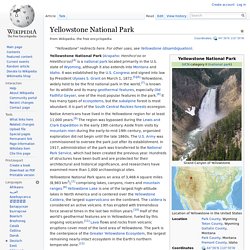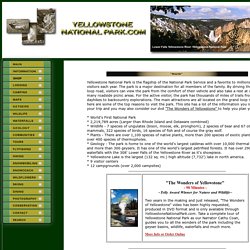 Yellowstone National Park is the flagship of the National Park Service and a favorite to millions of visitors each year. The park is a major destination for all members of the family. By driving the grand loop road, visitors can view the park from the comfort of their vehicle and also take a rest at one of the many roadside picnic areas. For the active visitor, the park has thousands of miles of trails from dayhikes to backcountry explorations. The main attractions are all located on the grand loop road and here are some of the top reasons to visit the park.
Yellowstone National Park.com - Visit Yellowstone National Park