Photography
10 More Tips for Stunning Portrait Photography. A Post By: Darren Rowse 792Yesterday I shared 10 Ways to take Stunning Portrait Photography.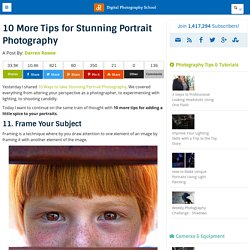 We covered everything from altering your perspective as a photographer, to experimenting with lighting, to shooting candidly. Today I want to continue on the same train of thought with 10 more tips for adding a little spice to your portraits. 11. Celebration Of Smoke Photography and Smoke Art | Monday Inspiration. Advertisement Photography is constantly reminding us how wondrous and beautiful the world we live in truly is.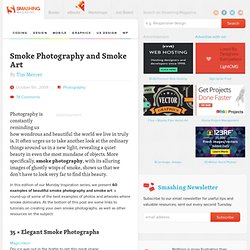 It often urges us to take another look at the ordinary things around us in a new light, revealing a quiet beauty in even the most mundane of objects. More specifically, smoke photography, with its alluring images of ghostly wisps of smoke, shows us that we don't have to look very far to find this beauty. In this edition of our Monday Inspiration series, we present 60 examples of beautiful smoke photography and smoke art: a round-up of some of the best examples of photos and artworks where smoke dominates. At the bottom of this post are some links to tutorials on creating your own smoke photographs, as well as other resources on the subject. 40 Photoshop Tutorials On Rain Showers and Water Drops | Tutorials.
Advertisement With fall just around the corner, designers are looking for ways to complement their work with fall imagery like water droplets, rain on leaves and fall rain showers.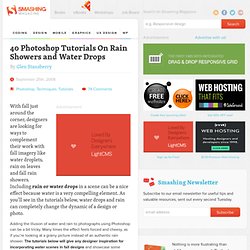 Including rain or water drops in a scene can be a nice effect because water is a very compelling element. As you'll see in the tutorials below, water drops and rain can completely change the dynamic of a design or photo. 25 Beautiful Macro Photography Shots | Monday Inspiration. Advertisement Macro photography is the art of taking close-up pictures that reveal details which can't be seen with the naked eye.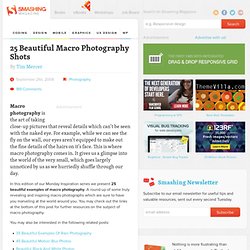 For example, while we can see the fly on the wall, our eyes aren't equipped to make out the fine details of the hairs on it's face. This is where macro photography comes in. It gives us a glimpse into the world of the very small, which goes largely unnoticed by us as we hurriedly shuffle through our day. In this edition of our Monday Inspiration series we present 25 beautiful examples of macro photography.
40 Really Useful Photoshop Text Effect Tutorials. No matter you want to design a banner or logo, text effect is very important.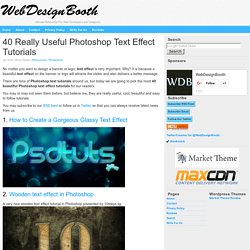 Why? It is because a beautiful text effect on the banner or logo will attracts the visitor and also delivers a better message. There are tons of Photoshop text tutorials around us, but today we are going to pick the most 40 beautiful Photoshop text effect tutorials for our readers. How to Take Extraordinary Photographs, Part 1: Exposure. SitePoint's latest book release, Photography for the Web, contains a wealth of information that will help you take stunning pictures and share them online.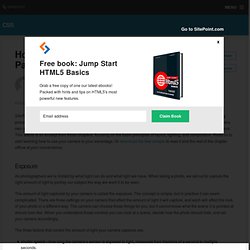 It will show you how to save a fortune on stock images by designing and capturing your very own shots. We're making Chapters 1 and 2 of Photography for the Web available as part of the free sample PDF of the book. How to Take Extraordinary Photographs, Part 2: Composition. Photography for the Web by Paul Duncanson is the latest release from the SitePoint book publishing stable.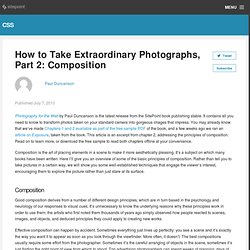 It contains all you need to know to transform photos taken on your standard camera into gorgeous images that impress. You may already know that we've made Chapters 1 and 2 available as part of the free sample PDF of the book, and a few weeks ago we ran an article on Exposure, taken from the book. This article is an excerpt from chapter 2, addressing the principles of composition. Japanese Scientists Say Tripods Increase Camera Shake | Gadget Lab. Scientists at the Nishi Lab of the University of Electrocommunications have developed a tool which measures camera shake.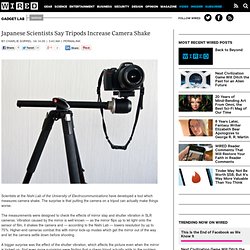 The surprise is that putting the camera on a tripod can actually make things worse. The measurements were designed to check the effects of mirror slap and shutter vibration in SLR cameras. Vibration caused by the mirror is well known — as the mirror flips up to let light onto the sensor of film, it shakes the camera and — according to the Nishi Lab — lowers resolution by up to 75%. 10 Ways to Take Stunning Portraits. A Post By: Darren Rowse How do you take Portraits that have the 'Wow' factor?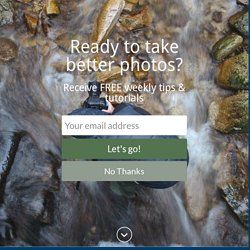 Today and tomorrow I want to talk about taking Portraits that are a little out of the box. You see it's all very well and good to have a portrait that follows all the rules – but it hit me as I was surfing on Flickr today that often the most striking portraits are those that break all the rules. I want to look at some ways to break out of the mold and take striking portraits by breaking (or at least bending) the rules and adding a little randomness into your portrait photography. I'll share ten of these tips today and a further ten tomorrow (update: you can see the 2nd part here). Miniaturize a Scene. From Wired How-To Wiki It's called a tilt-shift effect.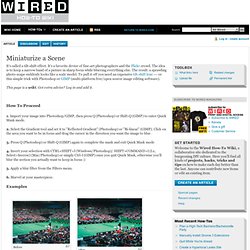 It's a favorite device of fine-art photographers and the Flickr crowd. The idea is to keep a narrow band of a picture in sharp focus while blurring everything else. Photo Future | Technology Review. On a summer day in 1826, at his country estate about 340 kilometers southeast of Paris, Joseph Nicéphore Niépce set up his camera obscura and projected the image of his courtyard onto a pewter plate coated with a light-sensitive material. For eight hours, the lens focused light from the sun, chemically fixing the areas where the light struck the plate to capture the view of a pigeon house, a pear tree, a barn roof, and an extended wing of his house.
For this achievement, Niépce is credited with creating the world's first photograph. Pewter and other solid plates gave way to flexible rolls of film in 1889; color film followed in the mid-1930s. How to Take Extraordinary Photographs, Part 1: Exposure. Afgan Girl: A Life Revealed. She remembers the moment. The photographer took her picture. She remembers her anger.
The man was a stranger. 6 common photography mistakes (and how to avoid them) Whether you're on the other side of the world or wandering your own neighbourhood, you'll soon realise that the sights that have you reaching for your camera are fleeting photo opportunities. With this in mind, you really need to be prepared to capture such moments. Here are the six most common mistakes that can leave you with an ordinary image - instead of the masterpiece it should have been. 1. Not having a strong point of interest The very first thing to consider is the subject - what is it and why are you taking a photo of it? Photography Tutorials. Learn how to take and edit digital photographs using visual tutorials that emphasize concept over procedure, independent of specific digital camera or lens. This is a complete listing of all tutorials on this site; click the drop-down links in the top menu to see particular topics.
Photography is going through an exciting transition period as many film photographers are beginning to explore the new capabilities of digital cameras. PhotoTutorials. Photoxels is first and foremost a digital photography site where you will find digital photography tutorials written in easy to understand language. Our One-Pager™ digital photography tutorials will help you select the digital camera that is best for you and make sense of difficult technical concepts. Each digital photography tutorial is short, can be read in one sitting, and is immensely practical -- which means you can put what you have just learned to use immediately. 25 Cool Digital Photography Tutorials, Techniques and Effects. Ask Lonely Planet: How do you take a photo from a bus window (and much more)?
Urban photography: a one-day itinerary for capturing a city. Travel photography: how to photograph people.
---