TV
Thomas Y Sus Amigos cancion en español.mp4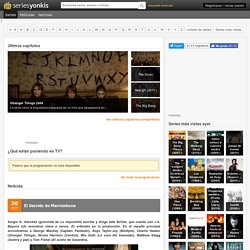 No te pierdas el resto de episodios en: www.seriesyonkis.com/serie/yonkipops Transcripción del vídeo: The Killing es la versión americana de la serie de culto danesa conocida como Forbrydelsen, cuya traducción literal es "el crimen".. Con tres temporadas emitidas y curiosamente cancelada por segunda vez, se trata de "una pedazo de serie" emitida por la cadena AMC, responsable de megaéxitos del calibre de "Breaking Bad" o "The walking dead", pero lamentablemente su elevado precio de producción y unas audiencias modestas en comparación con otras series de la cadena, acabaron por pasarle factura. The killing es una serie oscura que guarda más relación con "Twin Peaks" o "el silencio de los corderos" que con cualquier producto detectivesco actual. Una joya del género que os quitará el sueño hasta que descubráis la respuesta a esta pregunta… ¿Quién mató a Rosie Larsen?
........ Series ........ 10 razones para odiarte (10 things i hate about yo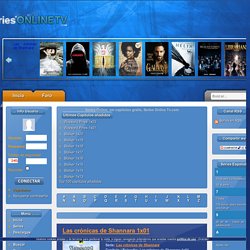 Series mas vistas esta semana A partir de hoy domingo se estrenan en primicia los nuevos episodios en español de 'Anatomía de Grey', correspondientes a la segunda parte de la décima temporada de la serie. La ficción médica regresa al canal FOX con los episodios que restan de esta 10ª temporada este domingo 6 de abril, en su horario habitual de las 23:15 horas. La temporada 10 de Anatomía de Grey será escenario de la marcha de, como mínimo, tres personajes que ya han confirmado su salida: Sandra Oh (Crsitina Yang), Tessa Ferrer (Leah Murphy) y Gaius Charles (Shane Ross). Sin embargo, también disfrutaremos de algún regreso inesperado, como el del actor Isaiah Washington, inolvidable por interpretar al cirujano Preston Burke en las tres primeras entregas.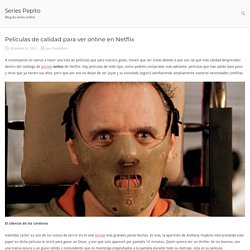 Series 911 Online Gratis Para Ver por TV o Descargar desde Internet
Miembros al aire
Supernatural Temporada 7 Online. Descargar y Ver Supernatural septima Temporada
The Walking Dead 2x02 - Bloodletting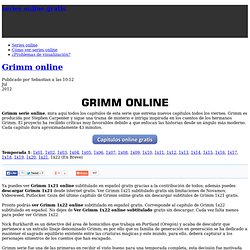 Grimm serie online, mira aquí todos los capítulos de esta serie que estrena nuevos capítulos todos los viernes. Grimm es producida por Stephen Carpenter y sigue una trama de misterio e intriga inspirada en los cuentos de los hermanos Grimm. El proyecto ha recibido críticas muy favorables debido a que enfocan las historias desde un ángulo más moderno. Cada capítulo dura aproximadamente 43 minutos.
Grimm online - Series online