Ref sites
The Exact Shade. Most Upvoted 655 votes Welcome to Dark Souls!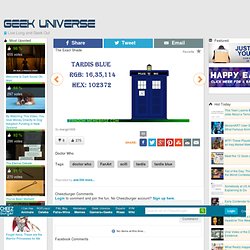 DVD Easter Eggs - Doctor Who - The Complete Third Series. TARDIS Index File, the Doctor Who Wiki. The Sarah Jane Adventures. The Sarah Jane Adventures — often abbreviated as simply SJA — was a spin-off series of Doctor Who, produced by BBC Wales for CBBC.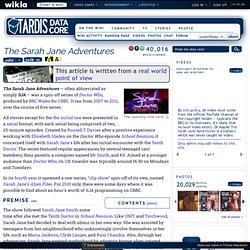 It ran from 2007 to 2011, over the course of five series. All stories except for the the initial one were presented in a serial format, with each serial being comprised of two, 25-minute episodes. Created by Russell T Davies after a positive experience working with Elisabeth Sladen on the Doctor Who episode School Reunion, it concerned itself with Sarah Jane's life after her initial encounter with the Tenth Doctor. The series featured regular appearances by several teenaged cast members, their parents, a computer named Mr Smith, and K9. Torchwood. Overview Edit Over time, the Institute accumulated much alien technology, reverse-engineering it and applying it to secret military projects within Britain.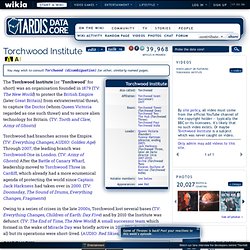 Doctor Who Collectors Wiki. Doctor Who. History Licensed media such as novels and audio plays provided new stories, but as a television programme Doctor Who remained dormant until 2003.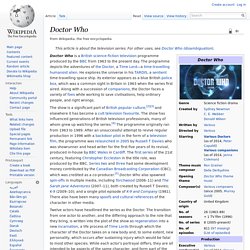 In September of that year,[20] BBC Television announced the in-house production of a new series after several years of attempts by BBC Worldwide to find backing for a feature film version. The executive producers of the new incarnation of the series were writer Russell T Davies and BBC Cymru Wales head of drama Julie Gardner. Category:Doctor Who images. Doctor Who Reference Guide. Torchwood. The Sarah Jane Adventures. The TARDIS Library. The Tertiary Console Room: A Guide To The Big Finish Doctor Who New Audio Adventures.
Doctor Who Spoilers. Filming began this week on Chris Chibnall's second story this series, which is set to be episode four and is currently titled "Cubed".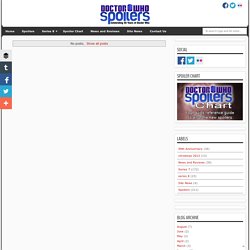 The episode features Stephen Blything (pictured left) as Henry VIII in a story which sees the return of UNIT and also stars Law and Order UK's Jemma Redgrave (pictured right) as Kate. It's speculated that she might be playing one of Henry's wives, three of whom were called Catherine. In the story, a house is raided by... NZDWFC: Archive.
---