Comics blogs
When We First Met Archives - Comics Should Be Good! @ Comic Book Resources When We First Met – Joker's Deadly Bag of Tricks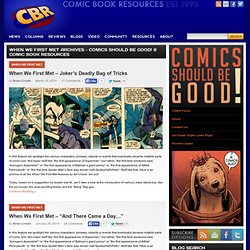 When We First Met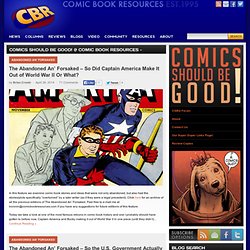 Comics Should Be Good! @ Comic Book Resources
Comics Should Be Good! @ Comic Book Resources - The Abandoned An' Forsaked – So Did Captain America Kill People During World War II Or What? by Brian Cronin| March 22, 2014 |104 Comments|
Comic Book Easter Eggs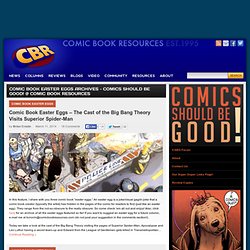 Comic Book Easter Eggs Archives - Comics Should Be Good! @ Comic Book Resources Comic Book Easter Eggs – The Cast of the Big Bang Theory Visits Superior Spider-Man
With the New York Comic Con under way, we thought we'd remind you that these brilliant, geeky get-togethers can mean more than just costumes and coveted signatures on first-edition books. Here are a few of the scandals that rocked (or gently nudged) Comic Cons across the country this past year. God Hates Geeks in Superhero Costumes? At the massive Comic Con in San Diego last year, assembled geeks gave Fred Phelps' hate-mongering Westboro Baptist Church a run for its money.
6 Comic Con-troversies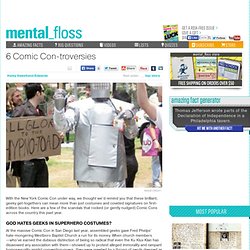 Comics Make No Sense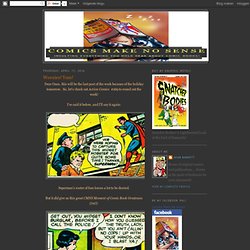 Because I just can't seem to stay away, let's delve back into Action Comics with issue #267: Solar power? Well, you've got to give Lex props for keeping his evil schemes Earth-friendly. This go 'round, he's escaping jail via a time ray. Got that?
I started Dresden Codak nine years ago. Here's a comparison of the very first strip I uploaded with the last panel of the most recent page. In 2005 I was a floundering 21-year-old college student with no direction and growing debt. I drew that snake comic in a statistics class I was failing, and on my way home I decided to scan it and maybe put together a website.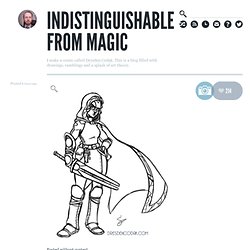 Indistinguishable From Magic
Seeing as how I've done both the top ten for best and worst superhero costume redesigns, I feel obligated to put my money where my artistic mouth is and take a stab at fixing or updating some of these costumes. I'll be taking a similar approach to my earlier take on Batman & Robin, where both the back story and design of each character are fair game. I've done five here, and chose them based on one of two criteria: It's a particularly awful outfit that doesn't fit the character, orIt's a solid character who just needs some updating or tweaking
5 Essential Superhero Redesigns!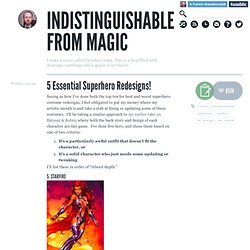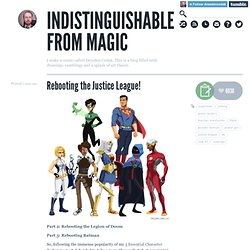 Rebooting the Justice League!
Part 2: Rebooting the Legion of Doom Part 3: Rebooting Batman So, following the immense popularity of my 5 Essential Character Redesigns post, I decided to take a more thorough stab at revamping DC Comic's Justice League. I've already mentioned before that I think their current "New 52" reboot, aimed at gaining new readers, is terribly ineffective, so I will attempt to present DC's top characters in a way that achieves the basic goals that a reboot should:
In the world of superhero comics, artists and writers are (more often than not) dealt the task of handling characters that they had no hand in creating, characters that have often existed for decades. Being able to put a fresh spin on concepts that have been around for so long is no easy task, and the history of mainstream comics isn't short on botched reboots and the like. In the current wake of DC Comic's largely unimaginative (or in some cases, downright offensive) "reboot," I thought we should take a look back at some better examples. The criteria include: - Theme: the design tells us important things about the character
Top 10 Best Superhero/villain Redesigns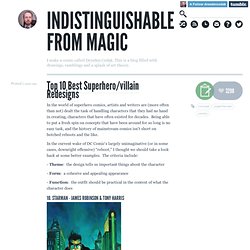 Top 10 WORST Superhero/villain Redesigns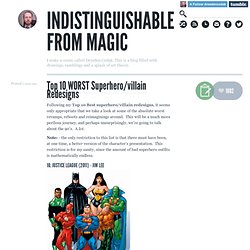 Following my Top 10 Best superhero/villain redesigns, it seems only appropriate that we take a look at some of the absolute worst revamps, reboots and reimaginings around. This will be a much more perilous journey, and perhaps unsurprisingly, we're going to talk about the 90's. A lot. Note: - the only restriction to this list is that there must have been, at one time, a better version of the character's presentation.