TEDX
We came, we saw and we conquered TEDx Transmedia 2012 - Wekids: Dreamers, Geeks, Mindshifters, as the ancient Roman adage goes. Now one week later and a couple of weeks before the individual talks hit the YouTube channel we're taking stock of the tremendous ideas and thoughts that were shared on the TEDx stage in Rome. This summary of each talk gives you a précis of the day and an opportunity to decide which you want to tune into first when they're live. The auditorium at the MAXXI Museum was filled with press, media professionals, students, friends and fans and more than 3,000 tuned into our livestream worldwide, including from Columbia, Brazil, India, America, Canada, Mexico, Holland, France, South Africa, Spain and the UK. Our Facebook reach topped 15,000, floods of tweets ran through the #tedxtransmedia and #txt12 hashtags and hundreds of you shared our live blogged quotes from the talks.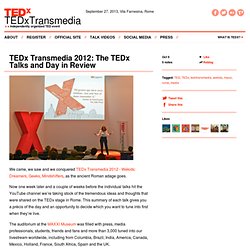 TEDx Transmedia 2012: The TEDx Talks and Day in Review
Have an account? Sign in New to Twitter? Join Today »
katiacopy : de Kerckhove starts talking
See the face and the word liar. #TedXtransmedia Allison Norri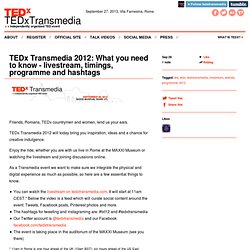 TEDxTransmedia • TEDx Transmedia 2012: What you need to know - livestream, timings, programme and hashtags
Friends, Romans, TEDx countrymen and women, lend us your ears. TEDx Transmedia 2012 will today bring you inspiration, ideas and a chance for creative indulgence. Enjoy the ride, whether you are with us live in Rome at the MAXXI Museum or watching the livestream and joining discussions online. As a Transmedia event we want to make sure we integrate the physical and digital experience as much as possible, so here are a few essential things to know.
TEDxTransmedia 2012
TEDx Transmedia 2012
About this event At TEDxTransmedia 2012 we invite thinkers, doers and ultimately dreamers to join us in a discussion about shaping meaningful media through the opportunities provided by various transmedia techniques. This year's theme brings together a diverse range of remarkable speakers to present ideas that will inspire experimentation and innovation in media. In three sessions (Dreamers, Geeks, Mindshifters) we aim to awaken the unconscious energy of the inner child and use the fresh insights of a younger generation to re-think entertainment and responsible media. Pioneers, trailblazers and innovators will share successes and failures in order to raise the bar and increase the quality, visibility and impact of social issues in media.
TEDx | Event Detail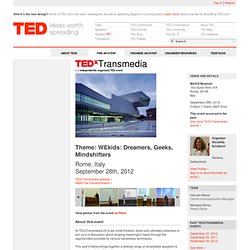 TEDxTransmedia 2012 Valenzano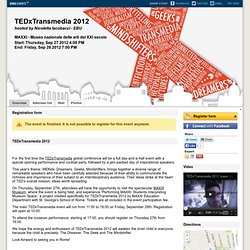 For the first time the TEDxTransmedia global conference will be a full day-and-a-half event with a special opening performance and cocktail party, followed by a jam-packed day of inspirational speakers. This year's theme: WEKids: Dreamers, Geeks, Mindshifters, brings together a diverse range of remarkable speakers who have been carefully selected because of their ability to communicate the richness and importance of their subject to an interdisciplinary audience. Their ideas strike at the heart of TED's overall mission: ideas worth spreading. On Thursday, September 27th, attendees will have the opportunity to visit the spectacular MAXXI Museum, where the event is being held, and experience 'Performing MAXXI: Students Interpreting Museum Space,' a project created specifically for TEDxTransmedia 2012 by MAXXI Education Department with St.
TEDx Transmedia 2012
TEDxTransmedia ROME : un album
nv36kkgj Shared by silviaperrone
Robot Stories
twitgoo
j2aesij Shared by ETVSCO
foursquare
TEDx TRANSMEDIA, Rome 2011 on Vimeo
tedxtransmedia
Tedx Transmedia – Alison Norrington | Transmythology
TEDxTransmedia - Alison Norrington - DAREtoLIVE
TEDxTransmedia - Ian Ginn - DAREtoEDUCATE
In this hilariously lively performance, actress Sarah Jones channels an opinionated elderly Jewish woman, a fast-talking Dominican college student and more, giving TED2009 just a sample of her spectacular character range. TED Talks on Link TV Link TV is proud to be a part of the TED Open TV Project, helping to bring TED's innovative talks to airwaves around the world. With charismatic and brilliant speakers from the ranks of global trendsetters and changemakers, TED's signature talks are inspiring, intriguing, and sometimes, as TED puts it, even "jaw-dropping." Link TV's curatorial team will be selecting the most interesting TED Talks, presenting a new one to our national audience each week.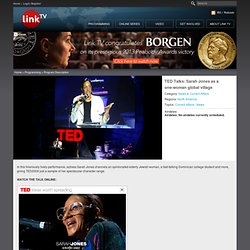 TED Talks: Sarah Jones as a one-woman global village
TED Talks: Seth Godin on the Tribes We Lead
Seth Godin argues the Internet has ended mass marketing and revived a human social unit from the distant past: tribes. Founded on shared ideas and values, tribes give ordinary people the power to lead and make big change. He urges us to do so.