La bibliothèque
My new book, Spreadable Media: Creating Meaning and Value in a Networked Culture, co-authored with Peppercom's Sam Ford and Undercurrent's Joshua Green, was intended to spark conversations about our current moment of media change among a range of stakeholders, including both fans and producers of transmedia entertainment. If you want to sample the book, there are two ways you can do so -- you can download the book's introduction here or you can go here to find a range of short, blog-length responses from scholars and industry leaders who have been part of the conversation that the book emerged from. This book took shape through the activities of the Futures of Entertainment Consortium (formerly the Convergence Culture Consortium), which has hosted the East Coast Futures of Entertainment conference and the west coast Transmedia Hollywood events.
Six Reasons Why Transmedia Producers Should Read Spreadable Media by Henry Jenkins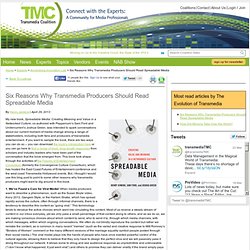 amazon
The New Age of Innovation is good but miss-titled. This is not a book about how to be innovative. Rather the book advances an idea that all companies must face a world where they deal with customers individually and get their resources globally. The authors drive this home in a mantra of N=1 (there is one customer) and R=G (your resources are global). The N=1 R=G idea is cute and it is used throughout the book,but as you read the book N=1 R=G becomes the rational for everything and therefore nothing.
August 31, 2011 The co-creator of social media TV series Sofia's Diary - and imminent MIPJunior speaker - explains how to get investors interested in your multi-platform IP By James Martin You're ready to produce your first transmedia project.
Nuno Bernardo: How to fund your next Transmedia project
amazon.co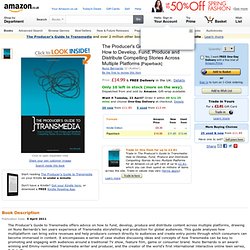 4.0 out of 5 stars Practical Guidance on Transmedia Project Development 28 Aug 2011 By David H. Deans - Published on Amazon.com Most of the guidance about transmedia production have not met my expectations - they were too academic or otherwise lacking in actionable insights.
Posted on 08. May, 2009 by Coen de Goey in Book reviews, no. 1: Gardens of Control The modernization of the media has opened a whole new market for media and communication companies. Furthermore, with the digital revolution a new policy is required in order to guarantee a plurality in media offer.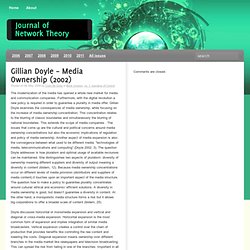 Gillian Doyle – Media Ownership (2002) | NetworkTheory.nl
Media ownership: the economics and ...
Más Gillian Doyle: 2002, Media Ownership – The Economics and Politics ...Downloadable (with restrictions)! Author(s): Lesley Hitchens. 2003 Abstract: No abstract is available for this itemideas.repec.org/a/kap/jculte/v27y2003i3p290-293.html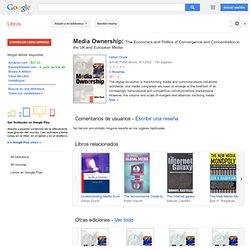 Hypertext 3.0: critical theory and ...
amazon
amazon
amazon
amazon.co
4.0 out of 5 stars Practical Guidance on Transmedia Project Development 28 Aug 2011 By David H. Deans - Published on Amazon.com Most of the guidance about transmedia production have not met my expectations - they were too academic or otherwise lacking in actionable insights. Few included the perspective of a transmedia practitioner. This is what makes Nuno Bernardo's book so unique - he has a proven track record of producing transmedia projects, and he provides "how to" recommendations that come from many years of practical experience.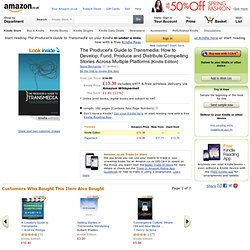 Table of Contents — February 2008, 14 (1)
amazon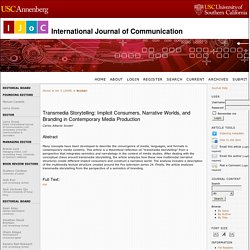 Scolari
Transmedia Storytelling: Implicit Consumers, Narrative Worlds, and Branding in Contemporary Media Production Carlos Alberto Scolari Abstract Many concepts have been developed to describe the convergence of media, languages, and formats in contemporary media systems. This article is a theoretical reflection on "transmedia storytelling" from a perspective that integrates semiotics and narratology in the context of media studies. After dealing with the conceptual chaos around transmedia storytelling, the article analyzes how these new multimodal narrative structures create different implicit consumers and construct a narrative world.
amazon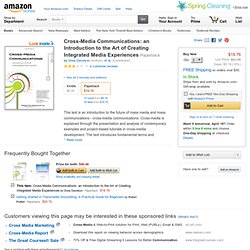 Flip to back Flip to front Listen Playing... Paused You're listening to a sample of the Audible audio edition. Learn more
amazon
Axel Bruns coins a new term to describe all those involved in innovative new methods of internet-based production--produsers--the most succinct definition of which may be "productive users." It's a useful term, simply indicating that often in the new media, producers are also users and vice versa. Some of his examples include Wikipedia, Everquest, Second Life, and of course, one of the most famous products that is completely open source and user-produced--Linux.Bruns offers a useful summary of the core characteristics of produsage early in the book, and then re-visits these core characteristics in each chapter. I found this immensely helpful.
amazon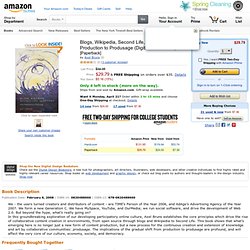 Book Description Publication Date: March 13, 2009 | ISBN-10: 0262232634 | ISBN-13: 978-0262232630 0 The ever-expanding capacities of computing offer new narrative possibilities for virtual worlds. Yet vast narratives--featuring an ongoing and intricately developed storyline, many characters, and multiple settings--did not originate with, and are not limited to, Massively Multiplayer Online Games. Thomas Mann's Joseph and His Brothers, J.
amazon
Convergence Culture: Where Old and New Media Collide (9780814742815): Henry Jenkins
amazon
Review "Trail-blazing, fresh, and almost entirely unprecedented, Narrative across Media expands the range of narratology way beyond print literature. Appealing to literary critics and theorists, narratologists, comparatists, and scholars of cultural studies and digital culture, Narrative across Media is what media studies wants to be when it grows up."--Brian McHale, coeditor of Poetics Today. "Sporting essays by leading specialists in narratology and media studies, this volume is an absolute must for all interested in narrative genres in different media and in state of the art narrative theory."--Monika Fludernik, University of Freiburg, Germany.
amazon
Using our favourite Springfield family as a case study, Watching with The Simpsons examines the textual and social role of parody in offering critical commentary on other television programs and genres. Jonathan Gray brings together textual theory, discussions of television and the public sphere, and ideas of parody and comedy. Including primary audience research, it focuses on how The Simpsons has been able to talk back to three of television's key genres - the sitcom, adverts and the news - and on how it holds the potential to short-circuit these genre's meanings, power, and effects by provoking reinterpretations and offering more media literate recontextualizations. Examining television and media studies theory, the text of The Simpsons, and the show's audience, Gray attempts to fully situate the show's parody and humour within the lived realities of its audiences.
amazon
"The Internet is trying very, very hard to tell us." That quote is from Elan Lee, one of the early pioneers of Alternate Reality Games. Lee created I Love Bees to promote the Xbox game Halo 2, and was part of the 42 Entertainment team (along with Alex Lieu and Susan Bonds) behind Year Zero, which engaged thousands of Nine Inch Nails fans in the creation of a story around the album of the same name. The quote above quote appears in Frank Rose's new book, The Art of Immersion, due out in February 2011. Rose, a long time contributing editor at Wired, where he's covered everything from the fall of the music industry to the impact of digital technology on television, offers an assessment of where story-telling is going in an age when narratives are no longer linear and more often than not are told, or at least informed, by the participation of a consumer community.
"Future-spotting doesn't get much better than this."—Kevin Kelly, author of What Technology Wants NOT LONG AGO WE WERE SPECTATORS, passive consumers of mass media. Now, on YouTube and blogs and Facebook and Twitter, we are media.
The Art of Immersion - Hollywood will never be the same