La bibliothèque
My new book, Spreadable Media: Creating Meaning and Value in a Networked Culture, co-authored with Peppercom's Sam Ford and Undercurrent's Joshua Green, was intended to spark conversations about our current moment of media change among a range of stakeholders, including both fans and producers of transmedia entertainment. If you want to sample the book, there are two ways you can do so -- you can download the book's introduction here or you can go here to find a range of short, blog-length responses from scholars and industry leaders who have been part of the conversation that the book emerged from. This book took shape through the activities of the Futures of Entertainment Consortium (formerly the Convergence Culture Consortium), which has hosted the East Coast Futures of Entertainment conference and the west coast Transmedia Hollywood events.
Six Reasons Why Transmedia Producers Should Read Spreadable Media by Henry Jenkins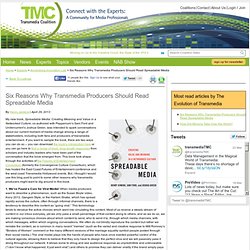 amazon
August 31, 2011
Nuno Bernardo: How to fund your next Transmedia project
amazon.co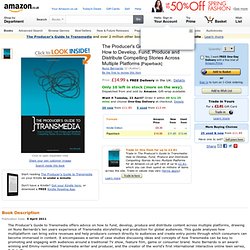 4.0 out of 5 stars Practical Guidance on Transmedia Project Development 28 Aug 2011
Posted on 08.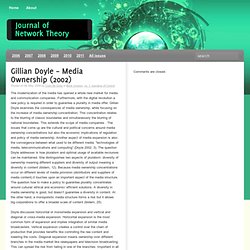 Gillian Doyle – Media Ownership (2002) | NetworkTheory.nl
Media ownership: the economics and ...
Hypertext 3.0: critical theory and ...
amazon
amazon
amazon
amazon.co
4.0 out of 5 stars Practical Guidance on Transmedia Project Development 28 Aug 2011 By David H. Deans - Published on Amazon.com Most of the guidance about transmedia production have not met my expectations - they were too academic or otherwise lacking in actionable insights. Few included the perspective of a transmedia practitioner. This is what makes Nuno Bernardo's book so unique - he has a proven track record of producing transmedia projects, and he provides "how to" recommendations that come from many years of practical experience.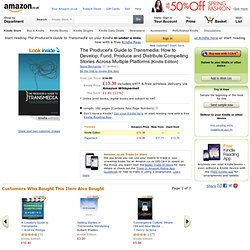 Table of Contents — February 2008, 14 (1)
amazon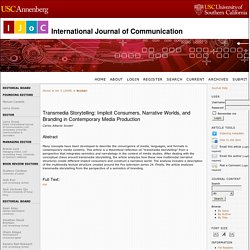 Scolari
Transmedia Storytelling: Implicit Consumers, Narrative Worlds, and Branding in Contemporary Media Production Carlos Alberto Scolari Abstract Many concepts have been developed to describe the convergence of media, languages, and formats in contemporary media systems. This article is a theoretical reflection on "transmedia storytelling" from a perspective that integrates semiotics and narratology in the context of media studies. After dealing with the conceptual chaos around transmedia storytelling, the article analyzes how these new multimodal narrative structures create different implicit consumers and construct a narrative world.
amazon
amazon
amazon
amazon
Convergence Culture: Where Old and New Media Collide (9780814742815): Henry Jenkins
amazon
amazon
amazon
The Art of Immersion - Hollywood will never be the same