Anglais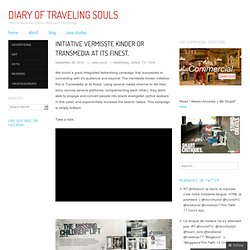 We found a great integrated Advertising campaign that succeeded in connecting with it's audience and beyond: The Vermisste Kinder initiative. this is Transmedia at its finest. Using several media channel to tell their story (across several platforms, complementing each other), they were able to engage and convert people into brand evangelist (active seekers in this case) and exponentially increase the search radius. This campaign is simply brilliant. Take a look:
Initiative Vermisste Kinder or Transmedia at its finest. | Diary of Traveling souls
Initiative Vermisste Kinder or Transmedia at its finest. | Diary of Traveling souls
Not a backer but want to keep up with Time Tribe news? Sign up at thetimetribe.com IF WE REACH $30k, we will add a whole new narrative storyline to a time travel destination of your choice!! UPDATE: WE DID IT!
The Time Tribe - Episodic time travel adventure game by Karen B Wehner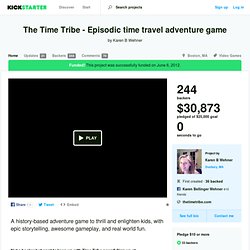 Lina Srivastava Discusses Transmedia Activism
ntext | Culture | Collaboration: Critical Thought TV: Interviews on Transmedia Activism
Transmedia Activism: Slides for MIT Media Lab presentation
Jan 23rd 2012 By: Caleb Goellner
DC Entertainment Launches 'We Can Be Heroes' Humanitarian Fundraising Campaign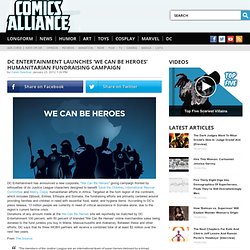 where is your line? » Blog Archive » Lina Srivastava: Badass Activist Friday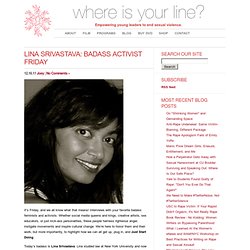 It's Friday, and we all know what that means! Interviews with your favorite badass feminists and activists. Whether social media queens and kings, creative artists, sex educators, or just kick-ass personalities, these people harness righteous anger, instigate movements and inspire cultural change.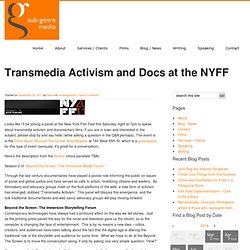 Looks like I'll be joining a panel at the New York Film Fest this Saturday night at 7pm to speak about transmedia activism and documentary films. If you are in town and interested in the subject, please stop by and say hello (while asking a question in the Q&A perhaps).
Transmedia Activism and Docs at the NYFF | sub-genre
Values at Play » Game Tools
Design Methodology – The VAP design methodology is described in several research papers located on this site. VAP Quick Reference vapquickref.pdf Grow-A-Game Cards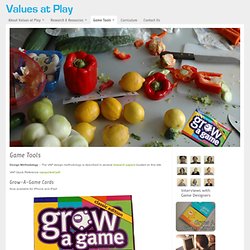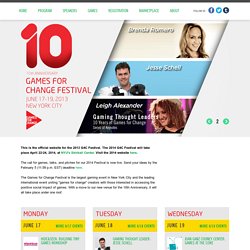 Anyone interested in the field of games and social impact - from game developers to researchers, educators to governments, commercial to non-profit interests. 800 registered in 2012, 10,000 watched it online. Access to thought leaders in gaming and social change 40+ hours of programming Opportunities to have the developers of the year's best games for change walk you through demos of their games
SOS_SLAVES | Games for Change 8th Annual Festival, New York City, June 20-22, 2011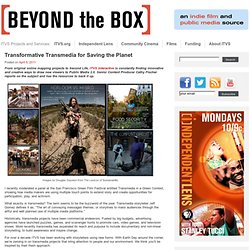 Transformative Transmedia for Saving the Planet
From original online mapping projects to Second Life, ITVS Interactive is constantly finding innovative and creative ways to draw new viewers to Public Media 2.0.
modelingchange: Welcome to Modeling Global Change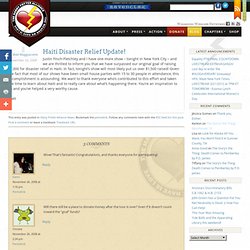 Haiti Disaster Relief Update!
Justin Finch-Fletchley and I have one more show – tonight in New York City – and we are thrilled to inform you that we have surpassed our original goal of raising $1,000 for disaster relief in Haiti.
Resist - Good storytelling strengthens social movements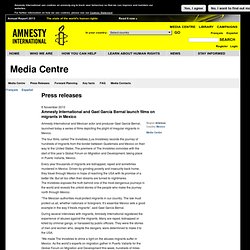 Amnesty International and Mexican actor and producer Gael García Bernal, launched today a series of films depicting the plight of irregular migrants in Mexico. The four films, called The Invisibles (Los Invisibles) records the journey of hundreds of migrants from the border between Guatemala and Mexico on their way to the United States. The premiere of The Invisibles coincides with the start of this year's Global Forum on Migration and Development, taking place in Puerto Vallarta, Mexico.
International and Gael García Bernal launch films on migrants in Mexico
3 Generations, Hear Their Stories
Reawakening the Grand Narrative
Lina Srivastava Discusses Transmedia Activism
WASHINGTON -- It seemed, at the time, too surreal to be true.
MoveOn Uses Fox News Hoaxes, Van Jones And The Roots In Anti-Austerity Campaign
transmedia-activism.com
The story of the quest to identify an anonymous body found in the Arizona desert whose only identifying feature is a tattoo reading 'Dayani Cristal'.
Resist - Resist Films - Who is Dayani Cristal?
5 Examples of Transmedia Activism
While there are numerous examples demonstrating the thoughtful use of digital media for advocacy, there are a select number of cases where organizations and activists are using multiple digital platforms and distribution channels to connect, educate and inspire supporters. These instances can be referred to as "transmedia activism." The concept of "transmedia storytelling" was first developed by University of Southern California professor and former Director of the MIT Comparative Media Studies program Henry Jenkins in 2007.
I AM THIS LAND