Anglais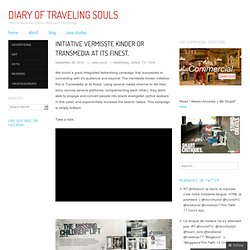 We found a great integrated Advertising campaign that succeeded in connecting with it's audience and beyond: The Vermisste Kinder initiative. this is Transmedia at its finest. Using several media channel to tell their story (across several platforms, complementing each other), they were able to engage and convert people into brand evangelist (active seekers in this case) and exponentially increase the search radius. This campaign is simply brilliant. Take a look:
Initiative Vermisste Kinder or Transmedia at its finest. | Diary of Traveling souls
Initiative Vermisste Kinder or Transmedia at its finest. | Diary of Traveling souls
Not a backer but want to keep up with Time Tribe news? Sign up at thetimetribe.com IF WE REACH $30k, we will add a whole new narrative storyline to a time travel destination of your choice!! UPDATE: WE DID IT! But can we keep this momentum?? If we can raise an additional $1000 over the goal, we'll add a new sidequest to the game at launch!
The Time Tribe - Episodic time travel adventure game by Karen B Wehner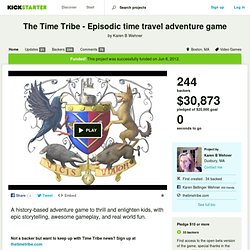 Lina Srivastava Discusses Transmedia Activism
ntext | Culture | Collaboration: Critical Thought TV: Interviews on Transmedia Activism
Transmedia Activism: Slides for MIT Media Lab presentation
DC Entertainment has announced a new corporate, "We Can Be Heroes" giving campaign fronted by silhouettes of its Justice League characters designed to benefit Save the Children, International Rescue Committee and Mercy Corps' humanitarian efforts in Africa. Targeted at the horn region of the continent, which includes Djibouti, Eritrea, Ethiopia and Somalia, the fundraising efforts are primarily centered around providing families and children in need with essential food, water, and hygiene items. According to DC's press release, 13 million people are currently in need of critical assistance in Somalia alone, due to the region's current famine crisis.
DC Entertainment Launches 'We Can Be Heroes' Humanitarian Fundraising Campaign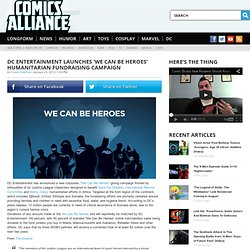 where is your line? » Blog Archive » Lina Srivastava: Badass Activist Friday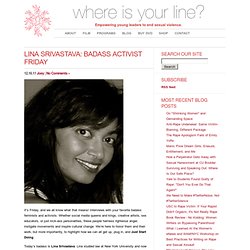 It's Friday, and we all know what that means! Interviews with your favorite badass feminists and activists. Whether social media queens and kings, creative artists, sex educators, or just kick-ass personalities, these people harness righteous anger, instigate movements and inspire cultural change.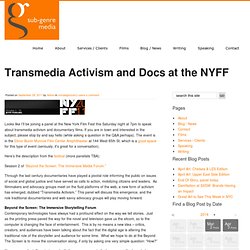 Looks like I'll be joining a panel at the New York Film Fest this Saturday night at 7pm to speak about transmedia activism and documentary films. If you are in town and interested in the subject, please stop by and say hello (while asking a question in the Q&A perhaps). The event is in the Elinor Bunin Munroe Film Center Amphitheater at 144 West 65th St, which is a good space for this type of event (seriously, it's great for a conversation). Here's the description from the festival (more panelists TBA): Session 2 of "Beyond the Screen: The Immersive Media Forum." Through the last century documentaries have played a pivotal role informing the public on issues of social and global justice and have served as calls to action, mobilizing citizens and leaders.
Transmedia Activism and Docs at the NYFF | sub-genre
Values at Play » Game Tools
Design Methodology – The VAP design methodology is described in several research papers located on this site. VAP Quick Reference vapquickref.pdf Grow-A-Game Cards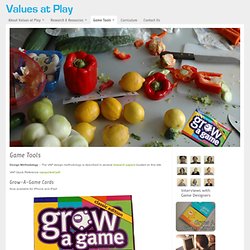 SOS_SLAVES | Games for Change 8th Annual Festival, New York City, June 20-22, 2011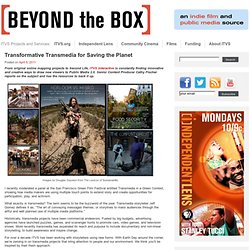 Transformative Transmedia for Saving the Planet
From original online mapping projects to Second Life, ITVS Interactive is constantly finding innovative and creative ways to draw new viewers to Public Media 2.0. Senior Content Producer Cathy Fischer reports on the subject and has the resources to back it up. Images by Douglas Gayeton from The Lexicon of Sustainability I recently moderated a panel at the San Francisco Green Film Festival entitled Transmedia in a Green Context, showing how media makers are using multiple touch points to extend story and create opportunities for participation, play, and activism.
The Modeling Global Change program engages organizations and activists to redefine partnerships, programs and operational practices within the context of sustainable social change. In order to move toward sustainable social development, we must explicitly link top-down, directed strategies to local, emergent, ground-up strategies. Modeling Global Change constructs a shared vision of advancement with diverse stakeholders and influencers through a process that creates change beyond point solutions, connects root causes and is replicable across regions, issues and societal influences. Each MGC program is customized around the mission, people and issues that are specific to the participating organization but follows a general framework that is presented herein.
modelingchange: Welcome to Modeling Global Change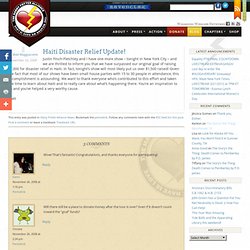 Haiti Disaster Relief Update!
Justin Finch-Fletchley and I have one more show – tonight in New York City – and we are thrilled to inform you that we have surpassed our original goal of raising $1,000 for disaster relief in Haiti. In fact, tonight's show will most likely put us over $1,500 raised! Given the fact that most of our shows have been small house parties with 15 to 30 people in attendance, this accomplishment is astounding. We want to thank everyone who's contributed to this effort and taken the time to learn about Haiti and to really care about what's happening there.
What is Resist? The word 'Resist' invokes images of guns, guerillas and violence. Yet resistance is so much more. For us, resistance means dignity and defiance, and staying human in the face of inhumanity. For us, resistance means spreading stories that otherwise won't be heard, using the combined powers of film and internet to inspire people to action.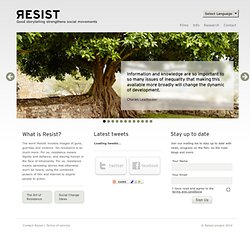 Resist - Good storytelling strengthens social movements
International and Gael García Bernal launch films on migrants in Mexico
3 Generations, Hear Their Stories
Lina Srivastava Discusses Transmedia Activism
WASHINGTON -- It seemed, at the time, too surreal to be true. In late May, a YouTube user named Hiropro999 posted a video to the site showing the ticker outside of News Corp.'s Manhattan headquarters being hacked and reprogrammed with an anti-FOX News script. The mysterious nature of the poster combined with the high profile of the target produced a tremendous amount of curiosity and netted 300,000-plus views. FOX News said the video was a fake.
MoveOn Uses Fox News Hoaxes, Van Jones And The Roots In Anti-Austerity Campaign
transmedia-activism.com
The story of the quest to identify an anonymous body found in the Arizona desert whose only identifying feature is a tattoo reading 'Dayani Cristal'. Part drama, part documentary, the film stars Gael García Bernal in an epic tale across the Americas which begins in a tiny Honduran village and climaxes in the corridors of power of Washington. Watch Trailer Directed by Marc Silver.
Resist - Resist Films - Who is Dayani Cristal?
5 Examples of Transmedia Activism
I AM THIS LAND
Half The Sky
Surfrider Foundation
Posted May 7, 2012 by Gary Nelson A Letter to Any Teen Who's Thinking About Suicide Dear friend, Let me start by telling you that I love you. No, I don't know you at all. I might have passed you at the mall or caught a glimpse of you driving down the road, but chances are you live far away from me, in another state or even in another country. I love you just the same.
It Gets Better Project | Give hope to LGBT youth
InvisiblePeople.tv