Responsive Webdesign
28 High-Quality jQuery Plugins For Building Responsive Websites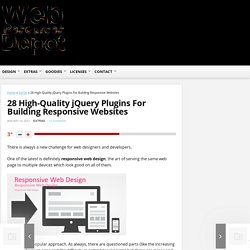 There is always a new challenge for web designers and developers.
Responsive Design Essentials: Look Great on any Device - Développeurs Facebook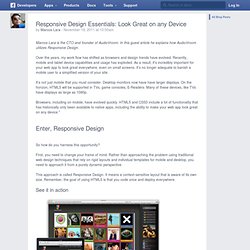 Marcos Lara is the CTO and founder of AudioVroom. In this guest article he explains how AudioVroom utilizes Responsive Design. Over the years, my work flow has shifted as browsers and design trends have evolved.
The most popular topic of discussion at the moment is undoubtedly responsive layouts in web design.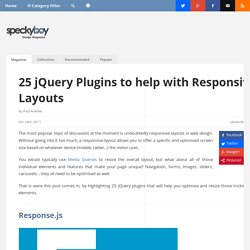 Quelques liens sur les Media Queries en CSS3
… ou presque ! Dans le jargon du métier on parle de responsive web design, ou en bon françois de web design adaptatif. Et vous allez voir que le titre de ce billet n'est pas si tiré par les cheveux qu'on ne pourrait le croire ! Mais avant de vous expliquer ce que voudrait dire ce « responsive », voyons voir de quoi il retourne quand on parle de web design. On voit bien qu'il s'agit de design pour le web (oui, je sens que vous me remerciez pour cet éclairage), mais pour être plus précis le web design dépasse la seule conception graphique et englobe plus généralement celle de l'interface (ce qui n'est pas tout à fait la même chose, vous en conviendrez).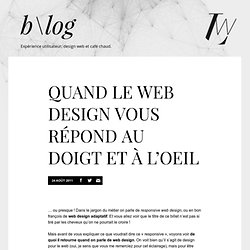 Quand le web design vous répond au doigt et à l'oeil
At Theme Trust, we recently launched our first responsive WordPress theme.
8 Tools and Scripts for Responsive Web Design | Tools