Job Help
www.findyourspot.com
Volunteer, work, intern, organize, hire and connect. Change the world
Relocation information inside includes apartments and rentals, real estate for sale, free moving quotes, city data and other free information to help assist you in your moving quest. Visit our States… Alabama, Alaska, Arizona, Arkansas, California, Colorado, Connecticut, Delaware, Florida, Georgia, Hawaii, Idaho, Illinois, Indiana, Iowa, Kansas, Kentucky, Louisiana, Maine, Maryland, Massachusetts, Michigan, Minnesota, Mississippi, Missouri, Montana, Nebraska, Nevada, New Hampshire, New Jersey, New Mexico, New York, North Carolina, North Dakota, Ohio, Oklahoma, Oregon, Pennsylvania, Rhode Island, South Carolina, South Dakota, Tennessee, Texas, Utah, Vermont, Virginia, Washington, West Virginia, Wisconsin, Wyoming
Relocation Guide for U.S. Cities by 123 Relocation .com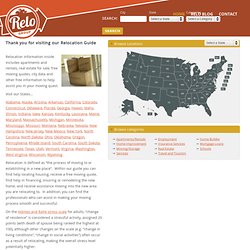 Home | InterExchange
Colorado Nonprofit Association
Going Global - Main Page
Job Search, Career Information, Company Profiles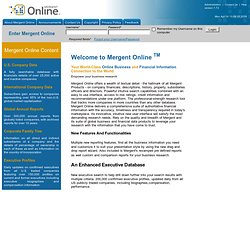 Mergent Online
U.S. Company Data A fully searchable database with financials details of over 25,000 active and inactive companies
International Schools Services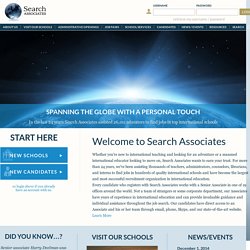 Spanning the globe with a personal touch In the last 23 years...21,910 educators have found jobs...countless lives have changed Explore the world outside the classroom
Teaching Abroad | International Teaching Jobs - Search Associates
Start :: Career Resource Site - Powered by Wetfeet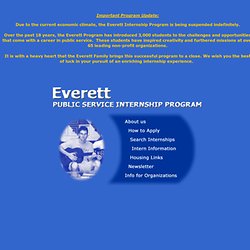 Everett Public Service Internship Program
Important Program Update: Due to the current economic climate, the Everett Internship Program is being suspended indefinitely. Over the past 18 years, the Everett Program has introduced 3,000 students to the challenges and opportunities that come with a career in public service. These students have inspired creativity and furthered missions at over 65 leading non-profit organizations.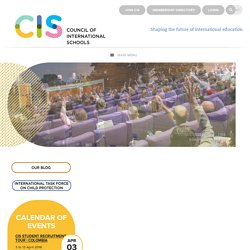 Council of International Schools (CIS)
CIS is a membership community working collaboratively for the continuous improvement of international education The Council of International Schools (CIS) is a global non-profit membership organisation that provides services to schools, higher education institutions and individuals focused on international education. Our core services are School Accreditation, School Educator Recruitment and Leadership Search, and Higher Education Services that facilitate linkages between schools and colleges and universities.
Best Places to Live 2010 - from Money Magazine
Community Career Center
Welcome to the NonprofitJobs, an on-line gathering place where not-for-profit employers and management personnel can meet one another. By posting a job opportunity or candidate credentials with NonprofitJobs, you can link with thousands of Internet users who may bring new opportunity to your organization or to your career. NonprofitJobs wishes to thank member organizations for making it possible to link not-for-profit organizations with prospective managers throughout the world.
College in Colorado - Home