Personalbranding
Prospect for Business Using LinkedIn and Twitter Together. Let's assume you know whom you want to work with, but you just don't move in their circles.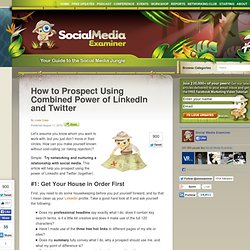 How can you make yourself known without cold-calling (or risking rejection)? Simple. Try networking and nurturing a relationship with social media. This article will help you prospect using the power of LinkedIn and Twitter (together). The promised brand: How to get there - FORTUNE Features - Fortune on CNNMoney.com. Prove your worth.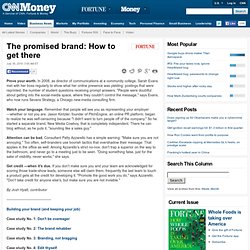 In 2008, as director of communications at a community college, Sarah Evans met with her boss regularly to show what her online presence was yielding: postings that were reprinted, the number of student questions receiving prompt answers. "People were doubtful about getting into the social-media space, where they couldn't control the message," says Evans, who now runs Sevans Strategy, a Chicago new-media consulting firm. Unvarnished Changes Personal Brand Reputation Management Forever. The web, in general, has always been a positive place for personal branding.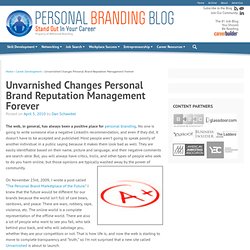 No one is going to write someone else a negative LinkedIn recommendation, and even if they did, it doesn't have to be accepted and published. Most people aren't going to speak poorly of another individual in a public saying because it makes them look bad as well. They are easily identifiable based on their name, picture and language, and their negative comments are search-able. But, you will always have critics, trolls, and other types of people who seek to do you harm online, but those opinions are typically washed away by the power of community. On November 23rd, 2009, I wrote a post called "The Personal Brand Marketplace of the Future." A shel of my former self. HOW TO: Build Your Personal Brand on LinkedIn. Dan Schawbel is the bestselling author of Me 2.0: Build a Powerful Brand to Achieve Career Success (Kaplan, April 09), and owner of the award winning Personal Branding Blog.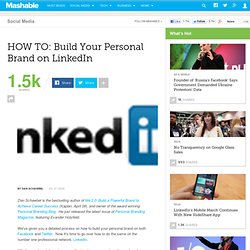 He just released the latest issue of Personal Branding Magazine, featuring Evander Holyfield. We've given you a detailed process on how to build your personal brand on both Facebook and Twitter. For Online Brand Reps, Getting Personal Can Be Tricky - Advertising Age - Digital.
---