Teacher Centered PD
I had a very interesting conversation with a colleague the other day. She is a teacher in adult education with upwards of 35 years in the classroom and she said to me that the model we recently used in her class and others, with me going directly into the classroom and working with students, makes sense to her.
Interesting conversation about teaching and technology | Leading From The Heart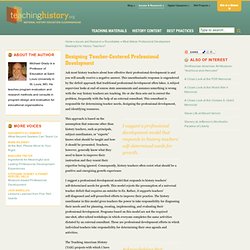 Designing Teacher-Centered Professional Development
Ask most history teachers about how effective their professional development is and you will usually receive a negative answer. This unenthusiastic response is engendered by the deficit approach that traditional professional development often takes. A subject supervisor looks at end-of-course state assessments and assumes something is wrong with the way history teachers are teaching.
It's true that students gain more from learning experiences when they're encouraged to plan their activities, share their knowledge with one another, and tailor material to their own needs.
Teacher-Centered Professional Development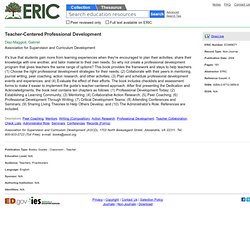 Image: aafad 38/365 the name is lom… by lamont_cranston made available by a creative commons license on flickr.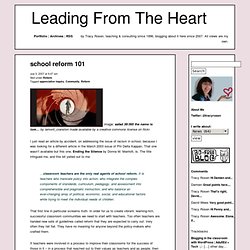 school reform 101 | Leading From The Heart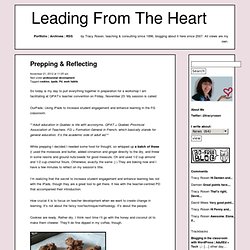 Prepping & Reflecting | Leading From The Heart
So today is my day to pull everything together in preparation for a workshop I am facilitating at QPAT's teacher convention on Friday, November 23.
Chris Casal - The Teacher-Centered iPad Deployment
mobile Home Bloggers Messages Resources