Sante 2.0
Un docteur dans mon smartphone. Santé 2.0 - techtoc.tv. Il s'agit donc d'utiliser le prétexte d'une journée d'enregistrements de plateaux TV dans un contexte professionnel, pour : Présenter votre offre face caméra (cf. illustration ci-dessous), Se faire une opinion de ce que proposent les autres, Se rencontrer entre pairs et networker comme il se doit, Echanger sur les usages en vigueur, et avec des prescripteurs influents, Se préoccuper des grandes tendances et amorcer un club de réflexion prospective, Poursuivre le travail de création d'un pôle d'influence structurant pour l'écosystème, Et bien sûr générer des heures de programme TV pour toucher un public élargi en ligne : promotion utile garantie.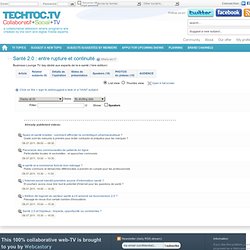 Nous y aborderons toutes les préoccupations que vous nous proposerez ici même. Twitoo. L'introduction de Jawbone ICON™ Jay Bradner: Open-source cancer research. Les 6 starts-up santé 2.0 prometteuses en France. 2011 : L'année de l'expansion de la 2ème génération d'outils de santé sur Internet dans le monde.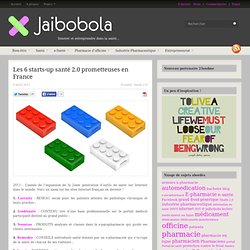 Voici un zoom sur les sites Internet français en devenir ! 1. Welcome to Rite Aid, The Virtual Doctors Will See You Now. Rite Aids in Detroit are getting chat rooms with which customers can video chat with doctors or nurses for medical advice.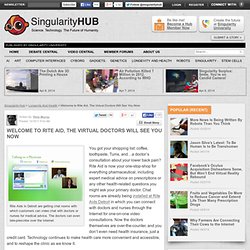 The doctors can even tele-prescribe over the Internet. You got your shopping list: coffee, toothpaste, Tums, and…a doctor's consultation about your lower back pain? Rite Aid is now your one-stop-shop for everything pharmaceutical, including expert medical advice on prescriptions or any other health-related questions you might ask your primary doctor. ODEBIT - Cathy - Picasa Albums Web. Treatment and Side Effect Info from Patients Like You : PatientsLikeMe. Vous Mickael Chekroun from Paris ? Carenity : le Facebook du malade. Carenity from Jean Michel Billaut on Vimeo Les e-billautshows reprennent.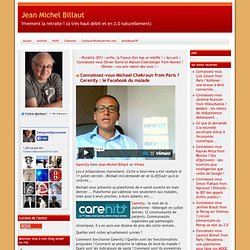 Cette e-interview a été réalisée le 11 julllet dernier.. Michael m'a demandé de ne la diffuser qu'à la rentrée... Michael nous présente sa plateforme de e-santé ouverte en mars dernier ... Plateforme qui s'adresse non seulement aux malades, mais aussi à leurs proches, à leurs aidants, etc...
---