Studyskills or study smarter
Study Skills 2 - Listening
Study Skills 2 - Monitoring Input
How to Read a Science Textbook
Q: My 11-year-old sixth-grader seems to do very well on her homework and gets good grades in most of her classes because of this. However, when it comes to quizzes and tests, she seems to "freeze up."
My child fails tests. Nerves — or poor study? - Today HIDDEN - Back to School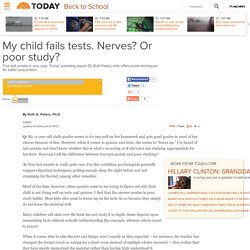 HELP YOURSELF is created by Counseling Servicescopyright 1989, 1997 by Kansas State University Introduction Components of the Test Environment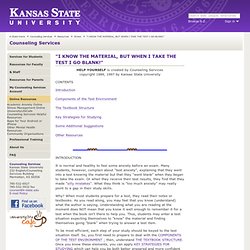 I Know the Material, But When I take the Test I Go Blank
Self-Advocacy chapter 4
Taking Notes from a textbook
First: read a section of your textbook chapter Read just enough to keep an understanding of the material. Do not take notes, but rather focus on understanding the material. It is tempting to take notes as you are reading the first time, but this is not an efficient technique: you are likely to take down too much information and simply copy without understanding Second: Review the material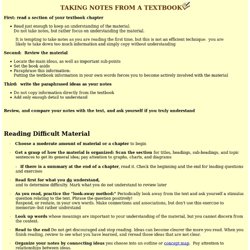 Reading Efficiently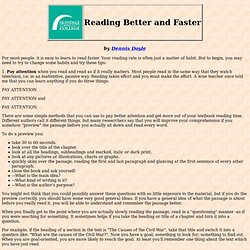 by Dennis Doyle For most people, it is easy to learn to read faster. Your reading rate is often just a matter of habit. But to begin, you may need to try to change some habits and try these tips: 1.
Study Skills Hubs
Parents can lay the foundation for good academic habits that kids will take into high school life and beyond. Parents should not do the work for them. There are different study skills and techniques that students can learn to help them in adjusting in challenging life in high school and through to university. To develop ones study skills student should learn to discover their own personal study style, learn to manage their own time more efficiently and learn the best way to prepare for exams and research and submit assignments on time.
Expert Memory Tips for ADHD Students | ADDitude - ADHD Information & Resources
University Counseling Center - The George Washington University
Test Anxiety, Counseling Services Website - University at Buffalo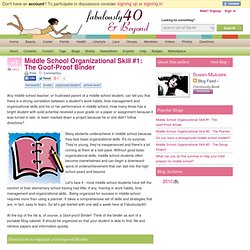 Any middle school teacher, or frustrated parent of a middle school student, can tell you that there is a strong correlation between a student's work habits, time management and organizational skills and his or her performance in middle school. How many times has a bright student with solid potential received a poor grade on a paper or assignment because it was turned in late, or been marked down a project because he or she didn't follow directions? Many students underachieve in middle school because they lack basic organizational skills.
Middle School Organizational Skill #1: The Goof-Proof Binder - Blog - Fabulously40.com
"pls help my 13year old is really not doing well with her studies,she is currently below average.what do I do? " "I really like your aproach with this help study,I guess not only does this help my grandchild but this help me also Thanks alot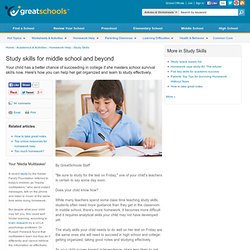 Study skills for middle school and beyond - Study Skills
Interview with Julie Balderston, Specialist in Autism Spectrum DisordersBy Cathrine Knott, Ph.D. Julie Balderston, with a Master's in speech and language pathology, has spent ten years working in the public schools, specializing in Asperger's Syndrome and the autism spectrum. Her work with children and teens with Asperger's and with high functioning students on the autism spectrum has led to her appreciation of their gifts; she feels extremely fortunate for the opportunities she has to work with these students.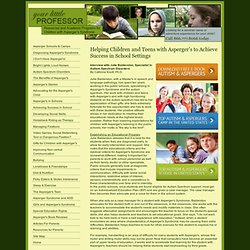 Helping Children and Teens with Asperger's to Achieve Success in School Settings
Flashcards | Science terms
Simply amazing. The flashcards are smooth, there are many different types of studying tools, and there is a great search engine. I praise you on the awesomeness. - Dennis I have been getting MUCH better grades on all my tests for school.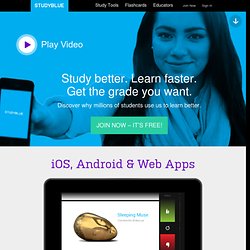 The High Cost of Over-Packed Curriculum Standards For 21st century success, students will need skill sets far beyond those that are mandated in the densely packed standards -- and that's evaluated on bubble tests. In the near future, success will depend on accelerated rates of information acquisition. And we need to help students develop the skill sets to analyze new information as it becomes available, to flexibly adapt when facts are revised, and to be technologically fluent (as new technology becomes available).
Improving Executive Function: Teaching Challenges and Opportunities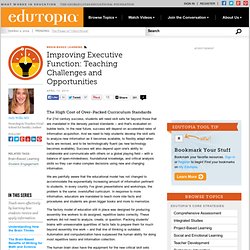 Help! My Child is So Disorganized! | Patti Schneider Learning Disabilities Coach
Homework case study #4: Disorganization disorder - Homework Help
By Chris Colin Delicate parents, peer not into Tim Campbell's backpack. Somewhere along the way, the 13-year-old eighth-grader from Connecticut developed a habit whose roots are complex but whose consequences couldn't be clearer: utter disorganization. At its worst, Tim is as likely to produce his evening's homework assignments — forget about a finished product — as to recite War and Peace.
Homework Hell? Part II: 7 Real Techniques That Work
Many parents write in to EP about homework battles with their kids. They want to know what to do about a child who procrastinates or who just can't seem to stay focused on the task at hand. This week James Lehman shares tried and true methods to get kids to sit down and do the work.
Are you trapped in a nightly homework struggle with your child? The list of excuses can seem endless: "I don't have any homework today." "My teacher never looks at my homework anyway." "That assignment was optional." "I did it at school." If only your child could be that creative with their actual homework, getting good grades would be no problem!
End the Nightly Homework Struggle - 5 Homework Strategies that Work for Kids
Test Anxiety
Listen What Can You Do? Test anxiety can be a real problem if you're so stressed out over a test that you can't get past the nervousness to focus on the test questions and do your best work.
You overslept. The history paper that's due today has gone missing. On the way out of your room, you trip over the pile of dirty laundry between your bed and the door. You get to class, only to find out that you've completely forgotten about the test you're taking today.
Organization Tips For Students
Wire Side Chats: Help Students Rise Above the Clutter
NASP Publications - Homework, Organization and Planning Skills (HOPS) Interventions
College students struggle with organizational skills
Helping Students that Struggle with Executive Functioning
Surviving the Executive Functioning Demands of High School