Social media marketing
11 Deadly Social Media Sins for Brands. Sundeep Kapur | June 14, 2012 | 17 Comments inShare193 Engaging with your consumers is great, but sometimes it can be taken too far or in the wrong direction.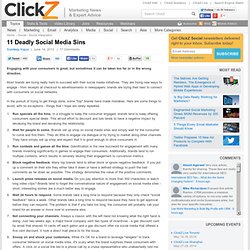 Most brands are trying really hard to succeed with their social media initiatives. Buffer - Be Awesome on Social Media. Viral Marketing: Creating Content That "Pops" On Social Media. This post was written by Jenny Urbano, our Social Media Manager.
Here at Demandforce, we love seeing and celebrating your ideas! And more than that, we love to hear from YOU. How To. This post was written by Jenny Urbano, our Social Media Manager.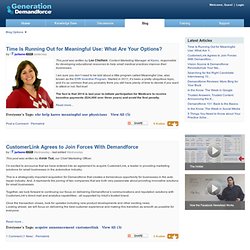 Here at Demandforce, we love seeing and celebrating your ideas! And more than that, we love to hear from YOU. We want to bridge the gap between us and you, so that's why we're offering a once in a lifetime opportunity to win a trip to San Francisco, sightsee in this amazing city, visit Demandforce headquarters and share your ideas with us! 6 winners, and a guest of their choice will be flown out to San Francisco, California on March 12-14th, 2014, where they will stay in Union Square, spend a day at Demandforce, have dinner with the team, and explore the lovely City by the Bay! For contest rules, and how to enter, please visit our post in the Generation Demandforce Community here.
How to Master the Art of Facebook Marketing. So you've decided that Facebook is a vital channel for your company's online marketing strategy and you're just starting out.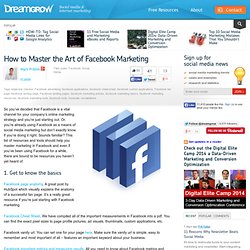 Or, you're already using Facebook as a means of social media marketing but don't exactly know if you're doing it right. Sounds familiar? This list of resources and tools should help you master marketing in Facebook and even if you've been using Facebook for a while, there are bound to be resources you haven't yet heard of. 1. Get to know the basics. 50% of online time on Facebook? 22.7% of US online time is spent on social networks.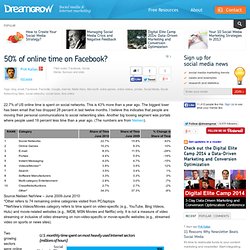 This is 43% more than a year ago. The biggest loser has been email that has dropped 28 percent in last twelve months. I believe this indicates that people are moving their personal communications to social networking sites. Another big loosing segment was portals where people used 19 percent less time than a year ago. How to successfully reach your target audience via Facebook – a guideline. With nearly half of the marketers (source: Social Media Report 2011) having less than a year's worth of social media marketing experience it becomes important to share some valuable information that will help businesses develop their social media strategies.
What's likely the most important nuance when you're marketing through Facebook is to make sure that you are reaching your target audience. There is nothing worse than having a large Facebook fan base who are all but your target audience. A situation like that usually happens when a business thoughtlessly gives out appealing goods that are not related to their business niche. For example, it gives little benefit to a flower boutique, who's target audience is a 25-40 year old woman, to have most of their fan base consist of men. Following these guidelines should help your business reach their target market effectively: Social Media, the 5-legged approach [Part 1] With a glut of social media outlets, does it make sense to limit yourself to just one.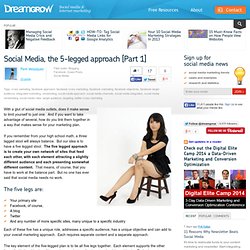 And if you want to take advantage of several, how do you link them together in a way that makes sense for your marketing plan. If you remember from your high school math, a three lagged stool will always balance. But our idea is to have a five legged stool. The five legged approach is to create your own network of sites that feed each other, with each element attracting a slightly different audience and each presenting somewhat different content. Simplify Your Job Search - 10 Steps to Simplify Your Job Search. When you're just starting out job searching or have been out of the job market for a while, you don't need all the bells and whistles that are available to job seekers today.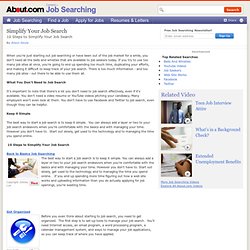 If you try to use too many job sites at once, you're going to end up spending too much time, duplicating your efforts, and making it difficult to keep track of your job search. There is too much information - and too many job sites - out there to be able to use them all. What You Don't Need to Job Search It's important to note that there's a lot you don't need to job search effectively, even if it's available. You don't need a video resume or YouTube videos pitching your candidacy. IngBoo Facebook App. Careers Job Searching Share this page on: Send to a Friend via Email Your suggestion is on its way!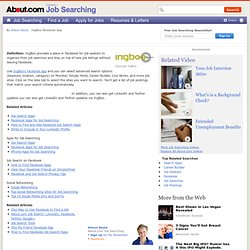 An email with a link to: Facebook and SimplyHired - View Your Facebook Friends on SimplyHired. Jobvite Work With Us Facebook App. Careers Job Searching Share this page on: Send to a Friend via Email Your suggestion is on its way!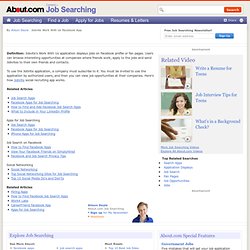 An email with a link to: Social Networking - Social Networking for Job Search. Career and social networking online resources. Where to network online as part of your job search and how to use a social network to help land a job. How to Get Started With Social NetworkingEmployers are increasing using social networking sites to attract and recruit candidates and to accept applications for employment. Here's how to get started on social networking for job seekers.
Using Facebook for Professional Networking. There has been a significant increase in Facebook users over 25, with ComScore reporting an 181% increase in users in the 25-34 year old demographic and a 98% increase from those 35 years and older. That's a big increase in the number of users with careers rather than college on their agenda. Some of these users are utilizing Facebook for professional and business networking, in addition to the social networking that Facebook is famous for. BranchOut - Career Networking on Facebook. Job seekers choose Facebook as 'friendly' networking tool. When Marci O'Connor was laid off from her job in mid-November, the first place she turned was Facebook. Her Facebook friends seemed like a natural networking choice for Ms. O'Connor, a Montreal-based social media consultant, since they had proven to be invaluable promoters of her online clothing-swap business, Suzie Swapper, since its 2009 launch.
Within two days of notifying her friends that she was unemployed, she landed new work, including a consulting gig with personal finance expert Gail Vaz-Oxlade, host of Til Debt Do Us Part. Ms. Facebook at Work - When Facebook is in Your Job Description. An issue for job seekers, in this time of being constantly in touch with your connections, is what happens at work? If you are a student or recent graduate, you have been able to message your friends via Facebook on your computer or cell phone, and you're very rarely out of touch for a significant length of time. There are companies that block access to social networking at work.
---