Gardening
Certified Organic Quinoa Seeds for Organic Vegetable Growing - West Coast Seeds. Quinoa (pronounced "keen-wah") has been grown for thousands of years as a grain crop.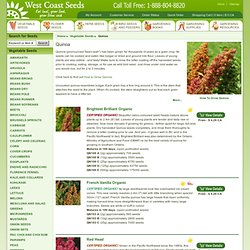 Its seeds can be cooked and eaten like bulgar or dried and ground into flour. Leaves of young plants are also edible - and tasty! Make sure to rinse the bitter coating off the harvested seeds prior to cooking, eating, storage, or for use as wild bird seed. Heritage and Heirloom Seed Catalog for Organic Gardeners. Growing Amaranth and Quinoa. Recipes There are so many similarities between quinoa (keen' wah) and amaranth that it seems appropriate to describe them together.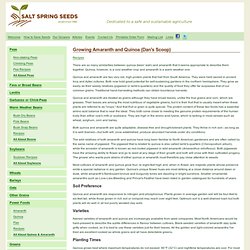 Quinoa, however, is a cool weather crop and amaranth is a warm weather one. Quinoa and amaranth are two very old, high-protein plants that hail from South America. They were held sacred in ancient Inca and Aztec cultures. Basic information about growing mushrooms | The Power of the Spore. What you need to grow mushrooms from home It may seem overwhelming at first when you see so many different things like substrates, and mushroom kits, pressure cookers and mycology supplies.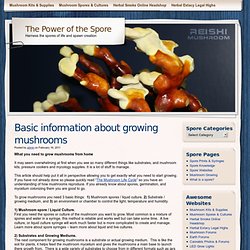 It is a lot of stuff to manage. This article should help put it all in perspective allowing you to get exactly what you need to start growing. If you have not already done so please quickly read "The Mushroom Life Cycle" so you have an understanding of how mushrooms reproduce. If you already know about spores, germination, and mycelium colonizing them you are good to go. Mushroom Cultivation Plugs. The commercial outdoor grower has used mushroom plugs for many years.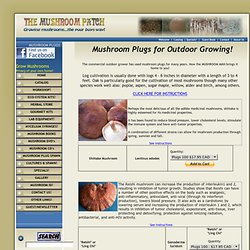 Now the MUSHROOM MAN brings it home to you! Log cultivation is usually done with logs 4 - 6 inches in diameter with a length of 3 to 4 feet. Mushroom Cultivation: Shiitake, Oyster, Reishi & Kombucha. Fungi Perfecti: the finest mushroom products for home and garden, farm and forest, people and planet.
---