Furniture makeover
Before & after: ana's bookcase + briana's table. Today is before & after day so i thought i'd start us out nice and easy with some fun and simple paint + fabric makeovers. first up is ana's bookcase makeover. orange is probably my favorite accent color for almost anything, so i loved seeing this simple makeover on a piece of furniture that just needed a little love. for another great orange bookcase look, check out this gorgeous piece in bonnee of studio bon's home. thanks to ana for sharing!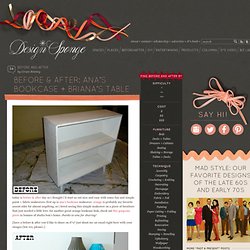 [have a before & after you'd like to share on d*s? Just shoot me an email right here with your images (low res, please).] CLICK HERE for briana's telephone table makeover after the jump! Before & after: pretty painted furniture part II. Our second pretty painted-furniture piece today is this gorgeous metallic herringbone desk by restoration expert Ann Marie of Twice Lovely.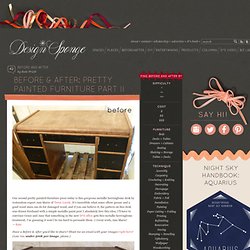 It's incredible what some elbow grease and a good wood stain can do for damaged wood, and if you can believe it, the pattern on this desk was drawn freehand with a simple metallic paint pen! I absolutely love this idea; I'll have to convince Grace and Amy that something in the new D*S office gets this metallic herringbone treatment. I'm guessing it won't be too hard to persuade them :) Great work, Ann Marie! — Kate Have a Before & After you'd like to share? Salvaged Sewing Cabinet Transformed Into MidC Storage. Where some see donation pile fodder, creative minds picture opportunity.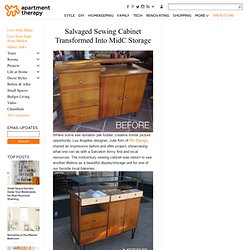 Los Angeles designer, Julie Kim of Plic Design, shared an impressive before and after project, showcasing what one can do with a Salvation Army find and local resources. The midcentury sewing cabinet was reborn to see another lifetime as a beautiful display/storage unit for one of our favorite local bakeries...
Julie: I bought the sewing cabinet for about $35 half-off at a local Salvation Army, converting it into a counter for Proof Bakery. I kept the old and new distinct through materials: slender iron frame lifts the cabinet, exposes its top (now filled with new birch plywood drawers), and adds a surface for a see-thru glass piece. Before & After: Sofa Makeover Rock Paper Scissor Graphics.
---