Furniture makeover
today is before & after day so i thought i'd start us out nice and easy with some fun and simple paint + fabric makeovers. first up is ana's bookcase makeover. orange is probably my favorite accent color for almost anything, so i loved seeing this simple makeover on a piece of furniture that just needed a little love. for another great orange bookcase look, check out this gorgeous piece in bonnee of studio bon's home. thanks to ana for sharing!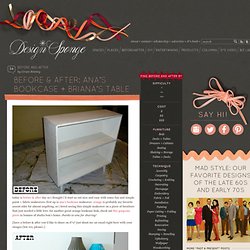 before & after: ana's bookcase + briana's table
Our second pretty painted-furniture piece today is this gorgeous metallic herringbone desk by restoration expert Ann Marie of Twice Lovely. It's incredible what some elbow grease and a good wood stain can do for damaged wood, and if you can believe it, the pattern on this desk was drawn freehand with a simple metallic paint pen!
before & after: pretty painted furniture part II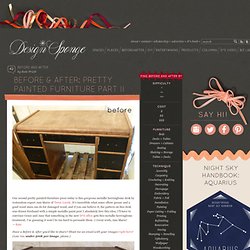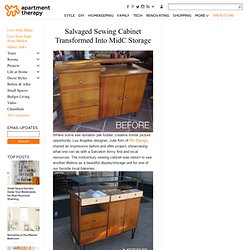 Salvaged Sewing Cabinet Transformed Into MidC Storage
Where some see donation pile fodder, creative minds picture opportunity.
Before & After: Sofa Makeover Rock Paper Scissor Graphics