Sync/Backup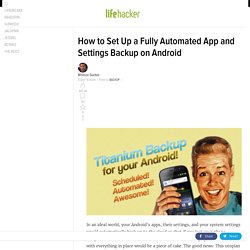 In an ideal world, your Android's apps, their settings, and your system settings would automatically back up to the cloud so that if you lost your phone, bought a new one, or installed a new custom ROM , setting up a fresh device with everything in place would be a piece of cake.
The Best Backup App for Android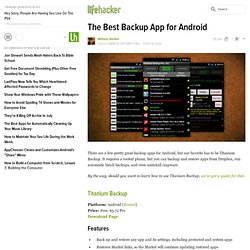 There are a few pretty great backup apps for Android, but our favorite has to be Titanium Backup. It requires a rooted phone, but you can backup and restore apps from Dropbox, run automatic batch backups, and even uninstall crapware.
Signed, Too Slothful for Sync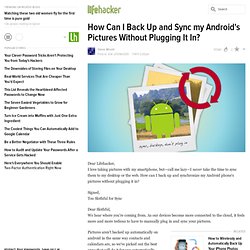 How Can I Back Up and Sync my Android's Pictures Without Plugging It In?
Android/Windows: Android Manager WiFi is a Windows-only wireless android management tool for easy file syncing, file browsing, and application management. Android Manager WiFi is a free tool for syncing your Android phone to your Windows PC without tethering it via USB.
Android Manager WiFi Is a Computer-Based Synchronization and Phone Manager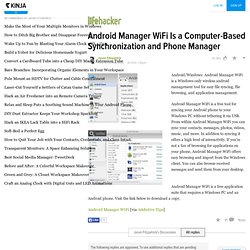 How to Break Down the Barrier Between Your Android and Computer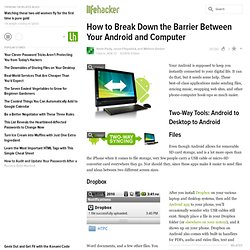 Your Android is supposed to keep you instantly connected to your digital life. It can do that, but it needs some help. These best-of-class applications make sending files, syncing music, swapping web sites, and other phone-computer hook-ups so much easier.
How to Sync Android with Your Computer as Seamlessly as an iPhone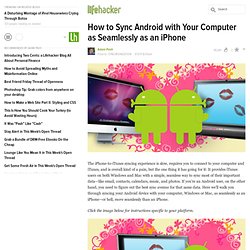 The iPhone-to-iTunes syncing experience is slow, requires you to connect to your computer and iTunes, and is overall kind of a pain, but the one thing it has going for it: It provides iTunes users on both Windows and Mac with a simple, seamless way to sync most of their important data—like email, contacts, calendars, music, and photos. If you're an Android user, on the other hand, you need to figure out the best sync avenue for that same data.