Sync/Backup
How to Set Up a Fully Automated App and Settings Backup on Android. As for SMS backup and Call Logs, I use two apps that do it automatically, silently, and with deadly efficiency.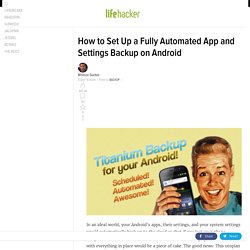 SMS Backup — sends them all as an email to your gmail address under a user specified label (SMS) - it also can mark them as read so you can set it and forget it. CallTrack — Sends all incoming and outgoing, missed and dialed, calls (everything on the call log) into a specified goggle calendar under your account. So I can see week by week, day by day, who I called, who called me, how long we spoke for, etc. If I had google calendar skills, I could probably turn this info into a neat graphic or excel spreadsheet. The Best Backup App for Android.
I know it is slightly different than the type of backups you are mentioning, but ClockWorkMod Mod Manager can also be great for performing system wide backups.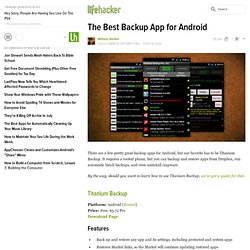 Create/restore a backup of the entire system (apps, settings, user data (not SDcard data)), as well install some APKs that require root (as in system apps, that can really mess up your system if uninstalled by accident), Flash updates, or flash kernels. It does require root, and there is both a free and a premium version Being able to quickly backup your system before making a change (such as removing something that you thought would be crapware, but turned out to be required by the system) and revert back to it when you realize that, say, the market no longer works cause you removed the download manager (happened to me, didn't effect after market browsers, but of course the market uses the default browser), is really handy! Edit:added full name of app. How Can I Back Up and Sync my Android's Pictures Without Plugging It In? @kschang: huh?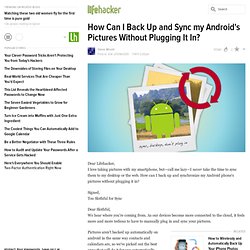 I just did it a few minutes ago with my android phone. Works like a charm. @kschang: I don't think he was referring to your Android phone as syncing instantly. Android Manager WiFi Is a Computer-Based Synchronization and Phone Manager. How to Break Down the Barrier Between Your Android and Computer.
@Ph0Xy: FTP Server, its in the market and free @Ph0Xy: Personally, I have used FTPServer with my phone connected to my Wifi network alongside FileZilla on my PC.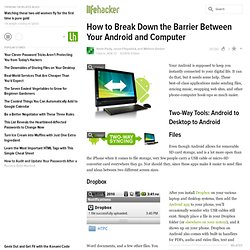 It works flawlessly. How to Sync Android with Your Computer as Seamlessly as an iPhone. @jeffeb3: BSD,Solaris,Minix,Irix,HP-Unix,AIX?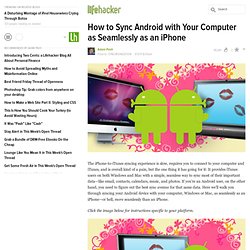 I use those every day and i want to sync my android device with them. I posted this below, but here it is for you, too. :) Just use Google services for your mail/contacts/calendar. Evolution can sync w/those, so that covers that. Banshee can sync music and videos w/Android.
---