Starting Out
Less Doing - Automate your life. Do less. Live more. How to De-Crapify Your Home: A Start-to-Finish Guide. First day of warm weather, I have an insatiable urge to clean.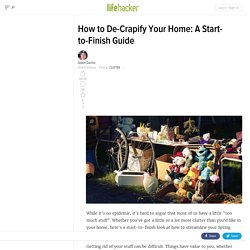 If it's seventy degrees and sunny, I will take the day off of work if I can and spend the day going absolutely bonkers on my spaces. I scrub the whole house, I wash every cloth thing I own, I dust everything, I touch up paint, I wash and clean out my car, go through maybe 4 bottles of febreeze because I love the smell, and clean out my belongings. I've taken to the habit of not having much "stuff", and live like I'm in the space of a college dorm. Email - Lifehacker stories - Lifehacker. There's a few tips in here that seem to crop up regularly - such as keep the list short, keep it concise etc yet I find that they contradict other points such as break up the tasks into bite sized chunks.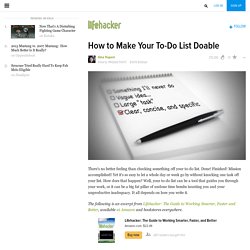 After a number of years of trial and error I've hit upon the perfect system for me - a combination of these tips and my own "headology". For one I have shunned all technical versions of my list. This is a surprise to myself, as I'm pretty much always one of the first to adopt new toys, but I honestly have not found anything online or on desktop that works for me as well as a paper book does. Build Your Own Productivity Style by Remixing the Best. Good article.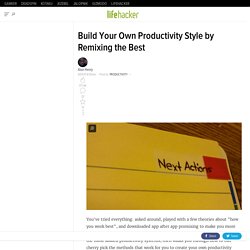 I'm primarily a GTD-er, but I'm also a firm believer is mixing and matching to get what works for you. I've done several presentations at work on task management and GTD and to get past peoples' fear of what looks like a complicated and monolithic system, I explain that there's really just three fundamental principles involved: write everything down, define a next action, and review your lists. That often gets them to the stage of thinking "oh, I can do *that*", which at a minimum is going to make my work life easier and at best will lure another unsuspecting soul into the world of productivity geekery. :) Also, *thank you* for discussing the issue of non-work productivity. Gmail Smart Labels Add Automatic Inbox Filters for Mass Mail, Combat Email Overload.
Separate your email from your to-do's. Top 10 Ways to Declutter Your Digital Life, 2010 Edition. After I built the new computer last weekend I decided to take the larger of the two hard drives out of the old one to put in an external enclosure for backup purposes.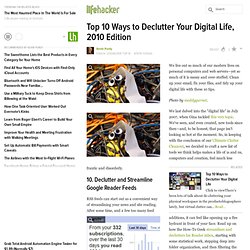 This forced me to take a good look at what was on that drive. No, I did not need a backup of my entire iTunes music collection from a year and a half ago, and duplicate backups of my photos. There was also a huge mass of accumulated WordPress files of various kinds (plugins, themes, old versions of WordPress) that I mostly did not need to keep around. So last night I went through folder by folder and deleted the stuff I didn't need to keep and zipped up the rest. Presto, a drive that had 2/3 more empty space! Craft the Perfect Calendar and To-Do List This Weekend. Originally Posted: [lifehacker.com] Is there a GTD app on Android which syncs with Google Task, has a default audible reminder, and the capability of assigning contacts as a task or adding them into your notes.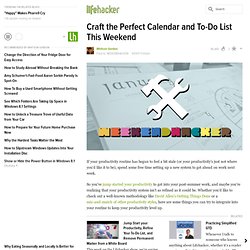 So here is the situation - I am in sales and I need to quickly capture people's business card details onto my phone for future follow ups. I want all those information directly manipulatable so just a snapshot won't do. The next stage would be assigning those contacts as tasks. Developing Razor Sharp Focus with Zen Habits Blogger, Leo Babauta. If you've just logged into Facebook or your email for the 10th time today or find yourself thinking in Facebook statuses throughout the day, it may be time to read Leo Babauta's eBook "Focus: A simplicity manifesto in the age of distraction".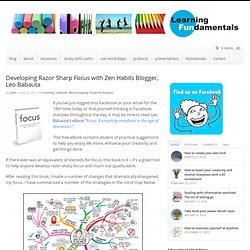 This free eBook contains dozens of practical suggestions to help you enjoy life more, enhance your creativity and get things done. If there ever was an equivalent of steroids for focus, this book is it – it's a great tool to help anyone develop razor sharp focus and churn out quality work. How to Make Your To-Do List Doable.
---