Starting Out
Less Doing - Automate your life. Do less. Live more.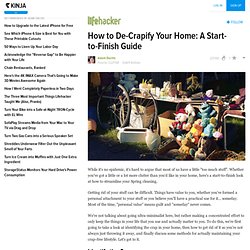 How to De-Crapify Your Home: A Start-to-Finish Guide
While it's no epidemic, it's hard to argue that most of us have a little "too much stuff". Whether you've got a little or a lot more clutter than you'd like in your home, here's a start-to-finish look at how to streamline your Spring cleaning. Getting rid of your stuff can be difficult. Things have value to you, whether you've formed a personal attachment to your stuff or you believe you'll have a practical use for it... someday.
There's no better feeling than checking something off your to-do list. Done! Finished! Mission accomplished! Yet it's so easy to let a whole day or week go by without knocking one task off your list.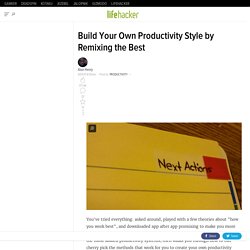 You've tried everything: asked around, played with a few theories about "how you work best", and downloaded app after app promising to make you more efficient. If you feel like nothing's working, this crash course examines some of the most lauded productivity systems, then walks you through how to can cherry pick the methods that work for you to create your own productivity style. If you're spending more time researching and implementing a productivity technique than you are being productive, it's not actually helping you. Since you're spending time reading Lifehacker, you already have an interest in productivity and getting things done faster, but that doesn't mean you have to shoehorn someone else's process into the way you work. There are lots of different techniques, but no one-size-fits-all solution.
Gmail Smart Labels Add Automatic Inbox Filters for Mass Mail, Combat Email Overload
Gmail's powerful filters have long been one of its strongest features, if you're willing to create and nurture them. Now a new Gmail Labs feature is giving every user a few pre-set Smart Labels to automatically catch bulk messages, service notifications, and mailing lists. Smart Labels work in tandem with the Priority Inbox , but act as a kind of housekeeper for the mail that ends up in the lower third of your inbox. What kind of mail do the Smart Labels catch?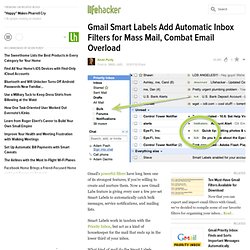 Click to view Your boss needs the updated PowerPoint presentation file by Tuesday. Your spouse wants to know how many vacation days you've got left this year. Your co-worker needs your office pool picks. Everyone gets task requests via email all day long, and it's so easy to let these messages slip through the cracks.
Separate your email from your to-do's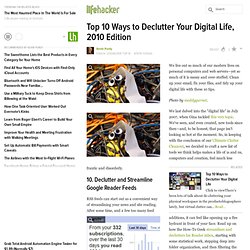 Top 10 Ways to Declutter Your Digital Life, 2010 Edition
We live out so much of our modern lives on personal computers and web servers—yet so much of it is messy and over-stuffed. Clean up your email, fix your files, and tidy up your digital life with these 10 tips. Photo by meddygarnet . We last delved into the "digital life" in July 2007, when Gina tackled this very topic . We've seen, and even created, new tools since then—and, to be honest, that page isn't looking so hot at the moment. So, in keeping with the conclusion of our Ultimate Clutter Cleanout , we decided to craft a new list of tools we think helps makes a life of 1s and 0s, computers and creation, feel much less frantic and disorderly.
Craft the Perfect Calendar and To-Do List This Weekend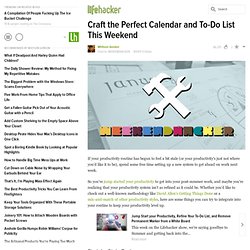 If your productivity routine has begun to feel a bit stale (or your productivity's just not where you'd like it to be), spend some free time setting up a new system to get ahead on work next week. So you've jump started your productivity to get into your post-summer work, and maybe you're realizing that your productivity system isn't as refined as it could be. Whether you'd like to check out a well-known methodology like David Allen's Getting Things Done or a mix-and-match of other productivity styles , here are some things you can try to integrate into your routine to keep your productivity level up.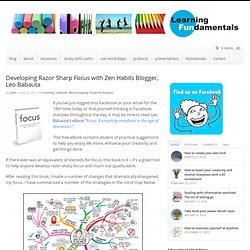 If you've just logged into Facebook or your email for the 10th time today or find yourself thinking in Facebook statuses throughout the day, it may be time to read Leo Babauta's eBook " Focus: A simplicity manifesto in the age of distraction" . This free eBook contains dozens of practical suggestions to help you enjoy life more, enhance your creativity and get things done. If there ever was an equivalent of steroids for focus, this book is it – it's a great tool to help anyone develop razor sharp focus and churn out quality work.
Developing Razor Sharp Focus with Zen Habits Blogger, Leo Babauta | Learning Fundamentals