Spotify
Spotify Chrome Extension
Generate Spotify Playlists powered by Lastfm!
How to Automatically Mute Ads on Spotify
Something that marketing folks seem to have trouble understanding: ads should engage people, not make them irate. The latter case isn't going to result in any sales. Think about it—what started Google off on its track to be the behemoth it is today? While everyone else had annoying animated ad banners, they stuck to unobtrusive, text-only ads that actually had some relevance to what you were doing Internet searches on.
How to Use Spotify in the U.S. with a VPN Service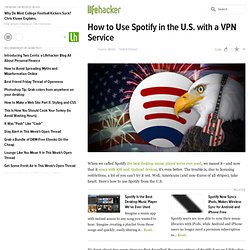 When we called Spotify the best desktop music player we've ever used, we meant it—and now that it syncs with iOS and Android devices, it's even better. The trouble is, due to licensing restrictions, a lot of you can't try it out. Well, Americans (and non-Euros of all stripes), take heart: Here's how to use Spotify from the U.S.
If you can build it yourself then the code is here: [github.com] Instructions for building for Linux and Windows are in the ReadMe Otherwise I think that we're just going to have to be patient. There won't be a spotify addon for XBMC until it supports binary addons (all are python at the moment). That feature is due in the next release of XBMC (Eden), but that isn't due until sometime around the end of the year. And though there may be experimental builds up before then, there aren't any with that feature at the moment.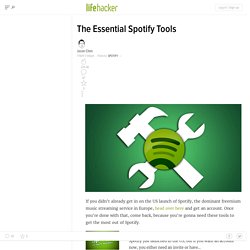 How Can I Get Genius-Like Radio Stations on Spotify?
I agree that is huge, but I hate iTunes and will do everything I can to become independent of it. However, I can totally understand not liking MOG if you have a lot of music already on your computer. I don't and if I do it isn't at 320 kbps hence using MOG. I was never into CD's and the like and have such a schizophrenic taste in music buying albums just never made much sense to me.