Spotify
Spotify Chrome Extension
Generate Spotify Playlists powered by Lastfm!
How to Automatically Mute Ads on Spotify
It's nice that music-streaming service Spotify offers a free, ad-supported version, and most of the time we don't mind listening to an ad or two for the privilege. But those audio ads can be a serious buzzkill when they interrupt your party music. Here's how to automatically mute ads in Spotify and keep the flow in your playlists. Windows
How to Use Spotify in the U.S. with a VPN Service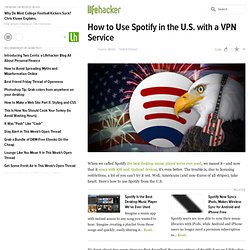 When we called Spotify the best desktop music player we've ever used , we meant it—and now that it syncs with iOS and Android devices , it's even better. The trouble is, due to licensing restrictions, a lot of you can't try it out. Well, Americans (and non-Euros of all stripes), take heart: Here's how to use Spotify from the U.S.
If you didn't already get in on the US launch of Spotify, the dominant freemium music streaming service in Europe, head over here and get an account. Once you're done with that, come back, because you're gonna need these tools to get the most out of Spotify. Spotify's pretty decent out of the box. It has 15 million songs—which I think is the most of any streaming service right now—and a wide userbase, so you have a higher chance of finding friends who are on it. But it's also missing a lot of things. Spotify doesn't let you see what your friends are listening to right now —instead, it offloads that capability onto Last.fm, a free service that you have to sign up separately for.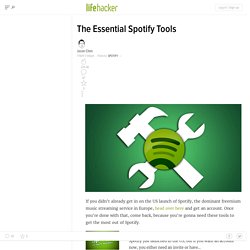 How Can I Get Genius-Like Radio Stations on Spotify?
Dear Lifehacker, Spotify just updated with a new "Artist Radio" feature, but it's pretty limited. Is there any way I can get a more control over those recommendations, like in iTunes Genius or Pandora? Sincerely, Deprived of Direction Photo remixed from an original by Rafael Kage