Remote Troubleshooting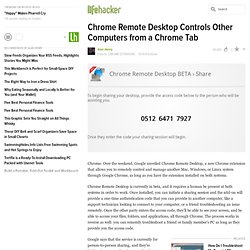 Chrome Remote Desktop Controls Other Computers from a Chrome Tab
Chrome: Over the weekend, Google unveiled Chrome Remote Desktop, a new Chrome extension that allows you to remotely control and manage another Mac, Windows, or Linux system through Google Chrome, as long as you have the extension installed on both systems.
by Gina Trapani Ever been at a friend's house and wanted to show off a photo you left saved on your home computer? Ever wanted to check from the office that your daughter's doing homework and not instant messaging with friends at home? Ever need to grab a file on your home hard drive when you're miles away?
Geek to Live: How to control your home computer from anywhere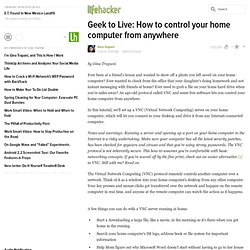 How Do I Troubleshoot My Parents' PC Remotely?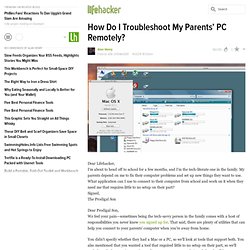 Dear Lifehacker, I'm about to head off to school for a few months, and I'm the tech-literate one in the family.