Random DIY
How to Fix a Stuck Zipper. DIY Toilet Paper Tube Organizer Is Ugly, but It's a Helluva Cable Organizer. I have several cameras, each with its own cord for downloading pics, and different battery charging apparatuses, most of which are indistinguishable.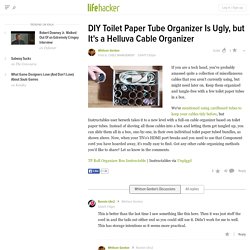 I bought a couple of rolls of the colored duct tape and, color-coordinating by camera, I wrapped a piece of tape around each cord and wrote on the tape the name of the camera and the cord function (e.g., Olympus download, Nikon battery chg, etc.) I then put a small bit of the colored tape on the camera bottom in case I forget which belongs to which. iFixit: The free repair manual. Use an Over-Under Wrap to Keep Your Headphones Kink-Free. SExpand Headphones have a magic way of tangling themselves in inexplicably complicated knots.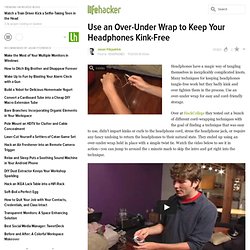 Many techniques for keeping headphones tangle-free work but they badly kink and over tighten them in the process. Use an over-under wrap for easy and cord-friendly storage. Over at HackCollege they tested out a bunch of different cord-wrapping techniques with the goal of finding a technique that was easy to use, didn't impart kinks or curls to the headphone cord, stress the headphone jack, or require any fancy undoing to return the headphones to their natural state. Keep headphone wires from getting tangled. Get the Best Sound from In-Ear Headphones. Use Paracord as a Tangle-Free Headphone Sleeve. DIY Zipper-Case Earbuds Are the Ultimate Tangle-Free Headphone Solution. Wrap Your Headphones with a Binder Clip for Easy, Tangle-Free Storage.
---