Random DIY
How to Fix a Stuck Zipper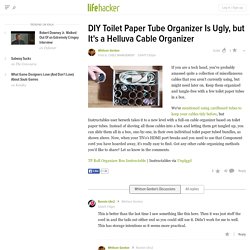 DIY Toilet Paper Tube Organizer Is Ugly, but It's a Helluva Cable Organizer
If you are a tech head, you've probably amassed quite a collection of miscellaneous cables that you aren't currently using, but might need later on. Keep them organized and tangle-free with a few toilet paper tubes in a box. We've mentioned using cardboard tubes to keep your cables tidy before , but Instructables user berserk takes it to a new level with a full-on cable organizer based on toilet paper tubes.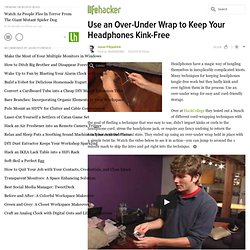 Headphones have a magic way of tangling themselves in inexplicably complicated knots.
Use an Over-Under Wrap to Keep Your Headphones Kink-Free
Keep headphone wires from getting tangled
When you grow weary of the pedestrian sound from "ear bud" headphones, the in-ear models might be your next step up. Here's a few tips on making your music sound great inside your ear canals.
Get the Best Sound from In-Ear Headphones
Rather than learn fancy wraps or buy specialty holders to manage headphone tangles, why not sheath your standard earbuds in paracord , that durable, hard-to-twist wonder material? One crafty Instructables writer shows us how.
Use Paracord as a Tangle-Free Headphone Sleeve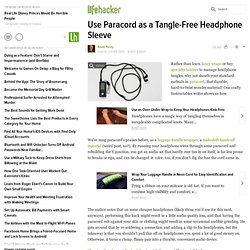 DIY Zipper-Case Earbuds Are the Ultimate Tangle-Free Headphone Solution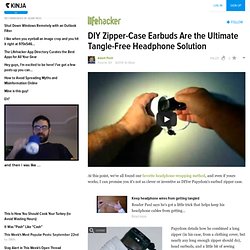 At this point, we've all found our favorite headphone-wrapping method , and even if yours works, I can promise you it's not as clever or inventive as DIYer Papydom's earbud zipper case. Papydom details how he combined a long zipper (in his case, from a clothing cover, but nearly any long enough zipper should do), head earbuds, and a little bit of sewing know-how to create this extremely clever earbud zipper case.
If you carry headphones with you everywhere you go but can't seem to find a tangle-free wrapping method that works for you, look no further than the duct tape of office supplies, the binder clip.
Wrap Your Headphones with a Binder Clip for Easy, Tangle-Free Storage