Random DIY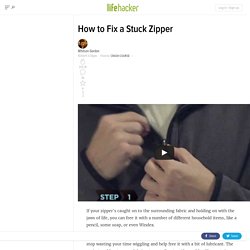 How to Fix a Stuck Zipper
If your zipper's caught on to the surrounding fabric and holding on with the jaws of life, you can free it with a number of different household items, like a pencil, some soap, or even Windex.
DIY Toilet Paper Tube Organizer Is Ugly, but It's a Helluva Cable Organizer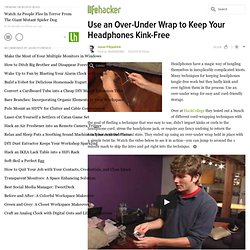 SExpand
Use an Over-Under Wrap to Keep Your Headphones Kink-Free
Keep headphone wires from getting tangled
Some recommendations under $100: Etymotic ER6i (strong treble with amazing detail. bass lovers stay away unless you like tight, detailed bass)
Get the Best Sound from In-Ear Headphones
@nutbastard: I have a pair of Koss ear-bud headphones that came with a faux leather case. I do a simple wrap around all four of my fingers (no tight, wire stressing bends), and place them in the case.
Use Paracord as a Tangle-Free Headphone Sleeve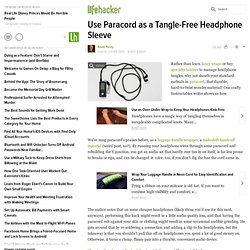 DIY Zipper-Case Earbuds Are the Ultimate Tangle-Free Headphone Solution
I made the cellphone to car a/c vent clip hack last weekend, but used liquid rubber (aka, liquid electrical tape) to coat the clips where they'd grip the phone.
Wrap Your Headphones with a Binder Clip for Easy, Tangle-Free Storage