Productivity
Chances are your computer's desktop and other folders aren't cluttered because you like it that way, but because you don't want to spend time organizing every file that hits your hard drive. Automate your file organization and stay clutter-free without the effort. (Awesome Belvedere logo by our good friends at What Cheer ) . Few people are disorganized because it's their preference. But organization takes time, and however little time it may be, it's generally easier to do nothing than to take a few seconds to file something away in the appropriate folder.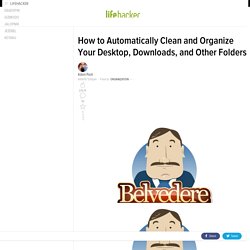 How to Automatically Clean and Organize Your Desktop, Downloads, and Other Folders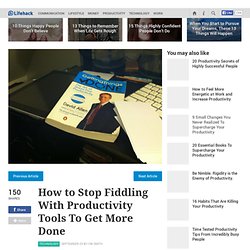 We purchase shiny new tools that promise us more, better, and faster in anything that we can conceive. The newest software vendors claim their tools are the missing piece of the puzzle and with them you can get more done with less effort. And if you don't subscribe to a certain productivity methodology, you will be a lost soul in the see of knowledge work.
How to Stop Fiddling With Productivity Tools To Get More Done
Backing up data regularly should be one of the most important tasks of every computer user; Yet only a minority is doing it thoroughly and regularly. The rest is flirting with disaster as there are numerous incidents that can delete data on computer systems. The most common ones are hardware failures, which can mean damaged hard drives but also (partially) unreadable CDs or DVDs, computer virus attacks but also human error. If you have ever met someone who partitioned the wrong hard drive you know that the latter can be cause for great frustration. Backups are the single most effective method of preventing data loss on computer systems.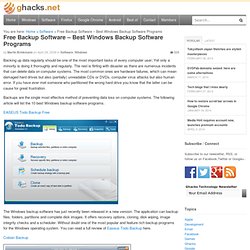 Free Backup Software – Best Windows Backup Software Programs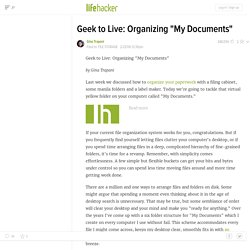 Geek to Live: Organizing "My Documents"
by Gina Trapani Last week we discussed how to organize your paperwork with a filing cabinet, some manila folders and a label maker. Today we're going to tackle that virtual yellow folder on your computer called "My Documents." If your current file organization system works for you, congratulations. But if you frequently find yourself letting files clutter your computer's desktop, or if you spend time arranging files in a deep, complicated hierarchy of fine-grained folders, it's time for a revamp. Remember, with simplicity comes effortlessness.
D*I*Y Planner
No, I'm not dead. Although I can understand why some people believe that. As much as I dearly love this site, and all the interesting people that have sprung up from nowhere to contribute their experiences, their ideas and their passions, life has thrown me a curveball or two. Back when this site began, I was living in Newfoundland, Canada. I was doing contractual work (web development, training and marketing/communications consulting), and owing to the scarcity of such jobs in that locale, was blessed with plenty of spare time.
Greplin Searches Your Online Life from One Box, Now Open to Everyone
Your increasingly digital lifestyle has left your analog media collecting dust. Save it from obsolescence and digitize your life. This guide covers many different kinds of media, so feel free to skip to the section(s) that interest you the most: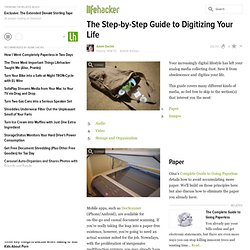 Whether you're headed back to school this fall or you just want a better way to keep your notes, memos, and other tidbits of information organized, you have a number of applications to choose from. Some of them just help you get your thoughts down quickly, others sync with online services that organize your notes for you. Here are, based on your nominations, the top five apps or services for the job. We asked you earlier in the week which applications or services you used to take notes and organize your thoughts so you could get back to them quickly.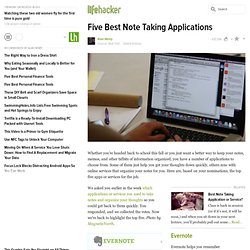 Five Best Note Taking Applications
Tools (Timer, Blocker, Activity Logging)
Online Task Management - Producteev
If This Then That Integrates and Automates Your Online Tools
If This Then That is a simple to use tool to keep your social networks, to-do lists, RSS feeds, imaging sites, and all your other webapps on the same page. The core of If This Then That works off of different channels you can use to create your own recipes for sharing by using the basic instruction, "if this, then that." For instance, you can set it so that if you text message something with a particular hashtag to a specified number, then it will automatically create a note in Evernote.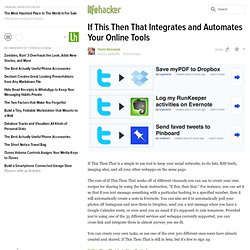 Notes - Quick Notes on Windows
People are building great products that work with Simplenote. If you experience problems with these, please contact their developers directly. Mac OS X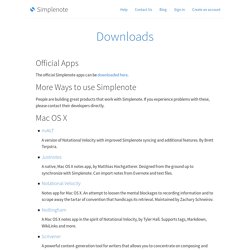 Simplenote Downloads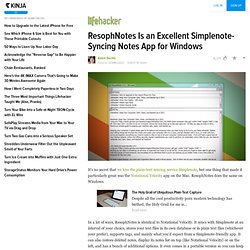 It's no secret that we love the plain-text syncing service Simplenote , but one thing that made it particularly great was the Notational Velocity app on the Mac. ResophNotes does the same on Windows. In a lot of ways, ResophNotes is identical to Notational Velocity. It syncs with Simplenote at an interval of your choice, stores your text files in its own database or in plain text files (whichever your prefer), supports tags, and mainly what you'd expect from a Simplenote-friendly app. It can also restore deleted notes, display its notes list on top (like Notational Velocity) or on the left, and has a bunch of additional options. It even comes in a portable version so you can keep it on a thumb drive.
ResophNotes Is an Excellent Simplenote-Syncing Notes App for Windows
Despite all the cool productivity porn modern technology has birthed, the Holy Grail for me is simple: I want to create and edit plain text from anywhere (desktop/tablet/phone), and I want the results to sync flawlessly between devices. And now I can. Ubiquitous capture—that is, the ability to snag any thought or idea any time and any where it happens to crop up—is a key component to nearly every productivity philosophy. You want to capture those fleeting ideas before they're gone, and you don't want to waste brain power obsessing over remembering it until you can write it down somewhere. Below, I'll walk you through the best ubiquitous capture system I've ever encountered.
The Holy Grail of Ubiquitous Plain-Text Capture
Notational Velocity, Simplenote, and Dropbox bring child-like wonder
The phrase "game changer" is no doubt cliché and overused, but every now and again it just fits. I had heard about Notational Velocity when Merlin Mann posted about it on 43Folders. It changed how I use my iMac, MacBookPro, and iPhone, bringing them all together in a very cool way. The app has been around for awhile ( we talked about it five years ago !) but some new features and new technologies make it well worth another look.