Mind Mapping
Run Your Personal Wikipedia from a USB Stick. If you are looking for portability across platforms, I can recommend the setup Jetty [www.mortbay.org] and JAMWiki [jamwiki.org] Jetty is a light-weight, Java web-server.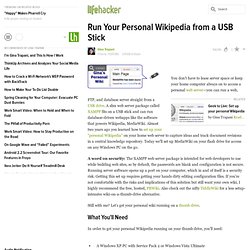 JAMWiki is Java-port of MediaWiki, that ships with an internal database. The installation can pretty much be narrowed down to the following: 1. Download Jetty and JAMWiki. Bluemind Is an Ultra-Lightweight Mind Mapping Application. Not fully portable, as it uses .NET 2.0 Also, it can read but not save as .mm format.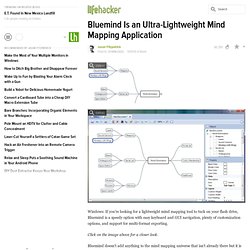 Too bad on the latter. Boost Your Brainstorming Session with MindMeister. I mind-map a lot.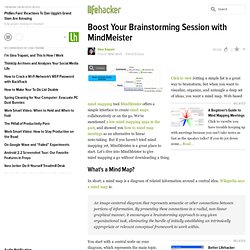 I use it to write all my seminar papers, help figure out website structures, all sorts of things. I've discovered the killer ap for mind-mapping, however, and I'm getting irritated at the number of reviews of mind-mapping softwares that overlook my favorite. Five Best Outlining Tools. @DiscoZombie: But portability sucks, sadly.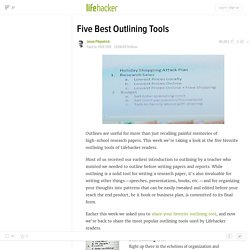 I guess you can take a photo of it and take it with you easy enough? Then it becomes read-only. @TheFu: True, but portability wasn't in the criteria of the article, unless I missed it. I never need portability for outlines here in the studio anyway. Outlines are for my own use, not clients. Thinking Space Maps Your Mind on Android. Hive Five: Five Best Mind Mapping Applications. Are there any programs out there that allow a person to create a series of steps to accomplish a task type thing?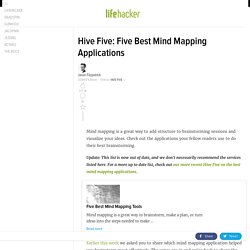 Example: 8 steps to bake cookies. Mix dry ingredients, melt butter in bowl, add dry ingredients, mix at low speed, poor into pan, bake at 325 for 30 minutes, cut brownies, eat and enjoy. But let's say at the 2nd step, to melt the butter, you had to use an acetylene torch (it's really tough butter).
---