High Five
Store your data on someone else's computer, hope they don't do anything bad with it or decide to shut down. Stallman calls it "Careless Computing". If you put personal data in-the-cloud like future plans., trips, your current GPS location, then you should expect that data to be shared all over the world with nice people, nice companies and criminals (looking for when to rob you). Facebook connections and twitter followers provide information about you and your friends.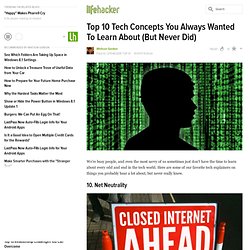 Five Best News Aggregators
Always used a pen and paper when taking notes. Sames goes for any first draft writing... just get my ideas out a little quicker that way, plus always easier to insert drawings or reference doodles (I'm a very visual learner). The transcribing to digital is a form of studying in and of itself. Also, I'd recommend checking out StudyBlue.com. Great way to share notes, make flash cards, form study groups etc. Free and used on a ton of campuses around the country and world, so you'll probably find other students at your school using it.
Five Best Note Taking Applications stories - Lifehacker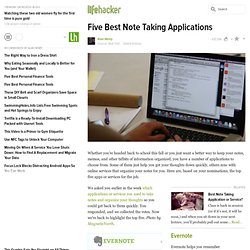 Five Best Group To-Do Management Tools stories - Lifehacker
Keeping track of your own to-dos is hard, but keeping track of shared to-dos and tasks with dependencies can be even more difficult. Earlier in the week, we asked you to nominate the tools you use to manage shared to-do lists. You responded, and now we're back to highlight the five most popular ones.