High Five
We're busy people, and even the most savvy of us sometimes just don't have the time to learn about every odd and end in the tech world. Here are some of our favorite tech explainers on things you probably hear a lot about, but never really knew. 10. Net Neutrality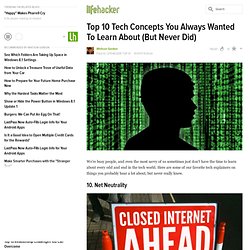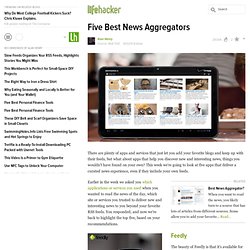 Five Best News Aggregators
There are plenty of apps and services that just let you add your favorite blogs and keep up with their feeds, but what about apps that help you discover new and interesting news, things you wouldn't have found on your own? This week we're going to look at five apps that deliver a curated news experience, even if they include your own feeds. Earlier in the week we asked you which applications or services you used when you wanted to read the news of the day, which site or services you trusted to deliver new and interesting news to you beyond your favorite RSS feeds. You responded, and now we're back to highlight the top five, based on your recommendations. Feedly
Whether you're headed back to school this fall or you just want a better way to keep your notes, memos, and other tidbits of information organized, you have a number of applications to choose from. Some of them just help you get your thoughts down quickly, others sync with online services that organize your notes for you. Here are, based on your nominations, the top five apps or services for the job. We asked you earlier in the week which applications or services you used to take notes and organize your thoughts so you could get back to them quickly. You responded, and we collected the votes. Now we're back to highlight the top five.
Five Best Note Taking Applications stories - Lifehacker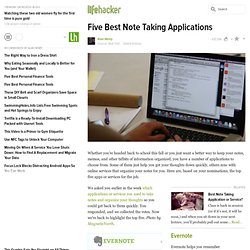 Five Best Group To-Do Management Tools stories - Lifehacker
Keeping track of your own to-dos is hard, but keeping track of shared to-dos and tasks with dependencies can be even more difficult. Earlier in the week, we asked you to nominate the tools you use to manage shared to-do lists. You responded, and now we're back to highlight the five most popular ones.